"A" Stands for Abacela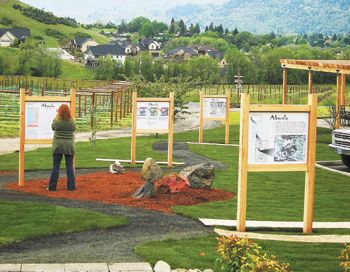 By Janet Eastman
Think of a visit to Abacela's new Vine & Wine Center in Roseburg as the best science field trip you have ever taken. With a glass of estate Tempranillo in hand, you can learn about Jurassic rock, heat units and soil pH differences.
But most important, you can deliberate about the grapes that have earned Abacela a worldwide reputation.
Pain-free education begins at the front gate. In the past, visitors huddled in a view-deprived tasting room. Owners Earl and Hilda Jones joked that calling that claustrophobic space "cramped" was a compliment.
Now, visitors enter the property and drive down a new road that winds past Malbec and Tempranillo vines. Instantly, this fact is made clear: Fine wine starts in the vineyard.
The Joneses spent years searching for the right site in which to plant Spanish varietals. On these 76 acres in the warmer, southern part of the Umpqua Valley, where the Cascades, Coastal Range and Klamath Mountains meet, they found a perfect jumble of disparate soils and a climate that matches Spain's Ribera Del Duero wine region.
In 1995, they planted Tempranillo and other vines new to the Pacific Northwest. Then, they made history.
At the 2001 San Francisco International Wine Competition, Abacela was the first American winery to have its Tempranillo judged superior to those from Spain. A special bottle of Abacela's 1998 Estate Tempranillo sits on a wooden pedestal in a lighted niche in the new Vine & Wine Center. An engraved plaque explains its significance.
There are plenty of other informative signs and multimedia gadgets in and around the two-story center.
You can wander down the Winegrower's Walk, which links two shaded outdoor seating areas. Along the route are well-positioned maps that explain the climate, soils and the very visible geology of this land divided by a fault line. You can also see how varietal-site matching takes full advantage of micro-terroirs. Albariño rambles down on the north slopes of the sometimes-peaking terrain. Tempranillo thrives on the flat lands.
Inside the 4,000-square-foot Vine & Wine Center, you can experience "terroir-driven" tastings (flights start at $5). On the wall behind the bar, there is a 42-inch screen, which, like a giant iPad, can zoom in on one vineyard block at a time. You can study clay loam and sandy loam soils, and hear how they are irrigated and otherwise coaxed to produce Abacela's ambitious varietals.
While here on the ground floor of the contemporary Mediterranean building, slide back the double barn doors and peek into the two-story-high Bacchus Room, where planks of knotty alder are lined halfway up the towering concrete walls. The uniform wood neatly conceals doors to the kitchen and a storage area. Clerestory windows crown all four walls and draw in the sunlight.
There is another space on the ground floor reserved for private tastings: an intimate wine library. You'll find it secured behind waist-high folding doors. Nearby are locked gates that mark one end of your self-guided tour. You'll need to take a private tour to enter the tunnel and the wine cellar.
But there's more to see on your own.
Return to the main room, and ascend the stairs to reach the second-level viewing deck. From this vantage point, you can take in vineyard and mountain views and the topography that makes Abacela famous. Locator maps here tell you even more about the visible fault line that divides the ancient southern geology from its younger northern side.
After exploring, amble outside to the paved plaza, where sourdough bread is baked in a Spanish oven. Relax in a chair at one of the tables. Listen to music, look at the vineyard, sniff and savor the wine. It's all part of the experience.
After all, the Vine & Wine Center was situated and designed to teach us by tapping into all our senses.
Earl and Hilda Jones worked with a designer who didn't have to learn the science and philosophy that goes into every bottle of Abacela wine. They hired their daughter, Hanna Jones of Portland's senojDESIGN.
Hanna grew up with a father who traded a career as a physician and a mother who gave up work as a medical technologist to make wine. Her brother, Greg Jones, is an internationally respected climatologist specializing in viticulture.
Hanna worked in her family's vineyard years before she earned degrees in psychology, English Literature and interior design with a focus on architecture and sustainability. Long ago, she designed Abacela's label, which illustrates a quilt of hills.
You could say that this land was one of Hanna's classrooms. And now it's ours.
Janet Eastman writes for national publications and covers Southern Oregon wine for www.examiner.com. Her work can be seen at www.janeteastman.com
WINERY INFO
Abacela Vine & Wine Education Center
Address: 12500 Lookingglass Rd., Roseburg
Hours: Daily, 11 a.m. to 6 p.m.
Info: 541-679-6642; www.abacela.com