Aging Admirably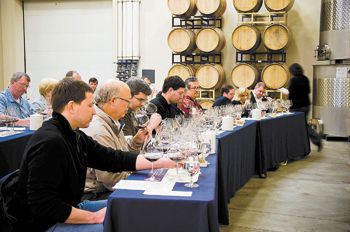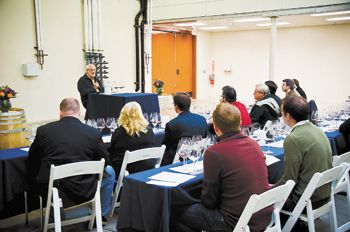 By Karl Klooster
Recently, something that avid Oregon wine appreciators have known for years has been verified in spades by a handful of the state's oldest wineries.
The ageability of our Pinot Noirs may have no peer anywhere.
In 2008, David Lett offered irrefutable evidence of that claim when he pulled out every Pinot since his first vintage in 1970 for an unprecedented tasting celebration in McMinnville.
World-renowned Master of Wine Jancis Robinson was one of the fortunate few invited to attend this one-of-a-kind event. Afterward, the British expert expressed her astonishment and questioned if even the best from Burgundy could age as well.
That same year, Myron Redford celebrated the 30th anniversary of his first vintage with a dinner at Nick's, featuring wines going as far back as 1978 paired with entrées to showcase their food-friendlness.
Dick Ponzi followed suit in 2010 by conducting a spectrum tasting of wines from 1979 to 2008 for the family winery's 40th birthday. The prelude to a blowout wine dinner presents further proof that Oregon's reputation for great Pinot is well deserved.
With his winery's 40th anniversary just around the corner, David Adelsheim decided to mark the occasion with a special tasting of Elizabeth's Reserve Pinot Noirs. The special blend, named for his daughter, represents the apex of his art.
May 15, a select group of Adelsheim fans were treated to six Elizabeth reserves ranging from the first in 1981 to the just-bottled 2009. The vintages in between were 1989, 1992, 1999 and 2005.
Adelsheim personally orchestrated the tasting, commenting in detail on each wine tasted, accepting comments and answering questions from those in attendance.
In the process, he laid out an overview — not only on his own winery but also of the industry's evolution in the northern Willamette Valley— recounting what Mother Nature has bequeathed upon or withheld from them over those years.
As winery owners and winemakers weather the elements of each vintage, they often become so close to each wine they nurture from genesis to maturity, it's almost as if the wine is like a prized child.
Because 1981 was the year Elizabeth was born, Adelsheim obviously has a particular affection for that wine. However, he has no illusions about the circumstances of its birth. "It was a great year for daughters, but a crummy one for wine," he said.
His pronouncement proved unerringly accurate in that what he admitted a light wine to begin with had gone over the hill sometime ago. A dark, orange brown color foretold its condition before olfactory and gustatory evaluation.
Despite its relatively undistinguished origins, hints of tealeaf and raisined cherry were evident, adding interest to the more typical, but certainly not objectionable caramel, sherry-like aroma associated with oxidation.
The loss of both fruit and acidity that characterizes all old wine no matter its vintage and pedigree led to a hollow, watery taste, slightly nutty, with no acetic or vinegary traces.
In other words, at 30 years old, it had reached the end with nothing to be ashamed of.
The 1989 stood out early owing to elegantly perfumed, floral aroma and refined flavors of cola, sweet dark fruit and a hint of oak. As with most older wines, the aroma faded after a while but flavor interest persisted with a sweet tobacco finish.
Adelsheim emphasized that the 1992 season was warm and grapes were picked early. He said this had been a jammy, extracted wine at the outset — not a frequent occurrence in the cool-climate Willamette Valley.
The vintage also stood out in his mind because it was the year they broke ground at Calkins Lane and built the tank room. The rest of the winery evolved over time, with final completion in 1997.
As for the wine marking that year, almost medicinal leather and tobacco were prominent in the first whiff, but eventually yielded to a gentler impression of those aromas combined with an enticing spice.
Flavor and mouthfeel displayed components of dried fruit, tannin and acidity still in good balance. A different, earthier wine from the others while still showing considerable breed.
What can one say about 1999, except, wow. This wine had and still has everything, and what a shame more people don't have the opportunity to experience wines like this when they've reached their peak.
A small crop, think 2008, led to a wine with excellent balance and expression at the outset. Tasted now, the intensity of its elements may have mellowed, but there's still plenty there with exotic spice, tantalizing smoke and a long, lingering finish.
If Adelsheim's Elizabeth Reserve is any indication, the 2005 vintage may be emerging as one that deserves much more credit than it received earlier on. After six years, bottle maturity and youthful character have now reached a perfect partnership.
Lush fruit, mid-mouth roundness, good acidity and long finish are complemented by layered texture and complex floral, spice and earthy nuances. Varietal characteristics in the Burgundian style adds to the praise for this wine.
Once again, however, few people will have the opportunity to taste the wine at this prime time. In addressing that problem, Adelsheim noted that the newest wine-interested generation, the Millennials, may represent a more savvy consumer.
Blogging to learn more indicates the possibility that more young people will buy a few bottles and stash some away for a later day. That would portend the leading edge of a sea change in the American wine experience.
Only a tiny percentage of serious collectors across the country cellar wine for any length of time. Retailers can't afford to keep wine. The handful that do have a few older bottles must charge a lot more for them.
Most wineries hold back a small library collection. But the quantities are more archival than commercial. Which leads us to the final wine in the 40th anniversary tasting: the 2009 Elizabeth's Reserve.
Bottled only a couple of weeks before the tasting, it's full-bodied and already quite appealing. Rich, luscious red fruit, high alcohol, good, lively acidity and firm, but not bitter tannins speak to balance, i.e. ageability. Here's one you could cellar with confidence.
When asked if they were shooting for longevity in the old days, Adelsheim said, "We were still naive winemakers. Our aim to achieve integrity centered around making the best balanced wine we could."
Adelsheim Vineyards' 40th anniversary starts June 1. Visit them and experience the place that has produced great tastes for the past four decades.