Wine and Your Health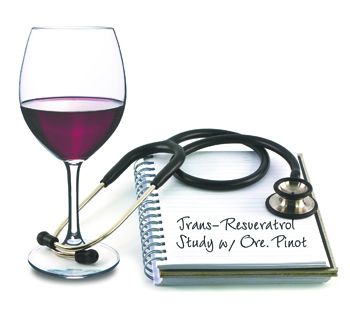 By Dr. Donald R. Olson, MD, MBA
Is wine really good for you? Over the years, much has been said about wine, but little documented as to its actual health benefits. For 10,000 years, wine has been believed to have a medicinal value because of alcohol's ability to kill bacteria. But is that all there is?
During the mid-20th century at Oregon State University (OSU), two-time Nobel Laureate Linus Pauling pioneered what we know now as molecular biology, changing the world of pharmacology forever. It was he who started a more modern approach to the study of wine's health benefits through his ability to extract polyflavonoids from plants and fruit, including wine.
Fast-forward to 2006. A study published in the journal Nature noted certain areas in France actually had lower instances of heart disease resulting in higher longevity. An interview with the author, Serge Renaud, on 60 Minutes resulted in the phrase "The French Paradox."
Renaud suggested the red wine ingredient resveratrol - more specifically trans-resveratrol - reduces coronary artery disease by lowering bad cholesterol (low-density lipoprotein) and raising good cholesterol (high-density lipoprotein). Lucky for Oregonians, resveratrol can be found in high concentration in Oregon Pinot Noir.
Today, the Linus Pauling Institute at OSU stands as a leading research center studying resveratrol from Pinot Noir grapes. Researchers there have discovered resveratrol has other health properties in addition to its heart benefits. Most recently, an anti-aging effect was revealed. This same effect is similar to the caloric-restriction compound well documented in scientific literature.
Besides OSU, research is also performed at Oregon Health Sciences University in Portland in the Department of Neurology. Scientists there, myself included, are studying trans-resveratrol in the treatment of early Alzheimer's.
Other compounds are being studied for their health benefits, which can be readily found in wine. Most are antioxidants and anti-inflammatory compounds capable of neutralizing scavenging free radicals and other oxidants.
Resveratrol also affects biotransformation of enzymes believed to have some effect in slowing cancer growth and inhibiting the proliferation of a variety of human cancer cell lines — as per the Linus Pauling Institute.
Although there are many benefits of wine (as mentioned above), many doctors are hesitant in touting wine as a wonder drug.
Quoted from The New York Times, Dr. Toren Finkel, a scheduled contributor to the upcoming sixth International Wine & Heart Summit in Newberg (see sidebar) and head of the cardiovascular research at the National Heart, Lung & Blood Institute, said, "I would be cautious in sending out the message that one glass of wine a day will make you live 10 years longer. As a drug, it is not ready for prime time," Finkel said.
As research continues here in Oregon and abroad, maybe one day wine can be considered the health aid that many of us researchers already know it is.
EVENT DETAILS
International Wine & Heart Health Summit
The Renaud Society will be hosting this landmark conference for physicians and connoisseurs. It will feature world wine and health experts, including input from the Oregon Wine Research Institute, OHSU and noted columnist Matt Kramer from the Wine Spectator
Date: November 2-5, 2011
Location: The Allison Hotel & Spa
Address: 2525 Allison Lane, Newberg
Registration: $645 (before Aug. 2); $695
Website: www.winesummit.com
Dr. Donald R. Olson, MD, MBA, is the owner of Torii Mor Winery, located in Dundee, as well the a clinical professor in the Department of Neurosurgery at OHSU in Portland.