Salmon-Safe recognizes Jim Bernau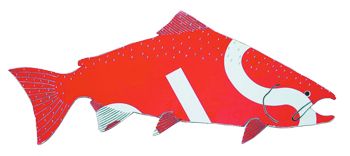 Salmon-Safe recently honored Jim Bernau of Willamette Valley Vineyards with the inaugural "Hero of Salmon" design award for the implementation of his high-impact Salmon-Safe "SIP-SAVE" campaign in print, retail, web and vehicle wraps.
The physical award is a one-of-a-kind, wall-mountable salmon sculpture created from recycled Oregon highway sign material.
Dan Kent, executive director of Salmon-Safe recalls, "The first time I saw one of those billboard-sized Willamette Valley Vineyards Salmon-Safe truck wraps on I-5 near Portland, I knew that we were reaching a new audience with a message about how wine growers our helping restore our salmon watersheds.
"Willamette Valley Vineyards has been a pioneer in moving the Oregon vineyard industry towards greater ecological sustainability over the past decade,"Kent continued. "The 'Hero of Salmon' award recognizes their commitment to communicating their Salmon-Safe leadership to inspire even more agricultural and urban landowners to do their part to restore wild salmon."
Founded by Pacific Rivers Council in 1995, Salmon-Safe is an independent environmental certification nonprofit. Salmon-Safe has joined with LIVE (Low Input Viticulture & Enology) to become a leading U.S.certifier of ecologically sustainable viticulture with more than 250 Oregon and Washington vineyards achieving certification. Salmon-Safe works to keep urban and agricultural watersheds clean for native salmon to spawn and thrive.