Arts, Eats and Enology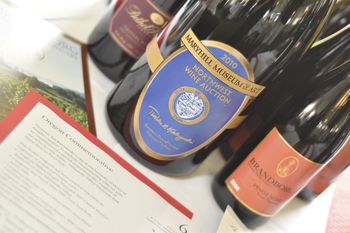 Now in its third year, Maryhill Museum of Art's Best of the Northwest Dinner & Wine Auction is close to becoming the premier food and wine event in the Columbia River Gorge.
On June 23, from 5 to 8 p.m., guests will gather on the museum's Grand Lawn overlooking the Columbia River to celebrate locally grown foods and the Northwest's top wines.
This year's host and emcee will be Cole Danehower, author of "Essential Wines and Wineries of the Pacific Northwest: A Guide to the Wine Countries of Washington, Oregon, British Columbia, and Idaho" and co-publisher of Northwest Palate magazine.
On the menu are grilled lamb and Chinook salmon served alongside dishes drawing from the area's late-spring bounty. Each course will be paired with a featured Northwest wine.
A silent auction, live auction and wine toss will offer guests the opportunity to bid on hand-selected wine lots, fine art, travel packages, and culinary and wine experiences.
Proceeds from the event will support the museum's diverse exhibitions and educational programs.
For more information, visit www.maryhillmuseum.org.