New Release Festival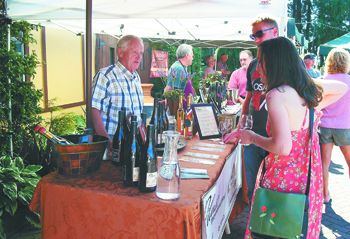 The East Willamette Valley Winery Association (EWVWA) is ready celebrate this year's New Release Festival on June 18 at St. Josef's Winery near Canby, with a kick-off event on June 17.
The event begins Friday, 6 to 10 p.m., with a soirée titled "The Winemaker's Gala Evening." Limited to 100 tickets, $35 per person, the fête will feature hard-to-find wines, a sumptuous buffet and live music from the Portland Gypsy Jazz Project. Winemakers will be on hand to pour their own wines.
The following day at the New Release Festival, noon to 6 p.m., guests can sample the latest wines from 11 award-winning East Valley wineries. Admission is only $5 and includes a commemorative wine glass, jazz by Blue Gardenia and a chance to mingle with winery staff. Alongside the wine, restaurants will offer a variety of foods; and artists, photographers and jewelry makers will show their wares.
"I can't think of an event in Oregon where wine lovers have a better opportunity to taste unique, local wines and actually talk to the winemakers and grapegrowers," said Clark Hanson, owner of Hanson Vineyards near Mt. Angel.
Sponsored by Roth's Fresh Markets, the festival also includes a wine competition judged by an expert panel, including wine experts from Portland and the Willamette Valley. Included in the contest are People's Choice Awards, which will be voted on by the public.
Tickets to both events are available at www.eastvalleywine.com and local wineries. Proceeds will benefit Chemeketa Community College, by helping to fund a special scholarship available to local students enrolled in the school's viticulture program at Northwest Viticulture Center.
St. Josef's Winery will host both events and is located at 28836 S. Barlow Road, Canby.
EWVWA wineries span Marion and Clackamas counties, extending from the Portland suburbs of Lake Oswego to Aumsville, east of Salem. Members include: Silver Falls Winery, Vitis Ridge Winery, Piluso Vineyard, Pudding River Wine Cellars, St. Josef's Winery, Hanson Vineyards, Christopher Bridge Wines, Domaine Margelle, King's Raven Winery, AlexEli Vineyards and Oswego Hills Winery.