Blue Moon in a Box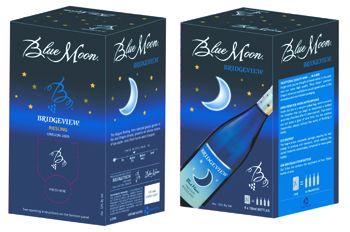 For many years, serious wine drinkers would never think of buying bag-in-a-box wine. To purchase such wine was taboo. Many wouldn't even dare subject their family pets to such inferiority.
Oh, how the times have changed.
These days, the box doesn't always mean third-rate reds and white; in fact, nowadays many boxes contain high-quality wine at a reduced price.
Why are some wineries opting for bladders inside cardboard instead of traditional glass?
One important reason is lower shipping costs. The lighter cargo also creates a smaller carbon footprint — it takes oil to move wine from point A to point B.
Some wineries prepare slender boxes for restaurant clients, but not until now has an Oregon winery taken the bag in the box to the next level.
Bridgeview Vineyards' ever-popular Blue Moon label is now available in 3-liter boxes. Alongside the winery's iconic blue bottles, they now offer eye-catching blue boxes that hold the equivalent of four 750-milliliter bottles.
Available in Riesling, Merlot, Chardonnay and Cabernet Sauvignon, the new boxes allow wine to stay fresh longer.
For more information, visit www.bridgeviewwine.com.