Breadsticks or "Grissini"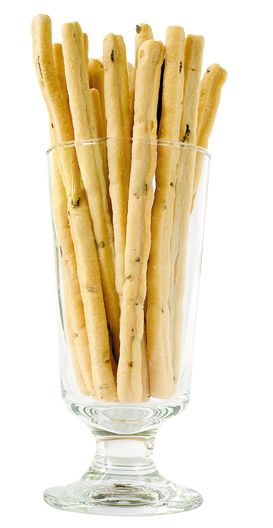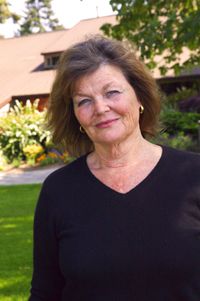 Recipe by Nancy Ponzi of Ponzi Vineyards
"First of all, I regard breadsticks — grissini — as the perfect wine "nibble." They are to wine, in general, as gougères are specific classic complements to Pinot Noir. Secondly, now that I have discovered how to make breadsticks on my terms — easy, quick, basic ingredients on hand, inexpensive, beautiful and delicious — they are my favorite appetizer-wine accompaniment. Presented in a pretty, tall, thin container, like a drinking glass, vase or pitcher, these non-uniform, varyingly flavored and colored breadsticks gaily wave guests toward the table…to the wines, to the gathering." - Nancy Ponzi
WINE PAIRING
Whatever wine is open before dinner.
INGREDIENTS
2 cups warm water
1 tablespoon dry yeast (one package) or 1 ounce compressed yeast (not instant kind)
1 tablespoon honey
2 tablespoons olive oil
1 tablespoon kosher salt
5–6 cups (more or less) unbleached white flour
* optional flavorings: coarse sea salt, paprika, black pepper, cheese, herbs
DIRECTIONS
Dough: 1. Combine yeast, water and honey in deep mixing bowl. Let rest several minutes until yeast mixture become active (frothy). 2. Add oil, salt and begin mixing in flour. Stir flour in with a wooden spoon until dough becomes too sticky, then turn onto floured board. Add flour as needed and knead until dough is elastic; not stiff and hard, just so dough doesn't quite stick to your fingers. 3. Place dough in a ceramic bowl coated with olive oil, turn once to completely coat dough with oil. Cover with tea towel and set aside in warm place, out of draft, to rise for at least an hour. Rising times depend on room temperature and weather; the idea is to allow the dough to double. This dough is now ready to make breadsticks, pizza, ciabatta, all sorts of rolls and loaves. It's basic. Breadsticks: 1. Preheat oven to 450°F or, for best results, to 400°F in convection oven. 2. Prepare two non-insulated 18-inch by 13-inch rimmed bun/sheet pans. Turn the pans upside down and coat the reverse sides — yes, the bottoms — with olive oil. 3. Gently turn dough onto work surface. Do not knead. Just slice off a quarter to one third of the dough, depending on the size of your work surface. Still handling dough gently, form into a rough rectangle shape. Use a rolling pin to roll into a ¼-inch-thick sheet. Use a ruler or straight edge to cut a rectangle 12 inches wide, as long as your sheet allows. Remove the scraps and set aside to use later. 4. If desired, flavor the dough by sprinkling the rolled sheet with one (or more) of the following: coarse sea salt, ground black pepper, finely chopped fresh rosemary, paprika, grated Parmigiano or use your imagination. Lightly roll flavoring onto dough — one pass with the rolling pin should be enough to prevent flavoring from falling off but not make dough thinner. Using the straight edge, cut the dough into 12-inch strips, ¼-inch to 1/3-inch wide. 5. To arrange on baking surface, pick up a dough strip and gently pull it across the long 18-inch surface. If strip hangs a bit over the side, that's fine, just curl it onto the rim and it will look great. Place the strips approximately 1 inch apart to avoid sticking together as they bake. The dough does not need to rise again. 6. Baking time will be quick, approximately 5 minutes, but will vary depending on your oven, thickness of sticks, etc. Keep watch and remove from the oven when sticks are golden brown. Carefully roll off baking sheet onto flat surface to cool. 7 Repeat rolling out dough, varying flavorings as desired and baking.
Ponzi Vineyards
In 1970, Dick and Nancy Ponzi founded the family winery with a spirit of adventure and desire to make wines that reflect the pristine land of Oregon's Willamette Valley. Today, the dedication to producing world-class wines continues under the second generation: Michel, Maria and Luisa. The family owns and farms over 120 acres of certified sustainable vineyards.
Find more recipes from Nancy Ponzi in "The Ponzi Vineyards Cookbook," available at www.ponziwines.com.