Roasted Summer Beets with Prosciutto-Wrapped Gem Lettuces, Toasted Pistachios and Green Goddess Dressing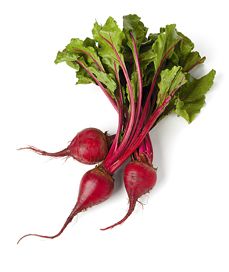 By Dustin Clark, executive chef of Wildwood in Portland
Roasting beets intensifies their flavor, brings out their earthy sweetness and makes their skin as easy to peel off as an oversized sweater. Be sure to pick beets that are firm and feel heavy for their size.
WINE PAIRING
Teutonic Wine Company 2010 White Blend (Müller-Thurgau and Pinot Noir)
INGREDIENTS
1 pound small mixed summer beets (golden, chiogga, etc.)
8 heads baby gem romaines
1/8 pound proscuitto, sliced paper thin
* extra virgin olive oil
¾ ounces Champagne vinegar
4 oil-cured anchovy fillets
4 cloves garlic
½ cup crème fraiche
¼ cup sour cream
½ lemon, juiced
¼ bunch parsley
¼ bunch chives
½ bunch tarragon
¼ bunch chervil
½ cup pistachios lightly toasted
* freshly ground black pepper
DIRECTIONS
1. Preheat oven to 375°F and lightly oil and season beets with salt and wrap in foil. Roast beets 45 to 60 minutes, until fork tender. Allow to cool. Peel and slice into rounds on a mandaline. 2. Wrap proscuitto around lettuces and sear in olive oil until crispy and lettuce is tender. 3. To make the green godess: Mash anchovy and garlic in a mortar and pestle until smooth. Add in vinegar, crème fraiche and sour cream. Place herbs in blender and add enough olive oil to make smooth. Fold in herb purée and season with salt and pepper. 4. To plate: Lay sliced beets flat on plate, season with salt and pepper. Drizzle with dressing, top with lettuces and toasted pistachios.
Wildwood Restaurant & Bar
Wildwood is located in Portland's beautiful Northwest neighborhood, near Forest Park's 30-mile long Wildwood Trail.
Wildwood was founded in 1994 by Portland native and James Beard Award winner Cory Schreiber. The current executive chef, Dustin Clark, started at the restaurant in 1998 as a line cook, moved into the sous chef role in 1999, and eventually took over the role of executive chef in 2006.
Clark's menus are inspired by fresh, seasonal produce. The complexity of his dishes come from the depth of flavor in the ingredients, most which are found within miles of the restaurant.
Savanna Ray, a certified sommelier, develops and maintains Wildwood's ever-changing 300-label wine list with wine director and floor manager Chad Nixon.
Wildwood is located at 1221 N.W. 21st Avenue, Portland. For hours and reservations, call 503-248-9663 or visit www.wildwoodrestaurant.com.