"Grilled Cheese, Please!"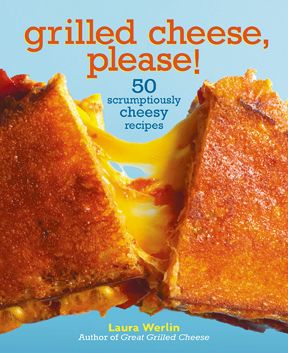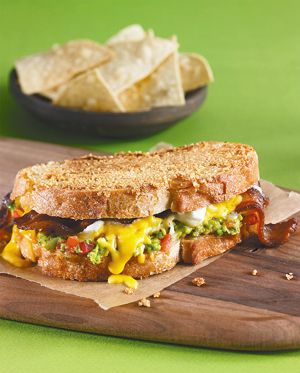 By Christine Hyatt, Cheese Chick
Grilled cheese sandwiches have been all the rage the past few years, oozing goodness on the pages of glossy food magazines, creating cravings across the blog-o-sphere and launching more than a few food truck ventures based on this childhood favorite. Who doesn't love this ultimate comfort food?
I have been pleased to see more adventurous and unique cheeses making their way into the mix and ever more innovative versions appearing center plate at top restaurants. With all this progress away from the old standby of sliced singles nestled between Wonder bread slices, I wasn't sure how much more could be done to elevate the recipe.
And then I picked up a copy of "Grilled Cheese, Please!" from my friend, colleague, author and cheese authority, Laura Werlin. The hardcover book fulfills the promise of its subtitle, "50 Scrumptiously Cheesy Recipes," by incorporating quality ingredients in exciting ways.
Beyond the recipes, there is a treasure trove of factoids to help readers understand the finer points of great grilling. In fact, my grilled cheese world has been rocked by a number of Laura's techniques. More on this in a bit.
This is Werlin's second book on grilled cheese, following up on "Great Grilled Cheese," which hit bookstores in 2004.
"Strange as this may sound, I find grilled cheese endlessly fascinating," she said. "There are so many spectacular cheeses and breads now available, that it's hard for me NOT to think about ways to put them together in the form of grilled cheese."
Werlin considers grilled cheese a perfect blank canvas. "By adding seasonal ingredients, handmade charcuterie, and even chocolate, you can come up with some pretty compelling sandwiches, something you can build in innumerable ways and customize just for you."
She shows her considerable experience in the cheese in her latest book. She is the author of the cheese classic "The New American Cheese" (2000), which changed the way scores of people — including me — perceived cheese culture in our own backyard. It was the go-to book in my early retail career to better understand the people and the increasingly popular category of homegrown cheese.
In her latest book, she marries the earlier theme of celebrating American cheeses with her skilled approach to employing these fine cheeses alongside more mainstream stalwarts like mozzarella and Jack. Results of the experiment are nothing short of delicious.
"Because of all the great cheeses now available, particularly those made in America, people seem to have stepped up the quality of cheeses they choose to eat," Werlin said. "When a refrigerator is stocked with better cheeses, the grilled cheese sandwiches made with those cheeses are going to be better by definition."
She is quick to point out that this represents a larger trend in quality ingredients, noting "to me this is less about elevating a sandwich and more about a natural evolution where the bar on the quality of all the food we consume is simply higher."
Beautifully photographed and sporting hip design, the book covers the finer points of crafting the perfect sandwich and provides some excellent pointers to elevate your skills. I won't spoil the book by giving them all away, but I must share one particular tidbit that has me making quite a few sandwiches of late.
The secret: cheese on the OUTSIDE of the bread. Combine grated cheese with quality salted butter to form a paste. Use it to coat the outside of the sandwich prior to cooking. Prepare to be wowed by crispy, crunchy and cheesy golden brown crust. All I can say is: Yum!
Christine Hyatt is a food writer and cheese creative. For more information please visit her vlog, www.cheesechicktv.com.
RECIPE
Chips and Guacamole Grilled Cheese
Recipe from "Grilled Cheese, Please! 50 Scrumptiously Cheesy Recipes" by Laura Werlin
"In this recipe, tortilla chips are on the outside of the bread to give the sandwich its corn-like flavor and to give you the ability to enjoy all the flavors — guacamole, bacon, cheeses, and corn chips — all at once."
INGREDIENTS
8 slices bacon
8 large tortilla chips (about 2 ounces)
4 tablespoons butter, at room temperature
8 slices sourdough bread
½ cup guacamole (recipe follows; or use purchased, preferably one with tomato in it)
2 tablespoons peeled, seeded, diced Roma tomato (see note)
4 ounces Colby cheese, coarsely grated
4 ounces Monterey Jack cheese, coarsely grated
4 ounces goat cheese
DIRECTIONS
1. Line a plate with paper towels. In a large nonstick skillet, cook the bacon over medium heat until very crisp. Drain the bacon on the paper towels. 2. Remove the bacon fat from the pan and wipe the pan with a paper towel, but do not wash it. Set aside. 3. To make the tortilla chip butter, put the chips in the bowl of a food processor and process until the texture is very fine, similar to sand. (Alternatively, place the chips in a sturdy plastic bag. Using a meat mallet or other heavy object, pound the chips until they are the texture of sand.) Put the butter in a medium bowl and add the ground chips. Using a fork, work the chip "sand" and butter together until well mixed. The mixture will be somewhat stiff. 4. To assemble: Spread the butter mixture on one side of each slice of bread. Place 4 slices, butter-chip mixture side down, on your work surface. Spread 2 tablespoons of the guacamole on each slice of bread. Sprinkle the tomato on top of the guacamole. Follow with the Colby and Monterey Jack cheeses. Dot with small pieces of the goat cheese. Finish by placing 2 bacon pieces on each sandwich. Top with the remaining bread slices, buttered side up. 5. Heat a large nonstick skillet over medium heat for 2 minutes. Put the sandwiches into the pan, cover, and cook for 3 to 4 minutes, until the undersides are golden brown. Watch carefully because the chips in the butter can burn easily. Turn the sandwiches, pressing each one firmly with a spatula to compress the filling slightly. Cover and cook for 2 to 3 minutes, until the undersides are well browned. Turn the sandwiches once more, press firmly with the spatula again, cook for 1 minute, and remove from the pan. Let cool for 5 minutes. Cut in half and serve. Note: There's no need to use the tomato if your guacamole already has tomato in it. Makes 4 sandwiches.
Guacamole
1 ripe Hass avocado
1 tablespoon freshly squeezed lime juice (from about 1 lime)
¼ teaspoon kosher salt
2 tablespoons finely diced white onion
2 tablespoons finely chopped fresh cilantro
½ fresh Serrano chile, minced (optional)
1 tablespoon cored, seeded and diced Roma tomato
1. Split and pit the avocado, and mash the avocado flesh in a medium bowl with the lime juice and salt, using a potato masher or a fork. Do not use a blender or food processor. You want to keep the avocado slightly chunky, not make it soupy. 2. Stir in the onion, cilantro, chile and tomato. Let sit for about 15 minutes to allow the flavors to meld. Note: This makes more than you need for the sandwiches. Serve the remaining guacamole with chips alongside. Makes about 1 cup.