Pinots for Pleasure's Sake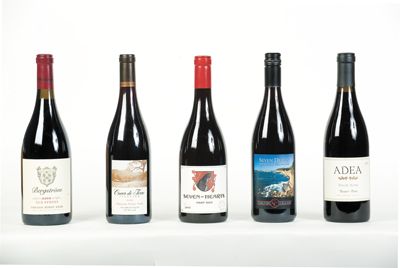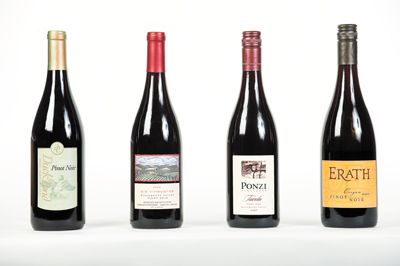 More and more Oregon wineries are incorporating "OREGON" on their labels, even when the grapes qualify for single-vineyard, estate or AVA designation. OWP encourages the expansion of this practice in the hope it will eventually become universal.
ADEA 2009 "Deano's Pinot" Pinot Noir, Willamette Valley $30 • (306 cases)
Lots of good things to say about the wine on which Dean Fisher puts his American-Italian nickname. Sweet, juicy, full-bodied flavors of dark cherry and currant makes this a crowd pleaser going in, or down, as the case may be. Oak vanillin and tobacco bring additionally attractive elements to the flavor profile.
Bergström 2009 "Old Stones" Pinot Noir, Willamette Valley • $30 (902 cases)
Winemaker Josh Bergström calls this non-estate Pinot a wine for current drinking as opposed to laying away. If that's the case, then he hasn't succeeded because, although it is richly textured and mouthfilling, this wine will definitely benefit from more time. Tannic edges are just beginning to resolve around the ripe, red fruit and hints of tobacco and spice will add complexity as it mellows.
Coeur de Terre 2009 Oregon Pinot Noir, Willamette Valley • $20 (1,843 cases)
Whereas the tasting panel agreed this wine is not yet ready, it already entices with concentrated flavors of cranberry, coffee and cola complemented by earthy minerality. Medium-tannins make for a softly textured feel on the mid-palate. Good balance indicates longevity and a long finish adds to the immediate pleasure.
Seven of Hearts 2009 Oregon Pinot Noir, Willamette Valley • $20 (630 cases)
Classic attributes are here in abundance. Rose in the nose. Softness on the palate. Cola and cherry in the mid-mouth. Accents of mineral and spice. And all this from a blend that combines two quite different AVAs — Yamhill-Carlton and Eola-Amity Hills. Need we say more? Oregon 2009 Pinot Noir appears to be a big winner that appreciators of more modest means will be able to enjoy in abundance.
Carlton Cellars 2009 "Seven Devils" Pinot Noir, Willamette Valley • $20 (950 cases)
Dave Grooters calls his Seven Devils easy on the pocketbook. Truth is, five of the nine wines chosen this month are $20 or less. This price-appealing Pinot comes racing out of the glass with an engagingly floral nose augmented by a hint of toasty oak. The buttery vanillin character continues in the taste, complementing lush, dark fruit and cola wrapped in a silky cloak.
Duck Pond 2009 Oregon Pinot Noir, Willamette Valley • $20 (12,255 cases)
Another easy drinker that's bound to earn accolades at the table. Soft and round with a succulently sweet interlacing of bright strawberry, raspberry and red cherry fruits. In other words, it may be readily accessible, but it will reward with immediate enjoyment.
Lemelson 2009 "Six Vineyards" Pinot Noir, Willamette Valley • $20 (2,283 cases)
Nasturtium nose and soft, suppleness of bright berry flavors with a hint of leather and smoke indicate that near-term drinkability is the intent here. Still, this blend delivers Pinot aplenty in a very varietal package at an attractive price.
Ponzi 2009 "Tavola" Pinot Noir, Willamette Valley $25 • (6,423 cases)
If 2009's early release blended, workingman's Pinots are turning out this nice, it must speak volumes about what the best of the vintage will ultimately be like. Bright, fresh cherries and blueberries are accented by hints of both sassy cinnamon and more subtle spices. Medium tannins and good acidity make for excellent balance and come together to finish smooth and satisfying.
Erath Vineyards 2009 Oregon Pinot Noir $20 • (135,000 cases)
Wow, for Oregon this is a whole-lotta boxes and bottles. And for it be a whole-lotta good at the same time, plus be available almost anyplace, you go can't be bad. Erath's 2009 entry level Pinot is medium-bodied with flowers and spice up front followed by red cherry, blueberry and honeydew melon in the mouth. A great ambassador for Oregon, whatever shelf it sits on.
The Oregon Wine Press tasting panel has selected the above wines based on overall quality and value within their respective categories. To the best of our knowledge, they are currently available in the retail marketplace. But a call to the winery or your favorite wine merchant will best determine where they may be purchased. The above wines have met the following criteria: produced by an Oregon winery; retail price up to $25 per 750 ml bottle for all still table wines except Pinot Noir, which can be up to $30, $25 per 375 ml bottle for dessert wines and $35 for 750 ml sparkling wines. All wines must be currently available to consumers. Recommended wines were selected using a double-blind method and a 20-point ranking system for appearance, aroma, taste, balance and finish.