Landmark Decision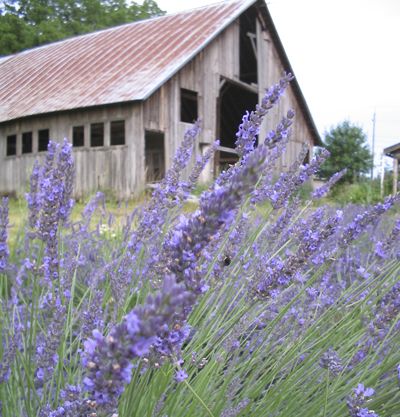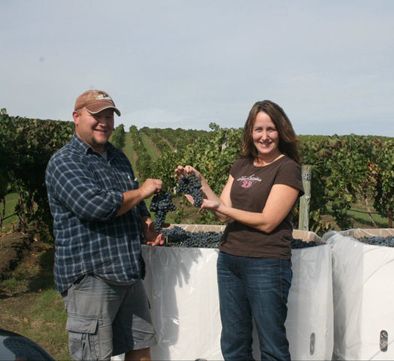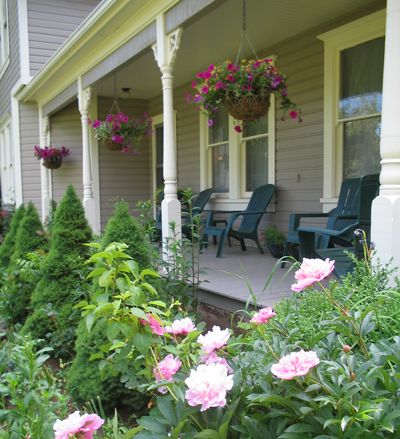 By Ossie Bladine
In 2002, Michele Bloomquist drove by a lot in rural North Clark County, Wash.; it was comprised of a "For Sale" sign and a clump of trees, overtaken by blackberry bushes and falling apart.
Today, that five-acre lot is home to Heisen House Vineyards, which celebrates its one-year anniversary on Memorial Day Weekend with friends, wine lovers and owners Bloomquist and Chris Eckels.
Bloomquist decided to buy the land after learning it was a state and national historic site, originally settled by Alexander Heisen in the second half of the 19th century. Heisen's son built the house on the property in 1898. The barn, built by Alexander himself with only an ax, is dated between 1866 and 1888.
"I knew I wanted to do something to open it up and share it with people," Bloomquist said.
She first thought of turning it into a lavender farm, but then a friend suggested they use the abundant amount of apples on the land to make hard apple cider. The next year, they bought grapes and added wine to the hobbyist's production. Eventually, a vineyard it would become.
"It sort of just unfolded," Bloomquist said. "I thought it was a great way to share the property with people, and the revenue from the wine can go back into saving the site."
Bloomquist and Eckels, who met at a wine and food pairing class and are expecting a baby girl in early May, are producing 300 cases at the moment, four reds and a sparkling white. The vineyard is two years away from on-site production, with Gamay Noir, Orange Muscat, Tempranillo and Gerwürztraminer grapes, and will yield four barrels when ready. The grapes, like the ones bought from outside growers, are grown using certified sustainable practices.
"This is my contribution to the experiment of what grapes will ripen in Clark County," Bloomquist said. "The Tempranillo is sort of a wild card … the Gamay Noir I have really high hopes for. There aren't many reds that will ripen up here in Clark County."
Bloomquist jokes that they run the "MacGyver" winery. They are building their business with no debt, growing as they can grow. Everything is done by hand, from labeling to hauling the grapes around in buckets. It's a style that very much fits the land.
An old milking parlor built in the '50s was turned into a winery and tasting room. The long-term plan is to move the working winery into the barn, built entirely of hand-hewn lumber and believed to be the oldest, or at least one of the oldest standing barns in Clark County. They are in the finishing stages of repairing the barn, made possible by a $30,000 grant through the state's heritage barn program, which they matched through donations and volunteer time.
"I didn't realize how bad it was until we fixed it, and then I realized how close it was to falling down," Blooquist said.
Bloomquist admits the land is not an ideal vineyard location. But the sustainable and the historical niches add a unique character to the Southwest Washington wine scene, now home to 11 wineries. Another unique flavor: a turkey named Thanksgiving that struts its stuff during tasting hours.
"You can always see people out here talking," Eckels said, "and you can hear one of them go a little bit louder than their normal conversation, 'is that a turkey?'"
Heisen House Vineyards was well received locally in its first year. This summer, it will feature live music every Friday evening, four festivals — Barn Bash, Lavender Fest, Sunflower Fest and Crush Fest — and a monthly Second Saturday wine loop with Rusty Grape Vineyard and Olequa Cellars, which are sponsors of an inaugural North County Wine Run half marathon on Oct. 1.
Yet, drawing wine enthusiasts from south of the Columbia River is still a challenge.
"That river creates a boundary in peoples' minds," Eckels said, "even though we're only a 30-minute drive from Portland."
"Wine in Clark County is sort of in that mythical golden age right now, where at every one of these wineries, chances are it'll be the winemaker pouring the wine behind the bar," Bloomquist added. "It's a very small window of time when a new region is in that stage of development, so it's really exciting to be part of that."
Ossie Bladine is the editor of the Vancouver Voice as well as a freelance writer. He lives in Vancouver, Wash.
WINERY INFO
Heisen House Vineyards
Address: 28005 N.E. 172nd Ave., Battle Ground, WA
Hours: Saturdays and Sundays, noon to 6 p.m. (Memorial Day–October); and Fridays (with live music), 7 to 10 p.m. (June–September)
Phone: 360-713-2359
Web: www.heisenhousevineyards.com
Owners: Michele Bloomquist and Chris Eckels
Established: May 2010
Reds: Merlot, Sangiovese, Tempranillo, Cabernet Sauvignon
Whites: Gewürztraminer, Viognier
Acreage: 5 total, 1 planted