Blend of Labor and Luck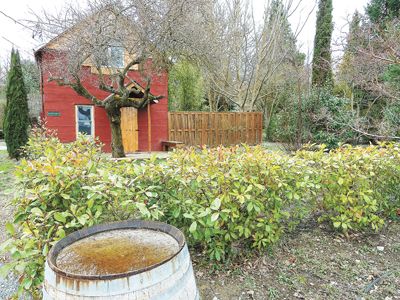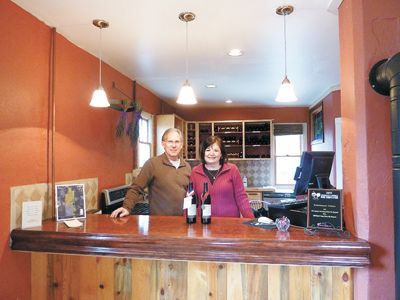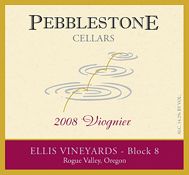 By Janet Eastman
Dick and Pat Ellis don't shirk hard work. As the owners of Pebblestone Cellars, they think nothing of rising at 2 a.m. to turn on wind machines when frost threatens the Rogue Valley. Or slogging through their vineyard two dozen times in the sometimes-scorching growing season to prune, train and thin wayward vines.
But sometimes, they've found, it pays to sit out a situation and wait for luck to find them.
Lucky example No. 1: Although judges now reward the Ellises for the quality of their wine, the couple fell into grape growing and winemaking. What is now a successful encore career began in the 1970s when they started helping a friend pick grapes in his vineyard on the San Francisco Peninsula.
The Ellises' volunteer harvesting efforts lasted 30 years. During those decades, Dick made wine at home, and he and Pat would occasionally look for farmland in the hopes of establishing a vineyard near their Bay Area home.
In the '90s, they passed through Southern Oregon while driving to visit their daughters at Oregon State University and Washington State University.
In 2002, they found a site in Medford. It was an ancient riverbed, 1,650 feet above sea level, on the same parallel as the Rhone region of France and the Rioja of Spain.
Lucky No. 2: The land matched all their terroir and exposure criteria, and more than half the 26 acres were already planted with Tempranillo, Syrah, Merlot, Cabernet Sauvignon, Cabernet Franc and Pinot Gris.
They bought the former pear orchard in 2003. The next year, they planted two acres of Viognier and then spent six years upgrading the trellising and outfitting the vineyard blocks with moisture-sensing and monitoring equipment.
They continue to sell 75 percent of their grapes to winemakers from the Rogue Valley to the Willamette. The remaining fruit was first bottled in 2004 under their label, Skipping Stone, and now Pebblestone Cellars. The names were inspired by the sandy, gravelly soil of their site.
Lucky No. 3: In 2006, their first vintage, a Merlot won a gold medal at the World of Wine competition. "We were lucky. We were excited," Dick said. "We knew we were on the right road."
Since they don't have an onsite winery, the Ellises tap into larger wineries' custom crush operations. Dick now works with winemaker Bryan Wilson at Foris Winery in Cave Junction to define Pebblestone's style.
"Dick is very detailed oriented," said Wilson, who is also the winemaker for his own label, Cuckoo's Nest. "But the longer we're in this business, the more we realize we don't have complete control. When serendipity comes your way, you say, 'Thank you very much.'"
By 2009, the Ellises began developing plans to add a tasting room and ultimately winery facilities on the south end of their land.
The plans were approved last year. However, due to economic conditions and availability of capital, Dick and Pat postponed their dreams for building a permanent tasting room.
Lucky No. 4: Last July, a vacant building adjacent to the Ellises' vineyard on Highway 99 became available.
The "Little Red House," as it is known, was built with solid poured concrete walls 100 years ago. The construction was inspired, Ellis has heard, by Thomas Edison's experiments to create indestructible homes at his cement company in Portland, N.J.
The Ellises transformed the former inn and rental home into their tasting room. The do-it-yourselfers updated the paint, trim and light fixtures, and added a counter bar and window.
By September, the cozy little tasting room, with an outdoor area for picnics, was ready to receive guests.
Lucky No. 5: There are no signs yet on Highway 99 directing day-trippers to the tasting room, but they find it anyway and are greeted by the Ellises offering them five wines to taste.
Recently, the Ellises have been pouring Pebblestone's 2007 Cabernet Franc ($24), which won a gold medal at this year's San Francisco Chronicle Wine Competition and the 2009 Viognier ($19), which won gold at the 2010 World of Wine Festival and the 2011 Grand Harvest competition in Healdsburg, Calif.
With all their commercial victories, the Ellises still have a fondness for home winemakers. They sell grapes to several hobbyists and even lend them equipment from their home winemaking days.
Helping hobbyists takes the Ellises back to the years when they were just passing through Oregon and would stop at tasting rooms to ask questions of the state's wine pioneers.
"It was great talking to people like Scott Henry as he was pouring his wine in the [Henry Estate] tasting room," Dick said. "He and others knew what they were talking about."
The Ellises have returned the favor.
"Dick and Pat both are very involved in making our region successful," said Laura Lotspeich of Trium Wine and Pheasant Hill Vineyard in Talent. "The wines and people are wonderful."
The Ellises joined the Rogue Valley Winegrowers Association soon after they arrived. Dick recently stepped down after being on the board for six years and president for the last four years, where he helped direct the organization to focus on educational seminars and research projects. Pat still produces the newsletter.
"It's great to be a part of an emerging wine region where we can work with other small producers to grow and improve the region and its wines," Dick said. "There is a lot to be done and it is beneficial to talk about common problems, successes and frustrations with others in the same situation."
And to those who understand the importance of hard work and a little luck.
Janet Eastman specializes in high-calorie journalism. Her work can be seen at www.janeteastman.com.
WINERY INFO
Pebblestone Cellars & Ellis Vineyards
Address: 1642 Camp Baker Road, Medford
Hours: Saturday–Sunday, noon to 5 p.m. (after May 5); Thursday–Monday, 1 to 5 p.m.
Phone: 541-512-1704
Web: www.pebblestonecellars.com
Owners: Dick and Pat Ellis
Established: 2003 (tasting room opened September 2010)
Reds: Melange, Cabernet Franc, Syrah, Merlot, Cabernet Sauvignon
Whites: Viognier, Pinot Gris
Acreage: 26 total, 15.5 planted