Equinox at Its Apex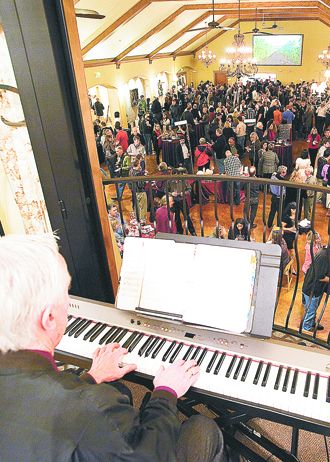 By Karl Klooster
Zenith means the time at which a celestial body reaches its highest point or when something attains its height of achievement. A powerful word, at once evocative and compelling, it creates considerable expectation, setting a very high bar for the claimant.
Those who have visited Zenith Vineyard on Zena Road near the southwestern end of the Eola Hills would likely be inclined to agree that from the standpoint of a physical facility, the place definitely lives up to its definition.
Though there are numerous handsome edifices in the surrounding wine country, none can match Zenith's Grand Ballroom for sheer size and splendor. Its soaring ceiling, charming balconies and decorative iron touches bring forth Old World imagery.
Once within these walls, one could easily feel transported from modern America to aristocratic Europe in an earlier era. Given such a setting, it's little wonder that Eola-Amity AVA winemakers have selected it for their annual Equinox event.
Now in its third year, Equinox gave the general public the opportunity to taste 54 wines from 28 wineries and sample the offerings of seven food vendors.
And wine appreciators responded by making the event another sell-out. Scheduled from 7 to 10 p.m. on Saturday, March 26, the event was in full swing by the time this writer arrived about 7 p.m.; the parking lot was already full.
This foretold the lively scene inside. Though the Zenith Grand Ballroom is, indeed, expansive, almost every square foot was occupied by tables or attendees. Happily, crowdedness was offset by congeniality.
A full house meant that several people were standing in front of each pouring station waiting for another splash in their glass. Such popularity kept winery representatives busy wielding bottles while simultaneously fielding questions.
The group of 28 wineries on hand included: Amity Vineyards, Argyle, Bethel Heights, Bjornson, Brooks, Bryn Mawr, Calamity Hill, Carter, Cherry Hill, Crawford Beck, Cristom, Cubanisimo, Dobbes Family Estate, Dukes Family, Evesham Wood, Grochau, Holloran, Lewman, Methven Family, Mystic, Redhawk, Rizzo, St. Innocent, Stangeland, Toluca Lane, Witness Tree, Zenith and Z'IVO.
Pinot Noirs comprised 34 of the 54 wines offered, ranging from the 2003 to the 2009 vintage. The single 2003 came from Amity Vineyards. Co-owner Vikki Wetle poured the estate single-vineyard Pinot, which displayed complex refinement and finesse.
The three wineries that trotted out their beautifully developing 2006s were Cherry Hill Winery, Methven Family Vineyards and Z'IVO Wines. A few years in bottle for a fruit-forward year have brought them to the point of maximum enjoyment.
Allen and Jill Methven also poured their 2008 estate Riesling, an excellent example of what the grape can achieve here. Bright acidity combines with velvety softness on the palate — a flavor profile that could be called prototypically Oregon.
Zenith owners Tim and Kari Ramey appropriately poured from the bar service area of the ballroom. Kari manages the facility, which is rented out for weddings and other events. The ballroom's 4,500-square-foot main floor is designed to accommodate 320 seated or 450 standing.
Tim, a securities analyst specializing in the food and beverage industry, finds time to manage the LIVE-certified, sustainable vineyard, which the Rameys purchased in 2002 from Pat O'Connell.
The two 2009 wines they presented were a youthfully tannic but rapidly resolving Pinot Noir and a clean Pinot Gris driven by tropical fruit. Mark Vlossak of St. Innocent Winery, shares the facility and makes the Zenith wines.
Old timers in the Eola-Amity area, such as Amity Vineyards, Bethel Heights and Cristom, were joined by some newer arrivals that included Bjornson, Bryn Mawr, Dukes and Calamity Hill.
In 2006, Minnesotans Mark and Pattie Bjornson bought a 107-acre farm in the Eola-Amity Hills. Bjornson. Minnesota. Hmm. Actually, Marc said his ancestors are Icelandic. Sveinn Björnsson was the first president of Iceland.
The couple has since put in 15 acres of Pinot Noir and their first release is from the 2009 vintage. Youthful, but coming along nicely, they're currently making the wine at Grochau Cellars, with plans to build a winery in 2013.
Bryn Mawr is owned by John and Kathy Lauer, both law graduates from the University of Michigan. After 20 years, John has given up lawyering to devote full time to the winery while Kathy still maintains a practice in San Diego.
Their winemaker, Rachel Rose, was at Equinox to show off two estate '08s, a well-balanced Pinot and a stylish Chardonnay. Bryn Mawr is not named after the famed women's college but rather was for the "high hill" on which Welshman David Lloyd-Jones started the vineyard in 1989.
Dukes Vineyards owners Pat and Jackie Dukes proudly poured their 2008 Alyssa Pinot Noir and 2009 Blushing Kate Rosé. The couple moved onto the vineyard in 2007 in order to oversee construction of their winery in a historic barn on the property.
Tom and Marion Vail claim, with probable credibility, that their Calamity Hill Vineyard is Oregon's smallest winery. They made 39 cases of Pinot Noir and 23 cases of Pinot Gris in 2010.
Their 2008 Garden Shed Red Pinot Noir was showing the balance that characterizes the vintage, and their 2010 Starlight White Pinot Gris has a zesty, right-out-of-the-barrel drinkability.
Calamity Hill wines are now being made by Chris Lubberstedt at Methven Family Vineyards. The Vail's total production objective is 99 cases of Pinot and 44 cases of Pinot Gris. I guess they're aiming for 99 and 44/100ths percent pure. If you don't get that, you're too young.
Small, personal and quality production would best describe the Equinox group. As for the food, there were some mighty tasty morsels being proffered, including scrumptiously spiced, crust-wrapped sausage slices from Loustic Catering of Salem.
Several other items, including a salad roll dipped in teriyaki sauce, caught my attention, but nothing surpassed the marinated shrimp from Janet Bleck of Subterra in Newberg. Well, maybe the Boerenkaas from Willamette Valley Cheese Co.
Ahh, fine wine and fab food. You can't, or shouldn't, have one without the other.