Mountains to Metro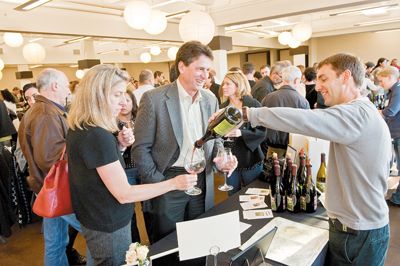 By Wine Press Staff
Mountains to Metro, a wine event presented by the Chehalem Mountains Winegrowers (CMW), will return to Portland on May 6 at The Governor Hotel. The AVA-focused tasting will feature wines from Oregon's 100-square-mile viticultural area situated on Portland's doorstep.
Guests will enjoy restaurant fare as well as signature tastings and the opportunity to purchase wines from 32 wineries, from boutique producers to several of the most recognized names in Oregon wine.
"The Chehalem Mountains, which include Ribbon Ridge, are home to a great winemaking community," said Scott Shull, CMW president and winemaker/co-owner of Raptor Ridge Winery. "We have some of the oldest vineyards and most diverse soils and elevations in Oregon wine country, which give us the variables to produce exceptional wines for every palate and cuisine.
"At Mountains to Metro, we'll share expressive wines from vineyards with three distinct soil types, running the gamut from Pinot Noir to Chardonnay, Pinot Gris, Rieslings, Syrah and beyond. It's an exciting opportunity for wine discovery, and we guarantee that no one will be disappointed."
This is the second annual CMW event, following in the footsteps of 2010's popular Pinot in the Pearl. "This year, we're calling the event Mountains to Metro because we're broadening our horizons to Portland at large," explains event chair Barbara Gross of Cooper Mountain Vineyards.
New this year will be a smartphone application for the event. The Mountains to Metro app will allow CMW to provide updates and notifications to attendees anytime before, during and after the event. Attendees can view the event's agenda and general information, as well as send Tweets and communicate with other attendees from directly within the app. This enables CMW to create a broader community beyond visitors and more deeply engage everyone at the event.
Participating wineries include: A Blooming Hill, Adelsheim, Alloro, Anam Cara, Anne Amie, Archery Summit, Artisanal, Beckham, Bergström, Blakeslee, Carabella, Chehalem, Colene Clemens, Cooper Mountain, Dion, Et Fille, Gresser, J.K. Carriere, K&M, Lachini, Le Cadeau, Longplay, Ponzi, RR, Raptor Ridge, Redman, REX HILL, ROCO, Terra Vina, Triseatum, Utopia and Vidon.
Participating restaurants include headliner Jake's Grill, plus other notable eateries, such as Davis Street Tavern, ¡Oba!, Gracie's, Vino Paradiso, Thirst Wine Bar & Bistro, Aquariva, Food in Bloom Catering and The Painted Lady. Fanucchi Oils will also be there with their locally produced oils.
EVENT DETAILS
Mountains to Metro
Presented by: Chehalem Mountains Winegrowers
Location: The Governor Hotel
Address: 614 S.W. 11th Avenue, Portland
Date: Friday, May 6
Time: 5 to 9 p.m.
Tickets: $40; available online
Website: www.mountainstometro.com