Flavors Favors the Kids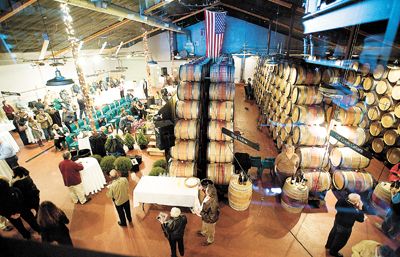 By Karl Klooster
As someone who has attended Flavors of Carlton — formerly "A Great Little Taste of Carlton" — seven of the eight years it's been held, I can attest that this annual event really has its act together.
Upon stepping through the door at Ken Wright Cellars, attendees of this year's event held on Sat., April 2, begin to soak in the atmosphere that exudes both optimism and purpose.
The Carlton winery has hosted the event since it began in 2004, and there could be no more appropriate venue. Ken and Karen Wright, the couple and their business, exemplify the can-do spirit of this community.
And Carlton Together Cares, the organization Flavors of Carlton benefits, demonstrates how can-do is done on a daily basis.
Sponsors, participating wineries, food vendors, auction item donors and attendees make the event a success. Programs for youngsters make the organization a treasured asset for the community.
In addition to the annual outpouring of generosity from the Wrights, longtime Carlton benefactors Peter and Marilyn Shultz were key sponsors in 2011. Other sponsors included Ronni Lacroute, Laughlin Cartrell, Mark Miller DMD, Resonance Vineyard, First Federal Savings and Bailey Nurseries.
What would a wine country event titled "flavors" be without wine?
Participating wineries included: Alexana, Atticus, Belle Pente, Biggio Hamina, Cana's Feast, Carlton Hill, Cliff Creek, Elk Cove, Kramer, Monks Gate, Scott Paul, Séjourné, Seven of Hearts/Luminous Hills, Soter, Stag Hollow, Twelve, WildAire, Torii Mor and Tyrus Evan.
And what is wine without wonderful cuisine to accompany it?
Craig Haagenson of Haagenson Catering led the culinary charge that included Carlton's Cielo Blu, Cucina at Cana's Feast, Cuvée and Horse Radish, plus Golden Valley and La Rambla of McMinnville, and Recipe, Newberg's newest restaurant.
Topping off the offerings, Carlton Coffee Company poured its Coffee Bean International java and Renae's Custom Cakes supplied the sweets.
The preceding may only "list" those who contributed in helping make Flavors of Carlton a reality and thus ensuring the services of Carlton Community Cares, but the most important list, however, is the impressive one of programs CTC administers — Learning for Life Preschool, Cougar Club After School Program, Parent & Child Play Group, Y-C Soccer Club and Summer Youth Work Program.
Since its grassroots beginnings in 1998, CTC's mission has been "Creating Opportunities to Build a Caring Community." They have done this by identifying and focusing on youth and civic needs and creating programs to most effectively address those needs.
Attesting to the high regard in which they are held, CTC has been awarded numerous grants from regional foundations, governmental agencies and public support organizations. They include CPT, Family Resource Center, Youth Investment, Spirit Mountain Community Fund, OADAP, Fred Meyer Community Fund, and a Drug-Free Communities grant put into action by the Yamhill-Carlton Anti-Drug Coalition.
Volunteers are the heart of any nonprofit organization and for fiscal 2007-2008, CTC calculated that 285 volunteers gave more than 6,900 hours of time to assist in running of their programs.
Were it not for volunteers, Flavors of Carlton would not be possible. This year's chair, Kaye Hering, thanked and commended the volunteers who helped make the 2011 event the best ever.
"This was the most successful, highest attendance event ever," Hering said. "I am truly grateful for the response from the community in all ways. Despite an economy that continues to be challenging, they really stepped up for the kids."
Carlton Together Cares executive director Carol West was effusive in her estimation of Flavors 2011. "Awesome event. Absolutely amazing. I can't say enough about the support, especially in these times.
"The Wrights have been wonderful, of course," she continued. "But I'd also like to give a special thank you to Peter and Marilyn Shultz. They have been angels to CTC and to the City of Carlton ever since they moved here. They are the type of people who are not interested in receiving any personal credit. Still, I feel their contributions should be recognized."
CTC financial coordinator Becky McEnulty said that receipts from the 2011 event exceeded $70,000, a $13,000 increase over 2010 and the highest total in the event's history. Paid admissions of 235 were also the greatest ever.
A combination of all elements accounted for this year' record-breaking total, including more than 150 items donated to the oral and silent auctions. The oral auction alone brought in $31,000.
Flavors of Carlton was fortunate to have the services of auctioneer Steve Talbot this year. Talbot has been the auctioneer for the ¡Salud! Oregon Pinot Noir Auction since 2004.
Wines galore were the biggest single category, including mixed cases, magnums, vertical groups and older vintages. Wine dinners, vacation stays, gift certificates, gift baskets, handcrafted jewelry and fine artwork were also up for bid.
One-of-a-kind items in the silent auctions included swimming lessons, a birdhouse, a bobblehead doll and an electric bike.
The popularity of CTC's programs has outstripped available space and their major objective now is to construct a new building or find an existing one to remodel for a community center.
Though the board, volunteers, the city and other supporters recognize that this is a long-range goal, their commitment to make it a reality is solid and determined. At the 2011 auction, a paddle raise exclusively for that objective brought in $9,500.
With an improving economy over the coming year, further gains are anticipated at Flavors of Carlton 2012.
If you'd like to help support Carlton Together Cares or make a donation to the community center project, go to www.carltontogethercares.com or call 503-852-4405.