From Groupie to Grapes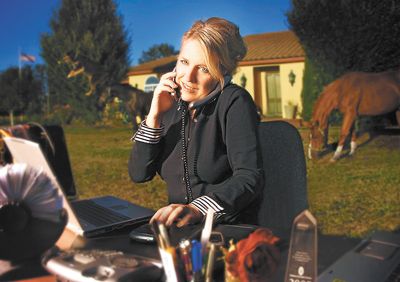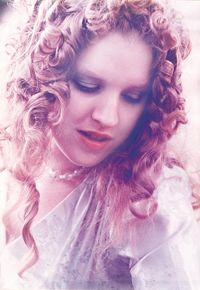 In the early '70s, Pennie Lane Trumbull met Cameron Crowe, a young Rolling Stone reporter, at the Paramount NW in Portland. Crowe went on to become an acclaimed film writer and director.
Crowe's "Almost Famous" character of Penny Lane was inspired by his early friendship with Trumbull. Almost Famous is based on Crowe's early life and the people he met, traveled with and covered on the road for Rolling Stone.
Trumbull chose to meet men, who were rock legends, but unlike most groupies today, her motivation for meeting them was not marriage, money or personal gain; she did it because she loved the music. Accompanying Lane were four music-loving girlfriends, who called themselves "The Flying Garter Girls."
After three years of the superstar rock-and-roll lifestyle, Trumbull, at age 21, walked away, got on a plane and "retired." She returned to her real identity and closed the chapter on this amazing and secret part of her life. The Flying Garter Girls never spoke about it to outsiders — only among themselves. It was their secret, and they moved on with their lives.
Trumbull went to college, graduate school and enjoyed a stellar marketing career in California. She was even married for 10 years. The one thing that never changed was her love of music.
Then in 2000, she received a surprise phone call from Crowe. They were both very young when they met in 1973 and were good friends for that short period of time, but they had not seen each other in 27 years. He told her he was going to make a movie about a period he considered "the last age of innocence in rock and roll." Trumbull was a prominent character in the film, and it was loosely based on their actual time together.
"Almost Famous" was a smash hit, and Crowe won an Oscar for "Best Writing/Screenplay" in 2001. Kate Hudson, who played Trumbull's character, was nominated for "Best Actress in a Supporting Role."
Trumbull is now a small farmer (lamb) and is also a wedding officiant. Her farm, pennielane, on Sauvie Island, is a well-kept secret among celebrities visiting Portland, where she welcomes people from the music, art, food and wine world.
OWP: When and how did you get interested in wine?
PLT: The first time I experienced fine wine was with my best friend, Meg, after we had moved to L.A. in 1974. Her father, the Hon. Alfred T. Goodwin made a point of taking us "college girls" to great restaurants when he visited. His theory was that if we got used to fine dining, we would expect the best from the men we were dating!
On his first visit, he took us to an exotic Russian restaurant, and he ordered a Semillon. I remember he said it was an older white wine from Australia, but to me, it looked a bit orange. When I tasted it, however, my world shifted. It was amazing. I looked at the bottle, and remember thinking, how did they do that?
OWP: What is your favorite Oregon producer(s) and why?
PLT: As a native Oregonian, I respect, support and admire anyone who invests and makes wine in our state. I remember the early days of "The Boys Up North," and still marvel at their pioneering spirit, courage and tenacity.
I was impressed when the esteemed Joseph Drouhin came from France in the 1980s, bought 87 acres, planted grapes and … his daughter became the winemaker.
I also really enjoy discovering the vineyards and boutique wineries throughout the state — I once spent a summer visiting every one in my motor home.
But most of all, I love the clean, elegant taste of the Oregon wines and the characters that make it. And as the refined Jackie Kennedy Onassis always said, "less IS more!"
OWP: I hear you had a wine label at one time. What was the name of it, and what happened?
PLT: In my quest to learn about wine, I exaggerated on an application for a Masters of Wine one-week intensive class in Boston in 1994 and somehow got accepted — by the way, Bob Betz and Charlie Foss were my classmates, who unlike a beginner like me, really deserved to be there.
After that brutal, intensive week, I decided that if I wanted to begin to understand wine, I really needed to start with viticulture. I planted a small test vineyard of French clones from David Ethel. The first vintage was made by Jan-Marc Baker in his North Portland garage. I ended up with 17 cases of Pinot Noir that were very drinkable for a first effort — by the grace of God and Jan-Marc! It sold out immediately.
It was a good learning experience, and although I have chosen not to make wine again, I certainly still want to remain open labeling and marketing it.
However, you asked about the label. I came up with a name the same way I start with any new creative process, by asking a simple question: What do you do when you taste wine? The most basic answer is that you either spit or swallow.
We have all reached that moment of indecision, when we are holding that wine in our mouths — tasting, examining, wondering. Then a little voice asks, is it worth it? And if you can't resist, you swallow.
I think "swallows" is just a great word — it speaks to wine tasters, it is a suggestive word that usually gets a reaction, and it also reminds me of the phenomenon of the swallows that fly back to the beautiful Mission San Juan Capistrano every year on the same day. I respect loyalty.
OWP: What is your favorite wine of all time, and why?
PLT: Well, it's a tie!
When Queen played Portland in the early '70s, I shared a bottle of Veuve Clicquot Ponsardin La Grande Dame with Freddie Mercury and the band. We were having dinner at the Ringside restaurant after the show. I loved the hourglass shape of the bottle, and the fact that the widow was a natural redhead like me. But the taste … The bubbles were so tiny and the taste was just extraordinary. I'll never forget it.
I also drank a spectacular 1953 Chateau Haut Brion on my 40th birthday. It was a gift from Dr. Gordon Wolfe, given to my parents (to keep for me) the year after I was born. It was the best bottle of Bordeaux I have ever tasted, and it rocked.
OWP: What bottles in your cellar are saved for that very special occasion?
PLT: I bought a rare Castillo Ygay Gran Reserva Rioja Especial Cosecha 1964 in Barcelona years ago. I'm not sure what the special occasion will be, but I hope that it will be soon.
OWP: Portland has a world-class food scene. What restaurant is your favorite?
PLT: I love the chefs in the food scene, and I'm in the thick of it as a small farmer. So, although I appreciate going to Portland's great restaurants, I really love to cook (or invite chefs) to entertain friends and visiting celebrities at my ranch, pennielane, on Sauvie Island.
I raise free-range lamb, and my mineral-rich grass-fed beef comes from my cousin, Rick Trumbull, a soil consultant in Milton-Freewater. Heritage chickens are raised by a friend, and neighbors trade for salmon. And fresh fruits and vegetables? From Sauvie Island, of course!
I first learned about freshness and quality ingredients from my mother, then inspiration followed thanks to Alice Waters, Leather Storrs, Tommy Habetz and Naomi Pomeroy. In the summer, my goal is to pick vegetables within three hours of dinner.
If I do go out, I love the caviar at Bluehour, the truffle chicken at Le Bouchon, a French dip at the Ringside, pasta at Noble Rot, calamari at Alexis, sandwiches by Bunk, pork by Morgan Brownlow, anything Chinese at The Decoy, brunch and Bloody Marys at Aquariva, X-rated Voodoo Doughnuts, the vinegar waters made Andy Ricker at Ping during happy hour and the slow dance of the dining experience at Beast.
OWP: Back in your heyday, did any rock stars ever drink wine? Was it the good stuff or Strawberry Hill?
PLT: The only thing that I ever heard about "Strawberry" was Fields Forever!
With regard to the world's 15 most famous bands in the early 1970s, rock stars drank whatever they wanted, mostly hard spirits and mixed drinks. They didn't waste time when it came to getting a buzz. However, this was a time of sex, drugs and rock 'n' roll, and the whole country, it seemed, was in party mode.
There were only LPs and concerts, so if you wanted to see a band, you had to buy a ticket or if you wanted to hear them, you had to buy an album. Yes, you could hear the three-minute generic hits on AM radio — no FM yet, no MTV, no 8-Tracks. So consequently, the record companies made huge profits, and it was all about non-stop touring marathons with private jets, limos and entourages. It was everything you imagined it to be and more, more, more.
OWP: What rock song best sums up wine?
PLT: Well, perhaps it sums up what happens when you drink an especially good wine: "A Whole Lotta Love" by Led Zeppelin.
OWP: Any plans to incorporate your love of wine and music?
PLT: Yes, I would love to incorporate my love of wine and music.
I finally have the time now, and I'm ready. I'd like to find a partner in the wine business who loves music and who has the desire to finance a private label, Swallows. And preferably it would be with a respected company that makes great wine and who has an established national distribution.
Entrepreneur magazine featured an article on my initial wine launch but I was already sold out. In fact, the "Swallows Wine" T-shirts are still selling, and I haven't had a wine to sell for five years.
As with my first vintage, I'd like a portion of all sales to go back to the Oregon Music Hall of Fame to support music scholarships for Oregon kids.
If I found the right partnership, I could do so much to facilitate and promote this brand due to the continuing interest in the film, "Almost Famous," and my character that is played by Kate Hudson.