COVER: Success on the Side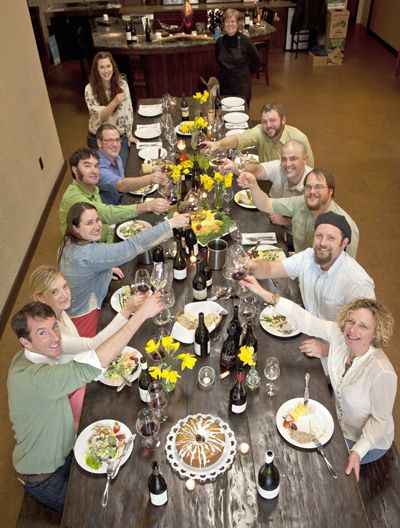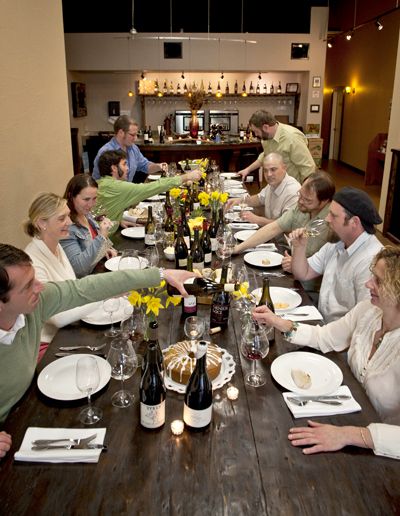 Story by Leah Jorgensen
Photos by Andrea Johnson
Every good story has its origin in something wonderful or perhaps unexpected. This past vintage I had the extraordinary opportunity to acquire one of three coveted cellar intern positions at Shea Wine Cellars, working under the direction of Drew Voit, who oversees winemaking and vineyard management.
While at Shea, we interns assisted Drew with crushing Pinot Noir and Pinot Blanc for the second vintage of his own label, Harper Voit wines. It was in the middle of punching down a fermentation bin of his Pinot Noir from Old School Vineyard that I realized here was a story. Perhaps it was the intoxicating smells of confectionary sweets and baked goods, berries, and floral perfume wafting from the bin, but I was in awe of what was taking place.
It's not very often that a winemaker is given the opportunity to make his or her own wine while working for a winery employer. It's pretty clear why it may pose a conflict for some winery owners.
On one hand, the employer may expect the winemaker to be 100 percent committed to the company. Time and thought potentially deviated from tasks at hand could create a distraction, or, worse, competition.
On the other hand, some owners allow their winemaker to produce a private label on the side, seeing it as a positive piece in their shared story. It clearly comes down to trust and maintaining a respectful working relationship.
The following winemakers have all earned that level of trust and deferential working association with their employers, and are shining examples of why this is great for Oregon wine.
La Femme Française Winemaker
1789 Wines
Her tagline is Oregon wine with a French accent. The year 1789 denotes the time of revolution for winemaker Isabelle Dutartre's native France. The wine reflects what she calls her own personal revolution.
"I moved my three kids and my dog from the south of France to Oregon wine country," she said.
Dutartre has been making wine for over 28 years. She studied enology for five years at the University of Bourgogne, and then worked for 12 at Maison Joseph Drouhin in Beaune, Burgundy. By 1993 she was commuting between France and Oregon several times each year, until she started working as winemaker for De Ponte Cellars in the Dundee Hills with their very first vintage in 2001.
"It [De Ponte Cellars] was a really good fit, and I felt very much appreciated from the start," Dutartre said.
In 2007, Dutartre decided to launch her own label. "In general, things were good — life, work, I was really happy," she said. That year marked the first vintage and release of 1789 Pinot Noir. As for her employers, they were only pleased to give their blessing to her new venture.
Dutartre still produces De Ponte's line-up of Pinot Noirs and a Melon de Bourgogne. She sources her Pinot Noir grapes for 1789 from a 10-acre vineyard site on Parrett Mountain in the Chehalem Mountains, managed by her friend Buddy Beck.
Production for the 2007 vintage was 175 cases and 165 cases in 2008. For more information, visit www.1789wines.com.
One Flew Over the Winemaker
Cuckoo's Nest Cellars
Bryan Wilson's initial fascination with wine began as a young teen while living with his parents in Europe. Wine became part of family life at the dinner table, which lead to his passion for discovering the world of winemaking.
His 30-year career started after he graduated from the University of Oregon in 1980 and moved to California to work for Chateau Souverain, where he focused on making Zinfandel and Sauvignon Blanc. Since then, he has worked for Benzinger Family Winery, Stag's Leap Cellars, Bridgeview Winery, Silvan Ridge/Hinman Vineyard and Del Rio Vineyard.
In 2006, Wilson founded Cuckoo's Nest Cellars and was warmly invited to make his wines at Foris Vineyards, where he was named winemaker starting with the 2007 vintage.
"Ted [Gerber] is exceptionally supportive and generous," Wilson said.
Cuckoo's Nest was a name selected for the aspect of fun it suggests. "I didn't want a pretentious name. It's about keeping my nose in the glass, not in the air," he laughed.
Another inspiration for the name is his impressive cuckoo clock collection, which he plans to put up in a tasting room one day. Bryan also mentioned the obvious Ken Kesey connection. "One Flew Over the Cuckoo's Nest is an iconic Oregon book," he said
The cuckoo lays its eggs in other birds' nests, and that's exactly what Wilson is doing with his wines, making them at other facilities.
As for the wines, he's making a Pinot Gris, an early Muscat "Fizze" crafted after Moscato d'Asti, Two Birds Red, a blend of Cabernet Sauvignon and Syrah, and his "Aromatique," a dry white blend of Viognier and Gewürztraminer.
He sources his fruit from Foris Vineyard, Cliff Creek Vineyard, Ellis Vineyard and Eola Springs Vineyard. Production is between 700 and 800 cases, which he self distributes.
For more information, call 541-582-0258.
The Cultured Winemaker
Ebony Wines
Winemaker Chris Mazepink studied anthropology during his undergraduate years in upstate New York because he loved learning about other cultures. He found a common ground in how most, if not all, cultures love sharing food and drink, and, especially wine.
When he arrived in Oregon, he was working on a Master's degree at Oregon State and began working in the lab in the winemaking (food science) department. He worked at Lemelson Vineyards as the assistant winemaker before taking on the winemaking at Shea Wine Cellars. Following the 2007 vintage, Mazepink moved south to direct the winemaking and viticulture at Benton Lane Winery. Part of the agreement included allowing him to make his own wine.
Ebony Wines is named for the dense, fine-textured black wood highly valued as an ornamental wood. Mazepink and his wife had been pondering label names around the dinner table when he looked up and his eyes met an heirloom sculpture he had inherited from his grandparents. The sculpture is of a beautiful elephant carved out of ebony with contrasting white ivory tusks, a piece of art collected from his grandparents' extensive travels.
"The sculpture is pretty bold but has a real sense of elegance, and I thought that was exactly how I liked to make Pinot Noir." The elegant ebony wine bottle with ivory-waxed seal certainly reflects the premium nature of his wines.
Ebony Wines currently consists of two blends: The Quarry, which embodies the rocky nature of the selected vineyard sites, and a vineyard-designate from Olenik Vineyard, of which Mazepink is part owner. He and his cousins bought it in 2005 and initially sold all the fruit to wineries like Penner-Ash, Patricia Green, Raptor Ridge and Elk Cove.
"The site has a high content of rock, which makes it unique." Mazepink said. "Some of the greatest wine regions in the world have great rock content."
Chris points out that he uses 100 percent oak fermenters to add to the textural element of his wines.
The 2009 vintage of Ebony Wines was recently bottled — 200 cases were produced. Production went up to 250 cases for the 2010 vintage, and they plan to increase to 350 cases for 2011.
For more information, visit www.ebonywines.com.
The Vignaiolo Winemaker
Genius Loci Wines/Lundeen Wines
In 2005, while Michael Lundeen had been working in the cellar at Domaine Serene, he traveled to Italy's Piedmont region to help make world-class Barolo and Barbaresco with his good friend Mario Andrion at Castello di Verduno.
While abroad, Lundeen spent a lot of time in the vineyard. Upon returning home he brought back many vineyard and wine lessons to apply to his own label. He had learned to become a focused grower-winemaker, called vignaiolo in Italy, which emphasizes the critical role of vineyard placement and maintenance in the production of high quality wine (the French equivalent is vigneron).
Lundeen's first label, Genius Loci, which is Latin for "spirit of the place," is strictly high-end vineyard-designate wines, and is almost entirely Pinot Noir. His tagline is single-vineyard wines crafted for the patient palate.. His second label, Lundeen Wines, is comprised of honest, handcrafted, value-priced Pinot Gris and Pinot Noir.
He explains, "while it is our great desire to make world-class vin de garde, we also believe in producing great wines at great prices."
His first vintage was in 2006, which he made while working at Belle Pente Vineyard and Winery. In 2007, he helped start the winery at Illahe Vineyards, where he made the subsequent vintages of his wines. He is currently in charge of winemaking at Walnut City Wineworks, where he will continue to make his own wines.
Lundeen sources most of his fruit from his family's homestead site, Poverty Bend Vineyard. For three generations, the Lundeens have been stewards of the Poverty Bend Farm, which is located just outside McMinnville. He currently does all of the farming himself and employs friends and family to help out at harvest time. He also works with fruit from Illahe Vineyard and Ana Vineyard.
"What's been so satisfying for me is to grow my own fruit and take it through every part of the winemaking process myself; it's as hands-on as you can get as a grower and winemaker," Lundeen said.
Production is small and is currently at a few hundred cases.
For more information, visit www.geniuslociwines.com.
The Full Three-Act Winemaker
Harper Voit Wines
Thanks to Rex Pickett's adoration of the 2009 Harper Voit Strandline Pinot Noir barrel sample in his novel "Vertical," the wine has become a new cult favorite. In the novel, the wine hadn't even been released, hence its "label was a strip of masking tape, hand-lettered with a Sharpie." Miles, the main character, assessed the wine as "inky, plush, gorgeous, almost savage, a wild ride of pepper, black cherry, cedar and Cuban cigar — the full three-act structure so many Pinots lack."
Not a bad start for a newcomer. But owner/winemaker Drew Voit is certainly no newcomer. A California native and UC Davis graduate, Voit has been making wine for over 13 years. He arrived in Oregon in 1998 and was the associate winemaker at Domaine Serene until the winter of 2008, when he was hired to oversee winemaking and vineyard management at Shea Wine Cellars.
Voit wanted to make his own wine for some time, and when he interviewed with Dick and Deirdre Shea, he felt it was the right time to do so. "I made it part of the deal when I negotiated my job," he stated. "Thankfully, the Sheas were amenable with it."
The name Harper is a family name, and happens to be Drew's middle name. According to family lore, the name appears in his mother's story as being related to English colonist Robert Harper, who founded the town of Harpers Ferry in West Virginia, historically best known for John Brown's raid on the Armory in 1859 and its role in the American Civil War. The label is a nod to his southern heritage.
"The wines are about the sites I love, and I'm making the kinds of wines I love from those sites," he said.
Voit selectively works with small, independent sites nobody knows, but should. "I've worked with the marquis vineyards as an employed winemaker, and now I get to find some really interesting gems, a few diamonds in the rough." One of those gems is Old School Vineyards, a meticulously and Old World-farmed site, located in Junction City, which sources fruit to Antica Terra, Broadley, Rex Hill and, now, Harper Voit.
And, yes, the wines now have labels.
Harper Voit produces small-lot Pinot Noir and Pinot Blanc. About 210 cases were produced in 2009, and 300 cases in 2010.
For more information, visit www.harpervoit.com.
The Farm-Raised Winemaker
Kandarian Wine Cellars
Jeff Kandarian describes himself as a farm kid from the Fresno area who studied business law, then left law school to help work on the family farm — growing flowers, herbs and spices for seeds, as well as commercial crops, including 150 acres of table grapes.
Kandarian had two passions driving his career: his love to cook and his agricultural heritage. So when it came to determining his ideal career path, Kandarian says with a laugh, "I knew I didn't want to tuck in a shirt or shave."
He went on to study fermentation science with a minor in chemistry at Fresno State. His first cellar experiences were in the Central Coast region, including stints at Justin Winery, Meridian and Eberle in Paso Robles.
In 2006, a lifestyle shift brought Kandarian and his wife to Southern Oregon, where he took a job with Del Rio Vineyards. Serendipity followed, and, in 2008, John Albin from King Estate contacted him to work in Eugene. Part of the deal was Kandarian would be able to start his own label. Since he's been making wine at King Estate, he's set up his own operation without any conflict.
"It's a really great deal," Kandarian said. "I have my own designated row in the barrel room. And, the wines are sold alongside the King Estate label in the visitors' center."
Kandarian Wine Cellars comprises of wines he loves to make, wines that are completely different from what he makes for King Estate.
His first wine was a 2008 Pinot Gris dessert wine playfully called "Ice Box" — since you don't get grapes that freeze on the vines as with traditional ice wine.
In 2009, he made a Sauvignon Blanc and a Zinfandel called "Anomaly," as well as a Syrah that's still in barrel. Fruit sources include: Croft Vineyard, Oster Vineyard, Wooldridge Creek and Carpenter Hill Vineyard in Southern Oregon. His goal is to source fruit from select Washington, Oregon and California sites for designates and blends.
And, he still goes to work without tucking in his shirt. He does, however, shave.
Total production will remain between 500 and 750 cases.
For more information, visit www.kandarianwinecellars.com.
The Coaxed Winemaker
Kelley Fox Wines
Kelley Fox had no intention of starting her own wine label. The background story goes something like this: She had been close to Scott Wright, owner of Scott Paul Wines, and, in 2005, when he was drawing up a contract to hire Fox full-time, he decided to stipulate in her contract that she could consult or make her own wine; but it wasn't something she really wanted to do.
"I've been doing this for 10 years on the floor — driving the forklift, fixing the equipment, working every aspect of winemaking — I didn't want to take on an additional responsibility."
Her father thought differently. In 2006, he approached her and prodded her, suggesting it would be fun for her to make her own wine. Still, Fox was reluctant. She then approached Wright about the idea and he was behind her 100 percent.
Fox makes only Pinot Noir for her eponymous label. "I have a similar approach for both wines. I stopped making stylized wines a long time ago. I deal with whatever I'm given each vintage, and then I respond to it," she said.
The blocks of fruit for her wine are different. Otherwise, Fox's approach is consistent.
"This is not an outlet for how I'd prefer to make wine," Fox said. "I'm satisfied with where I'm at — I get to choose the equipment, there are no obstacles. This is like a second home to me, and Scott is the last person I'll work for," she said.
Fox is ultra protective of her relationship with Wright, which she says is her first concern.
"There's much trust here, and I will always put Scott Paul Wines first. Whether it's the choice of picking or refraining from bringing my wines to IPNC — if we're pouring — I avoid all conflicts and honor his interests first, which is why, I think, he's my number one advocate."
The wine label shows an earwig, a playful irony to what Kelley refers to as the romanticism of many labels. Her friend designed it for her, but she admits most people think it's a scorpion or praying mantis. Her intention was to add some levity to an already serious business.
Fox sources her Pinot Noir from Maresh and Momtazi Vineyards. She produces anywhere from 120 to 550 cases annually.
For more information, visit www.kelleyfoxwines.com.
The "Power Couple" Winemaking Team
Matzinger Davies Wine Company
Back in 2005, soon-to-be-husband-and-wife winemakers Anna Matzinger and Michael Davies began a conversation about their other union: a wine label. Davies was transitioning away from his post at Chehalem, while Matzinger was in her current winemaking position at Archery Summit. They both felt a nudge to start something new as an investment in their future, emotionally and financially.
During this time of transition, Davies had been working in different places, including Burgundy and then at A to Z Wineworks, as of June 2006. They had their first child in May of that year, and as they were building their nest and planting roots, they felt a synergy that follows the evolutionary progression of any winemaker. The time seemed right to secure the first batch of fruit for their initial vintage.
"We just had a deeper connection and attachment at this time in our lives," Matzinger said. "There's something emotional that feeds off of the tie in to families; it's a powerful, seductive, generational change."
Davies adds, "We won't assume our children will be involved in the business. We know they will pursue their own dreams; however, this label will create an opportunity to pass something on to the next generation, should succession be desired."
The wines are produced at the Rex Hill facility, and they have received support as part of the brood, part of the property and even part of the focus at A to Z/Rex Hill. The Pinot Noir blend is from Three Trees Vineyard and Poco Vineyard in the Eola-Amity Hills, and the Chardonnay is from a block at Archery Summit.
In 2007, they secured some Sauvignon Blanc, a nod to their "kiwi connection" — Davies being a native New Zealander and Matzinger having worked crush there. That wine is labeled "Gorgeous Savvy" for a more lighthearted, fun, approachable style of wine made from fruit sourced on the Oregon side of the Columbia Gorge.
For more information, visit www.matzingerdavies.com.
The One Up North (in the South) Winemaker
Quady North Wines
Herb Quady's family has a winery in the Central Valley of California called Quady Winery, where he's a partner. In 1997, Quady decided to go out on his own and worked for Bonny Doon Vineyard. In 2004, he headed up north in search of cooler margins and began working at Troon Vineyard. From the beginning he expressed an interest in starting his own wine label, and has been welcome to do so.
In 2005, the Quady family purchased property for a vineyard and winery site in Southern Oregon. By July of 2006, 15 acres of Syrah, Cabernet Franc and Viognier were planted in what is now called Mae's Vineyard. In 2007, they added two more acres, primarily Viognier and Cabernet Franc. Quady North was established.
"I'm trying not to mix sources," Quady said. "I make single-vineyard wines with a minimalist approach."
Quady North produces two Viogniers, three to four Syrahs, two Cab Francs and a Syrah-Grenache dry rosé.
Rather than trying to separate the style of wine he makes for Troon, Quady focuses on making the very best wine for each lot of wine he makes. The focus at Troon is on Zinfandel and Cabernet (namely the Druid's Fluid blend), which are quite different from the estate wines at Troon and Quady North.
Quady spends most of the year working 20 hours a week at Troon, with the exception of the peak production schedule of harvest, blending, bottling, etc. The rest of his time is dedicated to Quady North.
"This model works for us because we have a trusted relationship, which is necessary," Quady said. "Everyone has to be fair. Plus, I'm focusing on different varieties. I don't approach the same accounts as Troon, I'm not in this to compete. And, at the end of the day, everyone is happy and fulfilled. It's a win-win."
Production is around 1,250 cases.
For more information, visit www.quadynorth.com.
The Well-Rooted Winemaker
Roots Wine Company & Vineyard
Roots celebrates "origin and ancestry, as well as family ties, community support, growth and the future's awesome potential." Ironically, the word racine is French for root, which also happens to be the Wisconsin birthplace of owner/winemaker Chris Berg. And at the root of it all, the name is about beginning, belonging and becoming.
In 1996, Berg's family purchased land in the Willamette Valley across the way from WillaKenzie Estate, and soon after acquired a fabrication business in Tualatin. A couple years later, Berg moved to Oregon to help run the company and start planting the family vineyard with the intention of selling the fruit. However, following the recession in 2000, they had to close the doors on the family business.
Berg was already taking viticulture and enology classes at Chemeketa Community College, so he leapt into the wine business, working his first crush at Lemelson Vineyards for Hamacher Wines. He then worked a vintage at Torlesse Winery in New Zealand, and, upon returning, worked for Lynn Penner-Ash at Rex Hill Vineyards.
"Over the years I have had a chance to work for many different people in the industry, including selling wine for Ewald Moseler Selections, the German wine importer," Berg said. "All of these experiences have led me to make my own wine."
In 2002, Berg spent the summer working at Oregon Vineyard Supply before harvesting the first crop of his vineyard, which made about 70 cases of wine. Fast-forward to 2006, Berg was looking for a facility to make his wine.
He learned that Laurel Ridge was looking for a winemaker, and after a long conversation with owner Susan Teppola, they agreed he would be a really good fit.
"My first harvest at Laurel Ridge was 2006, and since that day we met, it has been a great experience working with our custom crush clients and working towards making improvements on the facility," he said.
Roots wines are single-vineyard designates, and all of his seven-acre vineyard goes into his wines.
Other fruit sources include Deux Vert Vineyard, also in the Yamhill-Carlton District; Leroy Vineyard and 49 Rows Vineyard, both in the Chehalem Mountains; Cherry Grove Vineyard, Cancilla Vineyard and Apolloni Vineyard, all in the Willamette Valley; as well as Seven Hills Vineyard in the Walla Walla Valley. Wines include Pinot Noir, Pinot Gris, Melon de Bourgogne, Viognier and Riesling.
Production is around 1,220 cases.
Berg has a second label, Klee (pronounced clay), a Pinot sourced from the Willamette Valley; it is named for the German/Swiss artist who used form and function over pretention or profit to "speak for the people." Similarly, he crafted this wine for the people at a reasonable price point.
For more information visit www.rootsvineyards.com.
The Insider Favorite Winemaker
Stevenson-Barrie Cellars
Of all the featured winemakers, Michael Stevenson has been working on his side project the longest.
"I never thought of doing my own label. In fact, I moved out here to get into brewing beer," Stevenson said. "But then I worked my first harvest in 1993, and one thing led to another, and I've stayed in the industry."
In 1994, he was hired as cellar master at Panther Creek Cellars, and a year later, he made his own label's first vintage.
It all started when his friend, Scott Barrie, approached him to make some wine, provided he (Barrie) could find the grapes. So, he came through with Pinot Noir from Glasco Vineyard, and they made their first 60 cases of Stevenson-Barrie wine.
Stevenson became the assistant winemaker at Panther Creek in 1998, and was soon promoted to winemaker in 2000. He has made the Stevenson-Barrie wines exclusively at Panther Creek since 1995.
The wine program is entirely devoted to Pinot Noir from a select group of Yamhill Valley sites. Over the years, they have worked with fruit from Shea, Freedom Hill and Temperance Hill vineyards. It's the vineyard that drives the winemaking philosophy for business partners Stevenson and Barrie.
The vineyard is even at the core of the Stevenson-Barrie barrel regime, which consists of year-old barrels purchased from other high-end wineries. The intention is to preserve the distinct qualities imparted by the unique terroir of each of the prestigious vineyards they work with.
"I like that I have the opportunity to make wines in a different style," Stevenson said. "But, the intention was never to work for myself. I'm very happy at Panther Creek."
The case production for Stevenson-Barrie remains extremely small, around 60 cases, which clearly suggests a highly exclusive status, especially with the excellent yet rare reviews the wine receives.
The wines usually disappear quickly from local word-of-mouth sales alone. And, when the occasional bottle is available for sale, it's often listed as "for those in the know," "an insider favorite."
The Scottish Lass Winemaker
Tartan Wines
Darcy Pendergrass has been making wine at Amity Vineyards for 10 years, and she didn't start out there thinking she would ever make wines under her own label on site. She credits her amicable relationship with owner Myron Redford for giving her the opportunity to do so.
"Myron's very supportive," she said. "And, at the end of the day, I'm not making wines that compete with his."
Pendergrass received a BS in Microbiology from the University of Montana, and when she returned to her native state of Oregon, she enrolled in the winemaking program at Chemeketa Community College in Salem. There, she found her true passion: making world-class wine. In particular, she was interested in making Pinot Noir and Riesling.
She began at Amity Vineyards in 2001 in the tasting room and eventually worked her way up to head winemaker just before the 2008 vintage. She also produced two vintages in New Zealand for her friends at Dry River Winery.
Pendergrass knew a couple growers who needed a home, and the timing was just right. "I was presented with grapes that I knew I'd have fun working with, and, this was the perfect opportunity for me to do something different from Pinot Noir."
That "something different" is Dolcetto and Tempranillo, sourced mostly from Sunnyside Vineyard, one of the oldest sites in the Willamette Valley.
Pendergrass initially wanted a family name for the label, but then decided to pay homage to her family's tartan, as associated with Scotland and Scottish kilts.
Her heritage is about 50 percent Scottish on both sides, with a little Irish Gaelic mixed in, and her label depicts a watercolor rendition of her family's tartan. When consuming Tartan Wines, kilts optional.
Since the first vintage in 2006, Tartan wines comprise of 200 total case production, an even split between the two wines.
For more information, contact darcywork@hotmail.com - website coming soon.
The Zen Winemaker
Terue Wines
In 2007, Brooks winemaker Chris Williams was visiting Japan and brought home a silkscreen that would become the inspiration for his own wine label, Terue Wines, named for a sweet lady who owns a wine bar in Tokyo.
Williams became very close with Terue and her husband, who attend the International Pinot Noir Celebration every year. Last summer, when Terue came to Oregon for IPNC, Williams surprised her with his new wine.
"She was really pleased with the wine," he said, "and, I think, she was charmed by the name."
There's something incredibly selfless and calming about Williams — from his tall, gentle, Jedi-like demeanor, to his unassuming decision to name his wine for a woman a half a world away, and especially in his steadfast dedication to the Brooks family.
Williams began working with Jimi Brooks in 2000, and assisted him at Maysara Winery in 2001. Upon Brooks' untimely death in 2004, Williams stepped in to help alongside a team of other winemakers in the region who volunteered to see the next couple vintages through until Williams transitioned to making the wine full time, beginning in 2005.
It's clear that Williams is a part of the Brooks family and works closely with Janie Brooks Heuck while remaining close with Jimi Brook's son, Pascal, the sole owner of Brooks Wines.
While he feels humbled by and fulfilled in carrying on the tradition of making Pinot Noir and Riesling in the Brooks style, Williams was excited for the chance to work with two other varietals he was equally interested in: Sangiovese and dry Muscat.
"I wanted to make bright, expressive wines with high acidity, but that were different from what I was making for Brooks," Williams said.
He began making the Sangiovese in 2006 and continues to source the grapes from Del Rio Vineyard. The Muscat comes from the Eola Springs Vineyard, about five miles from the winery.
"The Brooks family has been very understanding and encouraging," Williams said.
In fact, his wines are proudly showcased alongside his employer's wines on the Brooks website wine shop.
A portion of the proceeds for Terue Wines benefit a children's art department. Production is very small with about 90 cases per wine.
For more information, visit www.brookswine.com.