Kudos for the Kiwis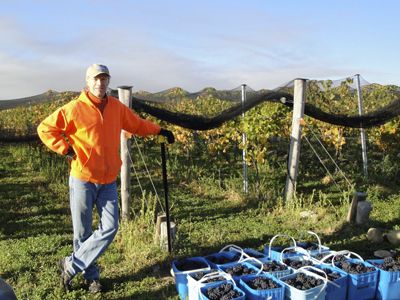 By Peter Rosback
I don't want to parade as an expert. There are certainly many with better palates and more experience on this subject. It is one I've studied a bit and, annually I find myself in the right circumstances to continue my education. The subject is the relative qualities of Pinot Noir made in New Zealand compared to those made in Oregon.
I've got a foot in both camps — I make Pinot Noir in both places.
My first vintage in New Zealand was in 2007. I go there every year to make Sauvignon Blanc and Pinot Noir — and bike and travel and eat. We'd all been hearing so much about New Zealand and its potential for Pinot Noir, I was eager to try it. As with Pinot Noir in Oregon, it's best to be on the spot where the wine is made as the good stuff tends to get swallowed up before going far.
Except for a precious few, the majority of Pinot Noirs I tasted were a pretty sorry lot —these were vintages ranging from 2006 back into the '90s. Many had good color and were recognizably varietal. Unfortunately, most were what I'd term joyless — an interplay of tannins and acids — New Zealand wines in general have great natural acidity — and left an unpleasant impression on the palate.
Not surprisingly, almost every winery was treating its Pinot Noirs in a manner that most in Oregon would find unthinkably rough. I saw no one sorting fruit, must-pumps were common and many grapes were machine-picked. Not sure why this was so, perhaps it has to do with lack of winery labor — the additional "hands-on" that Pinot Noir favors is just not as available in New Zealand.
The handful of Pinot Noirs I did like — and they were few — were made in much the same fashion as the better Pinots made in Oregon.
By and large, in comparative tastings, Pinot Noirs from Oregon were more supple and complex. Vine age can account for some of this, but much was winemaking.
My, how things have changed in a few years. Tasting around in New Zealand in 2010 revealed many, many more quality Pinot Noirs. Where previously I could find only a couple wineries that did not must-pump in 2007, there were few doing so in 2010 — and those that were must-pumping were planning to end the practice. That alone should help with tannin issues. Complexity? Something that comes with vine age...
Regionality matters. Pinot Noir is grown across a huge spread of the land mass of New Zealand, from up on the North Island to most of the way down the South Island. Notable regions — roughly from north to south — are Martinborough, Nelson, Marlborough, Waipara and Central Otago. There are quality producers in each.
Some of the most "forward" and some of my favorites come from Martinborough. Dry River, Atarangi, Escarpment and others have made some gorgeous Pinot Noirs. It can be a tough area to grow grapes as frosts threaten on both ends of the growing season.
While Nelson is a small growing area that has produced some gems, Marlborough is the biggest region with a fair amount of Pinot grown — it's also full of Sauvignon Blanc. Except for a few small producers, it has a somewhat industrial bent — many tank farms churning out lots of decent quality, inexpensive Sauv Blancs. It may be a touch warm for Pinot Noir on average, and it's hard to believe that flatland Pinot Noir can achieve Pinot Noir's highest heights. But the few hillside sites show some promise for Pinot Noir, and the region has many very talented winemakers.
Waipara, north of Christchurch, is small but has great potential. Pegasus Bay has certainly made some excellent Pinot Noir and there are many hillsides with potential.
Central Otago attracts most of the buzz in New Zealand for Pinot Noir. My favorite New Zealand winery is there: Felton Road. It has a long track record of quality Pinot Noir.
In 2007, I would have said Otago was almost all about potential. There were only a few making good Pinot Noir, though to my palate, the fruit itself was very "Oregon" like. Big change since 2007. There are a host of beautiful wines now.
While New Zealand Pinot Noir seemed to be mostly about potential and a fawning British press, it is clearly demonstrating that capability now. The new Burgundy? Probably not — different soils, different climate.
But I see no reason why its Pinots should not rival those of Oregon in overall quality, while showing their own unique, pleasing qualities.
Peter Rosback is the owner/winemaker for Sineann Wines in Newberg. He travels regularly to New Zealand to make a Pinot that he sells under the Sineann label.