Gorge Pours in The Pearl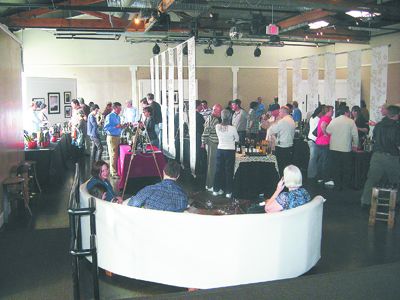 By Karl Klooster
Portlanders usually go to the Gorge. But once a year, the Gorge visits Portland.
The Columbia Gorge Winegrowers Association, that is. The group's aim is spread the word about the quality and character of its wines.
This was the second year for "The Portland Grand Tasting," a showcase of 25 wineries held March 28 at the Pearl District's Urban Studio, a venue specifically designed to accommodate private events and activities.
Participants included: AniChe, Cascade Cliffs, Cathedral Ridge, Cerulean, COR, Domaine Pouillon, Dry Hollow, Garnier, Jacob Williams, Jan-Marc, Marchesi, Maryhill, Memaloose, Mt. Hood, Naked Winery, Peter Brehm, Pheasant Valley, Phelps Creek, Springhouse, Syncline, The Pines 1852, Viento, Waving Tree, White Salmon and Wy'East.
The Grand Tasting featured wines made from grapes grown on both sides of the Columbia River, as well as in the Columbia Valley. It served as the kickoff for "Gorge Wine Week: A World of Wine in 40 Miles."
From March 28 through April 3, Gorge wineries welcomed visitors to one of the most magnificent places on earth. The aim was to let the scenic grandeur do its thing as a warm-up for the enticement of fine wine.
Climate and soil know only nature's boundaries, so Oregon and Washington vineyards occupying this stunning swath of geography share stylistic similarities determined by where they're situated along the river rather than which side they call home.
Stretching over some 40 miles of real estate, marked by Hood River/White Salmon on the west and Biggs Junction/Maryhill on the east, a close-knit collection of nearly 40 wineries offer a diverse portfolio.
Small, personal and hands-on describes these wineries.
Origins of their wines crisscross the European continent. Germany, Italy, Spain, Austria and all the major wine regions of France are represented.
Of course, as with all Oregon wine regions, it's the winegrowers and winemakers who complete the picture with their experimentation and expertise.
The Columbia Gorge AVA boasts nearly three dozen growers. Among them are Celilo, Coyote Canyon, Davidson Hill, Marchesi, McCormick Family and Underwood Mountain, all of whom have been gaining praiseworthy reputations in their own right.
Varieties grown in the AVA include: Albariño, Aglianico, Barbera, Cabernet Franc, Cabernet Sauvignon, Chardonnay, Dolcetto, Gamay, Gewürztraminer, Grenache, Grüner Vertliner, Lemberger, Malbec, Marsanne, Merlot, Mourvèdre, Muscat, Nebbiolo, Pinot Blanc, Pinot Gris, Pinot Noir, Primitivo, Riesling, Roussanne, Sangiovese, Sauvignon Blanc, Syrah, Tempranillo, Viognier, White Riesling and Zinfandel.
Add to that fruit purchased from the Walla Walla and Columbia valleys, and it would be difficult to find an AVA anywhere in the country whose offerings encompass a larger variety of vitis vinifera.
Take for example, longtime winemaker Rich Cushman of Hood River, who makes wines for a half-dozen wineries, including his own Viento. Each year, he applies his talents to crafting a dizzying array of different wines.
Following is a list of varieties he has been working with recently: Barbera, Cabernet Sauvignon, Chardonnay, Dolcetto, Gewürztraminer, Grüner Veltliner, Pinot Gris, Pinot Noir, Riesling, Sangiovese, Sauvignon Blanc, Syrah and Viognier.
Did I mention the Gewürz is a 17-percent residual sugar ice wine? Or that he's also made a stunning sparkler from time to time?
If Cushman could be called the wizardly winemaker of the Columbia Gorge, his venerable vintner counterpart would be Lonnie Wright of Pines 1852 Vineyard and Winery.
Wright was in charge of planting one of Washington's largest vineyards at Columbia Crest in Paterson before leaving to start his own business.
He put in his first vineyard outside The Dalles, resurrecting a dormant site of old-vine Zinfandel from near-death in the process. He went on to become a manager and consultant for vineyards throughout the Gorge AVA.
Both these Gorge personalities were on hand for the Portland tasting, where Cushman poured one of his personal favorites, a crisp, clean dry Riesling that succeeded the difficult trick of balancing fresh, citrusy fruit and zesty acidity without sweetness.
Wright offered an item tasters couldn't resist — Old Vine Zin. Although a 2009 that will benefit from bottle age, it enticed with the lush, concentrated fruit for which it has rightly become an Oregon legend.
Not to be outdone by the more mature maestros, younger generation Gorge winemakers are already displaying not just ability but creativity with their most recent efforts.
At Syncline Vineyards, co-owner James Mantone tends the vines and makes the wines with the assistance of his wife, Poppie, who also looks after management and administrative matters.
He focuses primarily on Rhone Valley varietals, and has succeeded in crafting some exceptional examples since founding Syncline in 2001. He honed his skills in Oregon for six years before jumping the river to set up shop in Lyle, Wash.
Syrah, Mourvèdre, Grenache, Viognier and Roussanne hold prominent places in the Syncline portfolio. But a favorite for this taster is the Grenache/Carignan blend, a palate-pleasing burst of red berry fruit and spicy notes.
Mantone said the blend represented an effort to combine attributes of Grenache, from the Rhone and Carignan, the most widely planted red wine grape in France, which displays prize-winning attributes in the Corbieres region.
At COR Cellars, also in Lyle, winemaker Luke Bradford is big on Bordeaux varieties and Alsatian Riesling. He is particularly taken with Cabernet Franc, which has consistently been overshadowed by Cabernet Sauvignon.
However, Bradford is using a different approach with the grape best known for its prominent role in the Bordeaux wines of Saint-Émilion and Pomerol. Instead, he is patterning COR's Cabernet Franc after the Loire Valley version.
In Chinon, Bourgueil and Saint-Nicolas-de Bourgueil, the grape achieves middleweight magic in a silky, spicy, red raspberry style that invites quaffing while delivering character. And Bradford seems to be on the right track in replicating it.
On another creative track, Naked Winery in Hood River, known for its value blends, is now putting up a series of blends in plastic bottles. The names include Campfire Red, Wanderlust White and Picnic Table Pink. At $10, they're well worth putting in your backpack.
This brief opportunity to catch a glimpse into the many offerings available in the Columbia Gorge AVA merely hinted at the reward from actually going there. There'll be another Gorge Wine Week Passport Tour next year. But, why wait?
For more information, visit www.columbiagorgewine.com or call 866-413-WINE.
Karl Klooster is the associate editor of the Oregon Wine Press and writes a wine column for the News-Register. He first became professionally involved in wine in 1972.