Sokol Blosser Refurbed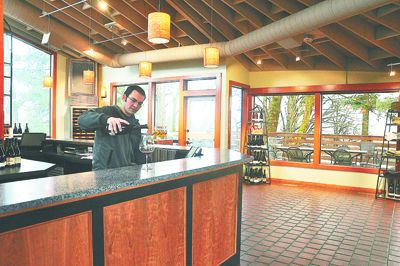 Sokol Blosser Winery, a family-owned winery since 1971, recently unveiled its newly remodeled tasting room. The family expects the renovation to provide a more welcoming and educational experience.
The original tasting room was designed by renowned Oregon architect John Storrs and opened in 1978, the same year the Sokol Blosser family released their first wines.
The room features a large window to the northeast to view Mt. Hood, a wall of windows leading to an open deck overlooking the estate vineyard and skylights that provide a bright ambiance in which to sample wine.
"This remodel is the third 'facelift' our tasting room has seen," said Alison Sokol Blosser, second-generation winegrower and co-president of Sokol Blosser Winery with her brother, Alex. "It's held up well through the years, and we look forward to sharing the new space with our summer visitors."
The remodel features a recycled glass and concrete bartop designed by FUEZ, natural cork light fixtures, energy-efficient appliances and a new office built by Mighty Acorn Construction.
The room also houses a 60-inch flat screen plasma television with Apple TV controlled by an interactive on-the-bar iPad. It will display images of the winery's long history, show tasting notes on current releases, present upcoming events, and will also play videos of winemaking techniques, vineyard practices and other videos specific to the interests of visitors.
"Customers are looking for an interactive experience when they come to wine country. When getting their shoes dirty in the vineyard isn't possible or feasible, they can use the iPad and other visual displays to learn more about our terroir, geography and history," noted Alison.
Sokol Blosser's tasting room (5000 N.E. Sokol Blosser Lane, Dayton) is open daily, 10 a.m. to 4 p.m. Regular tours, vineyard hikes and ATV tours are scheduled beginning in June.