Pinot & Palette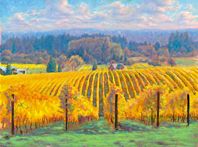 ART Elements Gallery in Newberg, as well as wineries Sokol Blosser, Anne Amie and Vista Hills, will host a multi-venue exhibit, "Pinot & Palette," featuring paintings of Oregon wine country by Michael Orwick, May 20 - June 18.
"'Pinot & Palette' is a celebration of prospering, terroir and the cross-pollination of two of Oregon's renowned art forms: painting and winemaking," wrote Orwick on his website.
For more about the exhibit, please visit www.michaelorwick.com.