James Beard Comes Home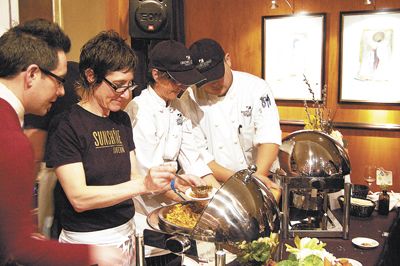 By Kerry Newberry
In James Beard's 1964 classic memoir/cookbook,"Delights and Prejudices," he began by describing taste memories: "When Proust recollected the precise taste sensation of the little scalloped madeleine cakes served at tea by his aunt," Beard wrote, "it led him into his monumental remembrance of things past."
"When I recollect the taste sensations of my childhood, they lead me to more cakes, more tastes: the great razor clams, the succulent Dungeness crab, the salmon, crawfish, mussels and trout of the Oregon coast; the black bottom pie served in a famous Portland restaurant…"
Decades later, the culinary city Beard waxed poetic over, has never been livelier. The New York Times dining section sustains an enduring crush on Portland chefs and restaurants. Articles tout the chefs as tattooed and edgy; the cuisine, innovative and thoughtful.
With the opening of each new restaurant, word-of-mouth sweeps across the city carrying the excitement of a new Broadway show. The secret to the fine cuisine is simple: fresh, local, high-quality ingredients.
Local epicureans know the reverence for Oregon's bounty dates back to Beard. The quintessential bon vivant, he relished food — simple food made with fresh, local ingredients.
"I don't like gourmet cooking or 'this' cooking or 'that' cooking," he wrote. "I like good cooking."
Born and raised in Portland in the early 1900s, Beard often reminisced about his childhood years in Oregon: foraging for native berries, nuts and wild mushrooms, scouting out the freshest of fish, and indulging in clams and crabs plucked mere moments before from the Pacific Ocean.
The greatest thing about Northwest cooking and eating, the writer proclaimed, is that the raw materials in the Northwest are among the greatest you'll find anywhere in the country. The legacy of Beard on food is just that: pleasure in preparing and enjoying good food with quality ingredients.
Beard championed the virtues of cooking fresh and local over the course of his writing career in New York City; he authored 22 cookbooks, penned a long-running newspaper column and hosted the first-ever television cooking show "I Like to Eat" — predating Julia Child by 15 years.
Anointed the "Dean of American Cookery" by The New York Times in 1954, Beard's lusty enthusiasm for food lives on through the James Beard Foundation, a nonprofit culinary arts organization based in the writer/chef's former Greenwich Village townhouse. Every year, the foundation hosts the James Beard Foundation (JBF) Awards for Excellence — the most coveted honor in the culinary community — or what is glamorously hailed as the "Oscars of the food world."
Monday, March 21, Portland played host to the 2011 JBF Awards nominee announcements for the first time ever. The night before the list was revealed, West Coast gourmands and the city's top toques descended on the Multnomah Athletic Club to celebrate Beard's homecoming at an event called "James Beard in Oregon: A Celebration of Superstars and Master Chefs." The sold-out soirée featured sensuous bites from all five of Oregon's JBF Award winners and all 14 JBF Award nominees, plus wine from a half-dozen Willamette Valley wineries.
Picturing Beard in one of his signature bow ties walking through the MAC that night, one could imagine the exclamations of delight. A bowl of eel pot-au-feu from Gabriel Rucker of Le Pigeon and Little Bird was followed by the piquant contrast of Cattail Creek butter-poached lamb pastry with pickled sour cherry and spring herb salsa verde from Naomi Pomeroy of Beast.
While serving porcetta di conglio, the ever-dapper, fedora-clad Daniel Mondok of Genoa was happy to explain the merits of nose-to-tail cooking. The subtleties of spring imminently upon us were also tasted in the rabbit terrine with spring onions, sauce verte and radish herb salad from Stephanie Pearl Kimmel of Marché in Eugene.
Simple and elegant wispy bites from Matthew Lightner of Castagna were almost too pretty to eat. Each twice-cooked sunchoke was topped with two dollops of yogurt and pine and garnished with chervil — a delicate and lacy, fern-like herb.
The most alluring display was from French Master Chef Philippe Boulot of The Heathman Hotel and executive chef for the Multnomah Athletic Club. Thick, gorgeous slices of grilled bread from Ken's Artisan Bakery topped with Silvies Valley Ranch Beef tartare and carpaccio were lined like half moons atop glowing orange salt blocks. Standing nearby was star selmelier (gourmet finishing salts expert) Mark Bitterman, on hand to discuss his James Beard-nominated tome, "Salted: A Manifest on the World's Most Essential Mineral."
A Beard favorite would have to have been from Cory Schreiber, currently teaching at The Art Institute of Portland. The chef highlighted fresh and vibrant from the sea with Krogstad Aquavit–smoked salmon with crème fraîche on caraway crackers with sweet mustard seed chutney.
Vitaly Paley of Paley's Place showcased succulent Oregon Dungeness crab, which was, without a doubt, the standout crowd favorite. The chef had a brigade making made-to-order herbed ricotta gnocchi with Oregon Dungeness crab and preserved lemons.
Soul-satisfying fare came from Cathy Whims of Nostrana, with lasagne di vincigrassi each bite was savored, followed by truffle-induced sighs. Comfort food from Scott Dolich of Park Kitchen in the form of boudin blanc with truffled slaw and cones filled with chickpea fries and squash ketchup.
Two generations, Jack and son Chris Czarnecki, represented The Joel Palmer House in Dayton — a wine country destination that would surely have Beard exclaiming "bon appétit!" Jack, a third-generation chef raised foraging and featuring wild mushrooms, doled out porcini risotto with his own Oregon White Truffle Oil —the first ever produced in the United States.
Beard's book "The Fireside Cookbook" came to mind after tasting the second dish starring truffles that night. He wrote, "It is not the invention of famous dishes by particular chefs, however celebrated, but the search for food, itself – the discoveries of the processes by which plants and animals of this planet could be made to yield their edible properties."
"Learning how to taste and truly enjoy eating is more important than learning how to cook," agreed Chris Czarnecki when discussing his philosophy in the kitchen. Like Beard, he is convinced that complexity does not make a dish more delicious. "My Dad always says it all ends up in the mouth. That a dish be delicious is priority one."
Beard believed that the secret of good cooking is to have a love for it. For the second year in a row, Portland chefs have dominated nominations for the Best Chef Northwest category — and it is clear that most celebrated chefs cook because it is their first love.