Tea and Cheese? Yes, Please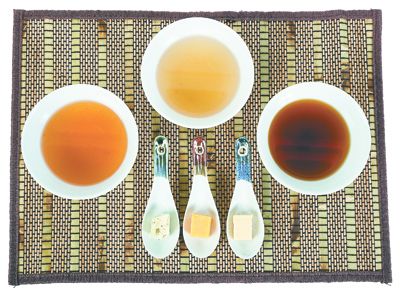 By Christine Hyatt, Cheese Chick
The Northwest has always been at the forefront in producing creative, quality beverages, from exquisite wine to craft beer, robust coffee to fine tea. And once these sensational sips are in hand, the quest begins to find the perfect pairing.
Looking for yet another great way to indulge with your favorite cheeses alongside a beverage steeped in tradition? Look no further than a cup of your favorite fine tea. It turns out a brilliant brew can be a great match for your favorite wedge.
Tea guru Steven Smith has long been a proponent of quality tea. In 1972, Smith founded Stash Tea in an old Victorian house in Portland. After growing the company into a national brand, Smith left Stash to form Tazo Tea in 1994. Tazo brought more focus on historical recipes and traditions. His vast experience with tea and herbs helped him craft a wide variety of distinctive blends that put fine tea on the map.
In 2009, Smith launched the eponymous Steven Smith Teamaker to focus even more on small batch, often single-varietal teas sourced from around the world. The shop's website includes detailed sourcing information and tasting notes reminiscent of fine wine or craft beer.
Working with the best ingredients, Smith and his team expertly handcraft teas, tonics and elixirs on a shady street in Northwest Portland. The shop sells blends of loose tea in elegant sachets.
After working with David Gremmels from Rogue Creamery to devise some exceptional tea and cheese pairings for the creamery's blue- and cheddar-style cheeses, Smith participated in a pairing with Oregon cheesemakers at the 2010 Oregon Cheese Festival. From that experience, he provides some great pointers for dynamite duos featuring tea and Oregon cheese.
"So many different flavor nuances in tea can complement and contrast the flavors in cheese," Smith said. "Whether it's tea of one particular type, blended teas or even flavored types, there are unique flavor profiles in our ingredients in the blend that can really complement the cheese."
Similar to pairing wine with cheese, there are some structural elements in tea that work to build bridges. Smith notes that, like single varietal wines, single origin teas can really hone in on specific qualities that elevate the pairing.
"In these single origin teas, you really get that evolution of flavor experience: sharp jagged edges, dense centers and, sometimes, a dry or caramelized finish," he said. These flavors evolve on the palate in the same way a fine wine or beer would.
"With black tea, there's often an inherent sweetness mixed up with malty notes and tannic, dark cherry or leather, smoky and spicy notes, all really great counterpoints for cheeses that have sharp characteristics or nuttiness. For that reason, black teas are a really strong combination with, say, raw milk sharp cheddar."
Other cheeses to try with black tea include Gouda and Havarti styles, those with buttery notes and a pleasant, complex nuttiness. Willamette Valley Cheese Company and Tumalo Farms make some nice examples of these cheeses.
To pair blue cheese, Smith goes a different direction. "With the blues, I'd recommend our Red Nectar which is a combination of South African Rooibos and Honeybush or our Big Hibiscus. Hibiscus has a tart kind of flavor that would be a lovely contrast with a robust or earthy blue such as Caveman." It would also make a great pairing with Rogue's newest blue, Flora Nelle, a natural rinded cheese that recently took a silver medal at the U.S. Champion Cheese Contest in Wisconsin.
To prepare tea, Smith recommends the classic approach. Use about one rounded teaspoon of loose tea for each cup in a teapot. He advises to preheat your teapot with hot water and add the appropriate amount of tea. Smith also makes pre-measured sachets in stylish packages suitable for gifting, making prep a breeze.
For black and flavored teas, use boiling water and steep for 5 minutes. For green tea, use water just off a boil and steep for 3 minutes. Smith advises starting with less water than you think you'll need for a perfect cup — you can always add more hot water and get to the right level of flavor. In this way, you can calibrate the tea to your taste buds and whatever you're pairing.
Tea also lends itself to a variety of temperatures. You can enjoy it hot or iced, depending on the season, providing even more opportunities for experimentation. Iced tea is great anytime and pairs nicely with cheeses and fruits and other kinds of foods that you might have before or after a meal.
Knowing that warmer weather is coming, he provided some tips to make incredible iced tea. Steep tea double-strength for the appropriate time, then add cool water before adding ice — if it's too warm, the ice will melt too quickly, negatively impacting the balance of tea. Preparing iced tea ahead of time is fine, but don't refrigerate it, or the tea will become cloudy.
Next time you're craving a bit of cheese, perhaps for an early afternoon snack when wine might not be appropriate, opt for a spot of tea alongside. It might not be the most well-known combination, but it's winning hearts and palates of those in the know!
Lavender Cheddar Shortbread with Honey
This easy, make-ahead savory-sweet bite is infused with gentle floral notes that are sure to perfect for brunch or tea. The shortbread dough freezes well, making it ideal for impromptu gatherings.
INGREDIENTS
6 tablespoons butter, cold and cut into 6 pieces
1 cup flour
8 ounces Rogue Lavender Cheddar, divided
3 tablepoons honey, divided
* pinch cayenne pepper
DIRECTIONS
1. In the bowl of a large food processor, add butter, flour, 4 ounces grated Lavender Cheddar (about 1 cup), 1 tablespoon honey and cayenne pepper. Process 30 to 40 seconds until mixture forms pea-sized balls. 2. Turn out dough onto waxed paper and knead a few times to form a solid mass. Divide into two pieces and roll each into a log shape, about 2 inches in diameter. Wrap in wax paper and refrigerate at least 30 minutes or overnight.* 3. Preheat oven to 350°F. Using a sharp knife, slice shortbread into thin (1/8-inch) slices and place on non-stick cookie sheet. Bake for 12 to 15 minutes until lightly browned around the edges. 4. Cool shortbread and top with a thin slice of remaining Lavender Cheddar and drizzle with honey. Yields about 20 cookies.
*To freeze: Wrap in an additional layer of freezer paper and freeze for up to 2 months, if desired. Defrost overnight and bake off just before serving.