Barn Good Dinners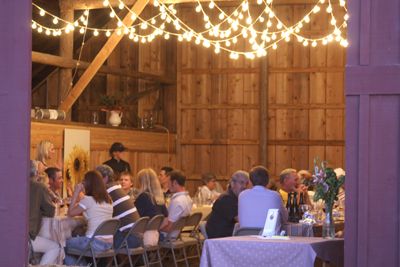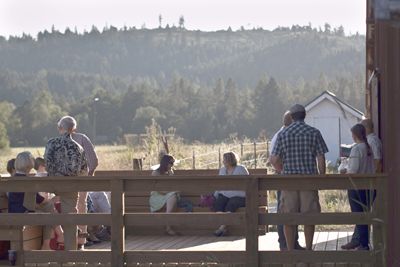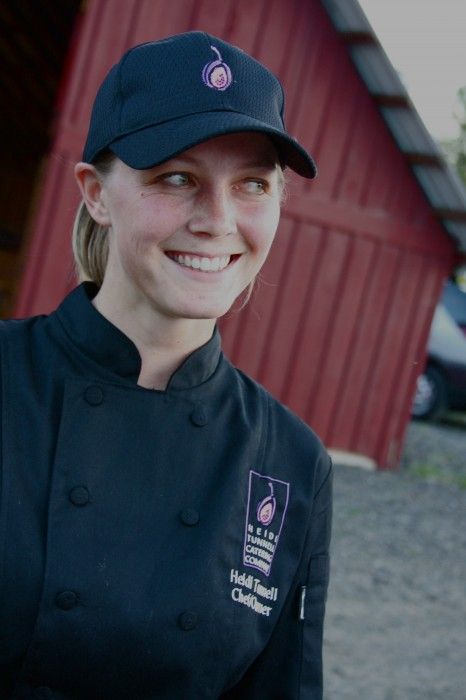 By Janet Eastman
You don't have to dress up to attend one of Chef Heidi Tunnell's gourmet dinners. But you do have to be hungry, both for great food and the nostalgia of a community get-together under an old barn roof.
In an age when phone apps allow you to stay eternally plugged into stock markets, sports and Charlie Sheen tweets, it's refreshing to find that people still huddle into a 19th century barn, sit under old-fashioned light bulbs, reach across a table to greet a stranger and talk about the whole-pig and -goat roasting outside.
Tunnell has hosted barn dinners on her family's property in Creswell, south of Eugene, for four years.
During that time, she's converted high-tech skeptics into at-ease followers. They no longer doubt that Tunnell can scour neighboring farms for the freshest greens and flavorful meats. Returning to her kitchen, she orchestrates a menu paired with local wines. Then she bakes blue cheese crackers, whips up ricotta cheese, shreds pork rillette, braises beef short ribs in Syrah and makes bittersweet chocolate tarts.
"These dinners are genuine," said winemaker Athena Pappas of Boedecker Cellars, whose Pinot Noir and Pinot Gris were featured at one of Tunnell's barn dinners in 2009 and will be featured again on June 11.
"Heidi lives on the farm. It's not a quaint place to visit. It's her world," Pappas said. "You smell the meat grilling, see the cooks running around. Everyone smiles. Guests, chefs and winemakers are all relaxed and happy."
Tunnell, 29, was raised in Eugene, graduated from the respected Culinary Institute of America in New York and spent the first years of her career traveling the globe and catering to spotlight seekers at the Cannes Film Festival and demanding food tourists in Napa and Sonoma.
She returned to Oregon to tap into a gradually refining wine and food community. At first, she created winemaker's dinners in Carlton. Then, in 2005, she started Heidi Tunnell Catering Company and renovated an old church in tiny Creswell to a commercial kitchen and café.
Here, lunch is served on Tuesdays — try the giant "pretzel" rolls stuffed with cheese and ham cured and smoked on site for $3.75, or a white bean salad made with chanterelles, apples, pears, hazelnuts and topped with roasted onion vinaigrette for $8. One night each month, Tunnell prepares a complete dinner of upscale comfort food for $15.
At the same time she was launching her catering company, Tunnell stood before a dilapidated barn on a newly acquired patch of land linked to her family's farm a few miles from town.
While others regarded the structure as unstable, with gaping holes in the walls and a dirt floor, Tunnell envisioned the future: a series of epicurean dinners for 80 or so people, held from May through October, when the weather is good and the nearby produce plentiful.
"There aren't a lot of wine and food pairing dinners in this part of the Willamette Valley, and the barn was the inspiration for mine," Tunnell said, standing in front of the restored, rusty-red barn. "I looked at the space and knew it could be a perfect venue."
Tunnell and her family reinforced the walls and the pitched roof, and installed a hardwood floor and a loft with storage underneath. From the rafters, she hung droopy strings of fat, naked light bulbs. "It has a feel of a festival, family," Tunnell said, who is expecting her first child in August.
Because of her baby, Tunnell will reduce the number of barn dinners from six to four this year. Capitello Wines will be the featured wine on May 7, Boedecker Cellars on June 11, Domaine Meriwether's sparkling on Sept. 17 and the annual pig roast on Oct. 1 will spotlight Oakshire Brewing Company.
The event is great exposure for the wineries, but that's not the main motivation, said Pappas.
"A big corporate event attended by hundreds could translate to more wine sales, but more wine sales would then equate to increased demand, so then what do we do, bring in juice fermented in a tank farm? Have Heidi bring in food from Costo?" said Pappas, who began her boutique winery in 2003 with Stewart Boedecker.
Instead, Pappas prefers it intimate. "We'd rather be surrounded by those who create and share the experience," she said. "Heidi is genuine, skilled and sweet, and it shows in her dinner and her presentation."
In anticipation of what Tunnell may prepare for the barn dinner, Pappas is holding back some of her latest Pinot Noir Rosé and Pinot Blanc, both of which typically sell out in a few months, as well as the 2008 Athena Pinot Noir, which was awarded 91 points by Wine Spectator.
Tunnell says she can't even calculate how many hours she spends talking to winemakers and visiting local farmers about what may be ready in time for her dinners. A few days before the event, she drives to the farms to collect the just-picked ingredients.
Last June, she had to improvise when a farmer had a limited supply of carrots, beets and Napa cabbage, but an abundance of fava beans. The chef concocted a vegetable salad with a mint-yogurt dressing and served it with Andrew Rich's 2009 Croft Vineyard Sauvignon Blanc. (See recipe on page 28.)
Tunnell says there isn't much profit made on the $75 dinner tickets after paying her staff and suppliers.
"We do all this work because the food tastes better, it supports local farmers and winemakers, and people learn about what's growing around here," Tunnell said.
When she puts wheat berry in a salad, she says people tell her they had never before tasted it.
"The same thing with kohlrabi," she said. "People had no idea that it grew around here. They ask, 'How do you pronounce the word?' Afterward, they may sign up for a CSA (community supported agriculture program). That's cool."
For more information call 541-895-5885 or visit www.heiditunnellcatering.com.
Janet Eastman writes for national publications and covers Southern Oregon wine for www.examiner.com. Her work can be seen at www.janeteastman.com.
Spring Vegetable Salad with Herb-Yogurt Dressing
Recipe by Heidi Tunnell
INGREDIENTS
2 bunches beets
2 bunches spring carrots
1 cup fava beans, shelled, blanched and peeled
½–1 head Napa cabbage
1 pint plain yogurt
3 cloves garlic, minced
3 sprigs mint (or herb of choice)
1 ounce lemon juice, to thin yogurt for tossing (can use Sauv. Blanc)
2 ounces Champagne vinegar
6 ounces extra virgin olive oil
1–2 ounces (to taste) honey
* salt
* fresh ground black pepper
DIRECTIONS
1. Prep vegetables for salad. Carrots: Clean, peel (keep whole or, if thick, cut in half lengthwise). Toss with oil, salt and pepper and grill (or roast) until tender. Time depends on carrot size, but a nice, young carrot on a hot grill will take about 5 to 8 minutes. Make sure to rotate the carrots to grill all sides. Beets: Clean and toss in oil, salt and pepper and roast. Time will be determined by the size of the beets, from 25 to 40 minutes. Roast until the beets can be easily pierced with a knife. Peel while warm. Cut into halves or quarters, depending on the size. Napa cabbage: Wash and chiffonade the leaves. Favas: Remove from shell. Blanch in salted water. Remove the skins. 2. Make the dressings. Yogurt sauce: Combine the ingredients and season to taste. Champagne vinaigrette: Whisk the oil into the vinegar. Add honey and salt and pepper to taste. 3. Toss the roasted vegetables (carrots, beets and favas) in the yogurt dressing, season with salt and pepper if needed. Toss the Napa cabbage in the champagne vinaigrette, season with salt and pepper if needed. 4. Assemble the salad: Place the slaw in the bottom of a bowl and the yogurt-coated vegetables over the top. Yields 6 to 8 servings.
WINE PAIRING
Oregon Sauvignon Blanc