Perky, Piquant Pinot Gris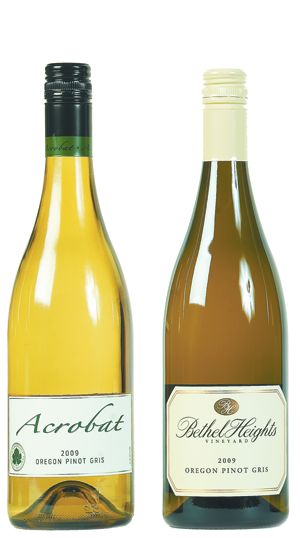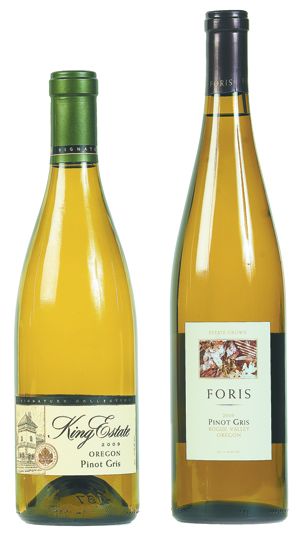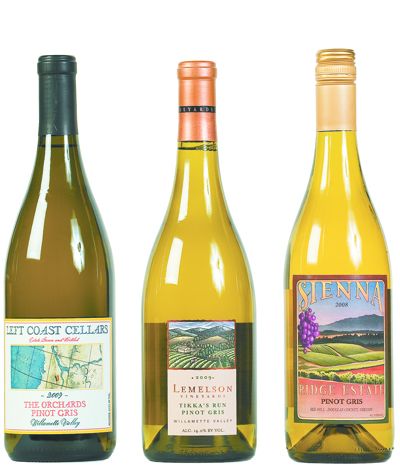 Left Coast Cellars 2009 "The Orchards" Willamette Valley Pinot Gris $16 • (1,129 cases)
A floral aroma reminisicent of lilacs and rose petals, leads to honeysuckle and mead, backed by tropical fruit. Lively acidity. Well-balanced throughout with a lingering finish. $16 (1,129 cases)
Lemelson Vineyards 2009 "Tikka's Run" Willamette Valley Pinot Gris $19 (805 cases)
A melange of yin and yang flavors includes sour apple, stone fruit, honeysuckle and plum. Lively acidity, lush mouthfeel, beautiful balance and, yes, long finish.
Acrobat/King Estate 2009 Oregon Pinot Gris $12 • (30,000 cases)
This second label from King Estate is both lush and tart, featuring vibrant, fleshy flavors of topical fruit, baked quince, crabapple and watermelon rind.
Sienna Ridge 2009 Estate Red Hill Douglas County Pinot Gris $18 • (208 cases)
The soft, creamy side comes out in a warm, soft and engaging wine that combines apple and honey with a touch of butter. Like those before it, there's a lot to like that lingers.
Bethel Heights 2009 Oregon Pinot Gris $16 • (2,980 cases)
Fresh, zesty citrus aromas immediately entice the taster and further reward with apple and melon in the mid-mouth that finishes rich, long and luxurious.
Foris Vineyards 2009 Rogue Valley Pinot Gris $13.50 • (2,370 cases)
Light, clean, fresh and forward, this youthfully zesty Gris offers citrus and perfume upfront followed by zinc minerality in the mouth overlaid with apricot and a kettle corn caramel kick.
King Estate 2009 Oregon Pinot Gris $17 • (90,000 cases)
Piquant hints of magnolias and lemon drops remind one of the diversity in Gris. This example puts those elements together with lush fruit and bright acidity that satisfies sip after sip.
The Oregon Wine Press tasting panel has selected the following wines based on overall quality and value within their respective categories. To the best of our knowledge, they are currently available in the retail marketplace. But a call to the winery or your favorite wine merchant will best determine where they may be purchased. | The above wines have met the following criteria: Produced by an Oregon winery; retail price up to $25 per 750 mL bottle for all still table wines except Pinot Noir, which can be up to $30; $25 per 375 mL bottle for dessert; and $35 for 750 mL sparkling wines.| All wines must be currently available to consumers. Recommended wines were selected using a double-blind method and a 20-point ranking system for appearance, aroma, taste, balance and finish.