Oh, Savannah!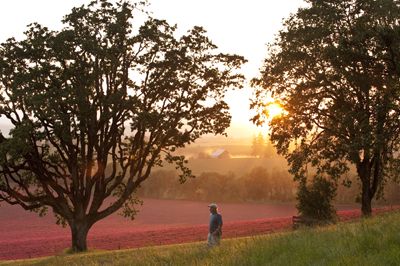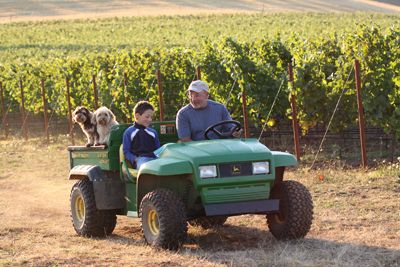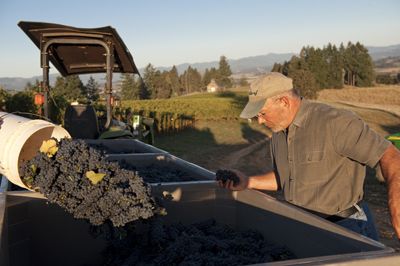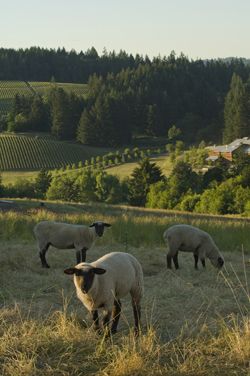 By Karl Klooster
If you haven't heard the name Savannah in connection with Oregon wine, it won't be long before you do. There's no connection with the gentile antebellum city in Georgia but rather a gently rolling rise on the eastern edge of the Yamhill-Carlton AVA. Called Savannah Ridge, it's rapidly becoming known as an exceptional place for wine grapes.
Tony Soter of Soter Vineyards is leading the charge that may someday see this superior swath of soil gain prominence as one of the state's most outstanding locales to grow Pinot Noir.
Over the course of 30 years, Soter built an admirable reputation in the California wine industry. Now that he has brought his astute business abilities and uncompromising quest for quality to Oregon full time, it's apparent we're the better for it.
Though Soter and his family have only been living here for a little over three years, his involvement in the local wine scene goes back to 1997. That year he and his wife, Michelle, bought Beacon Hill Vineyard, a 45-acre site first planted in 1988.
Located in the Yamhill-Carlton AVA, Beacon Hill was already producing mature fruit when Soter acquired it. He took full advantage of the fact to launch a new label under his own name.
This auspicious beginning may have presented the Soter brand to wine consumers for the first time, but they were far from the first wines to be made and marketed as a result of his hands-on nurturing and guidance.
But first a little background. Interestingly, he's a Portlander by birth whose family moved to Southern California when he was 12 because of his dad's career. So this is a return to his roots, in more ways than one.
Surf and sun may have been the height of fun for some, but this young man decided early on that wine would be his calling.
As Soter tells it, he was attending Pomona College in Claremont when the wine bug bit. One of his professors, with whom he still keeps in contact, conducted a class in wines of the world.
Students cared less that it didn't count for college credit. Other rewarding benefits made up for it. None was more enticed than Soter who found Pinot Noir the most seductive of all. Proof of what can happen to someone gifted with a discriminating palate.
After graduating in 1974, he soon split the So-Cal scene and headed north. His destination was the smog-free, laid back, wine-centric Napa Valley.
Though he had no experience whatsoever in winegrowing or winemaking, he talked his way into a cellar rat job with Stag's Leap Wine Cellars, a small winery on the Silverado Trail whose star was about to soar.
A year of tutelage from Stag's Leap's owner and winemaker Warren Winiarsky in 1975 was followed by a second in 1976 at Spring Mountain, the winery of Falcon Crest TV series fame. Its owner, Michael Robbins, was a highly successful real estate investor.
A third year, 1977, was spent at Chappelet Vineyards whose innovative owner Donn Chappelet had built a nationwide coffee vending business boasting 7,000 employees before turning his attention to wine full time.
As a result, acquisition of business acumen was coupled with absorption of wine savvy during Soter's initial three years of Napa Valley immersion. From there, his learning curve quickened. Another three years found him setting out to be a consultant.
"By 1980, the Napa Valley was taking off," he said. "People with lots of money but limited wine knowledge wanted to get in on the game. The glamor attracted them, but when it came down to the nitty-gritty, they needed help."
Within two years, he had secured a couple of solid clients and ultimately ended up with a Napa-centric fivesome — Spottswoode, Araujo, Viader, Niebaum-Copolla and Dalle Valle — whose needs kept him well occupied.
Still, Soter found time to start his own winery in 1982. He called it Etude, or "study," in French, symbolic of the fact that no matter how much you know there is always more to learn.
And for him the greatest teacher was the vineyard, itself. "You give the grapes a favorable environment then let them do their own thing as much as possible," he said. "With superior fruit, all the winemaker needs to do is guide the wine toward excellence."
With Etude, Soter was able to focus more attention on that winemaking guidance than ever before. He wanted to produce great Pinot Noir, and the label reflected that emphasis. Production was a third Pinot Noir, a third Cabernet Sauvignon and a third other varieties.
But he admitted being unable to achieve the high quality level of pinot he yearned for with California fruit. Napa Valley is god's gift to Cabernet. It's a natural," he said. Pinot on the other hand, is a conundrum. It always poses problems.
The biggest problem for Soter in regard to the where of Pinot Noir was solved after he sold Etude to the Beringer-Blass conglomerate in 2001. With the tidy proceeds, he bought the Mineral Springs property on Savannah Ridge.
"I didn't have that money in hand for more than a few months," he said. "But I knew this was where I wanted to be. I'm convinced this is the place where I can grow great Pinot Noir."
And he's been working toward that goal ever since. A five year consulting contract with Etude was fulfilled in 2006, allowing him to concentrate exclusively on Mineral Springs Ranch. That year he added another 15 acres of vineyard to the 15 planted in 2002.
Having sold Beacon Hill Vineyard, this now comprises the winery's entirely estate grape source. From it the plan is to make just three wines with a total annual production of abut 5,000 cases.
The first, which he calls Michelle's wine because his wife loves it, is an elegant sparking pinot noir rose, made laboriously by hand employing the Methode Champenoise.
The other two wines are both Pinot Noirs — a North Valley and a Mineral Springs Estate. The North Valley currently uses some non-estate fruit but is transitioning to all estate. The Estate will then become a reserve made from a block at the top of the hill.
Soter calls them the heart and the body or, as the French would say, "le coeur et le corps." Around this intensely personal framework, he is determined to fashion wines that uniquely reflect the essence of Savannah Ridge.