Stimulus Plan and Palate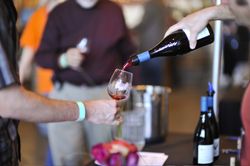 By Wine Press Staff
You might not realize that spending an afternoon tasting local wine and sampling fine food is the equivalent of furthering the state's economic development, but it is.
At the seventh annual Portland Indie Wine and Food Festival (PIWFF), May 14 at The Bison Building in Northeast Portland, attendees will have a chance to stimulate both economy and palates by tasting jury-selected wine from boutique wineries and gourmet food made by some of Portland's best chefs, including James Beard Foundation nominee Cathy Whims of Nostrana.
The festival's artisan foundation is what distinguishes it from so many others and makes it a key player in Oregon's growing wine industry year after year.
New to this year, PIWFF will feature Indie alumni, producers who have been part of past festivals from 2005 to 2010, including Capitello, ArborBrook and Et Fille. Given the buzz around the superb 2008 vintage, the tasting opportunities from these seasoned wineries are likely to draw a record crowd.
Returning wineries will be joined by new ones — some releasing their first-ever vintages at the festival — that are selected at a blind tasting organized in collaboration with Cole Danehower, editor of Northwest Palate and author of "Essential Wines and Wineries of the Pacific Northwest."
The entertainment and culinary value of the festival translates to significant economic benefits to the wineries, the wine industry at large and the broader economy of Portland. Adding to this impact is a trade-only tasting on May 15, at which wine buyers can interact personally with the winemakers.
Promotion of Oregon's wine industry was the impetus for the fest.
"I wasn't interested in starting just another dine-around; I wanted an event that could really move the needle for the Oregon wine industry," said Lisa Donoughe, PIWFF founder and owner of Watershed Communications. "I've built my business around strengthening artisan food and drink brands, so this was a logical step for me, and something I felt I needed to do." Donoughe co-produces the event with her strategic design partner Flint Design Co.
Urban winery Boedecker Cellars is a case study of how the festival's incubator effect can turbo-charge a small winery with limited resources. In 2005, Stewart Boedecker and Athena Pappas had 100 cases of their first bottled wine, and were new in terms of marketing it. Only a couple years before the husband-and-wife team had traded widget making for winemaking, and the inaugural PIWFF was the first time they served their wines to a large consumer group. People responded positively, and Boedecker Cellars received the confidence and consumer boost they needed to continue building the business. This year, Athena and Stewart will bottle more than 4,500 cases of wine — wine that will be sold as far away as New York City and Washington DC.
At the event itself, wineries sell an average of $2,000 of wine, and winemakers and chefs can meet 1,000 foodie consumers face to face. But the business development benefits of the PIWFF don't just accrue to individual winery brands; support and promotion of the participating brands is beneficial for Oregon wine in general, according to Michael Davies, winemaker for A to Z Wineworks, a leader in Oregon's wine industry.
"The festival shows the depth and maturity of this industry, and the fact that there are continually younger brands coming along keeps us on our toes," Davies said. "New winemakers can push the envelope because of their smaller scale, which means standing still is not an option."
From a national consumer perspective, Davies sees the festival playing a key role.
"On a national level, the festival helps remind the greater nation that the Oregon wine industry isn't just a dozen or more big names. It's proof that our industry is growing and there's new blood. That dynamic keeps us happy to work together."
The appetite for artisan Oregon wines reaches beyond Oregonians, as well. The culinary spotlight has been shining on Portland and the state, and the message that Oregon is home to high-quality, handcrafted food and drink is spreading.
Visitors come from all over the country to enjoy the festival — people from 16 states attended last year — and over the life of the festival, PIWFF has attracted close to 1,300 out-of-state visitors. A nice spotlight for Oregon, yes, but also an influx of dollars to the local economy.
At an average of $317 per out-of-state visit, tourists coming to the PIWFF translate to more than $400,000 in Portland. Travel Portland awarded the festival the President's Award in 2007 in recognition of this boost to the regional economy.
EVENT DETAILS
Portland Indie Wine and Food Festival
Location: The Bison Building
Address: 419 N.E. 10th Ave., Portland
Date: Saturday, May 14
Time: 2 to 6 p.m. (VIP begins at 1 p.m.)
Tickets $75; $125 (VIP); online or door
Website: www.indiewinefestival.com
Qualified wine buyers are invited to attend the trade tasting, Sunday, May 15, 11 a.m. to 3 p.m. at The Bison Building. Contact Stephanie Selk, at stephanie@watershedcom.com, for more details.