Book Review: "Rogue Valley Wine"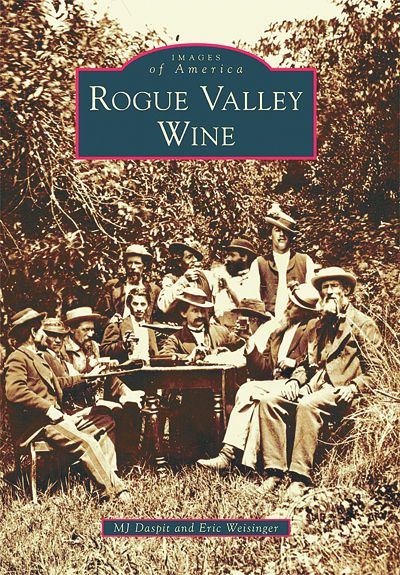 Review by Janet Eastman
The authors of the new book "Rogue Valley Wine" (Arcadia Publishing, $22) did an excellent job collecting historical facts and photographs from people knee deep in a demanding industry with little time to archive documents or ponder the past.
Writer MJ Daspit and winemaker Eric Weisinger compiled information on 48 Rogue, Applegate and Illinois valley wineries and composed fat captions to accompany 200-plus black-and-white images.
Straightforward prose stacked with facts delivers dates and production numbers, describes grape varieties and varying terroirs, and offers information on the people who decide what's grown, blended and bottled.
In this compact, 128-page paperback, credit is given to pioneers such as Peter Britt of Jacksonville who planted Oregon's first vineyard in the 1850s and Joe Ginet's grandfather, who brought cuttings from France to the original Plaisance Ranch outside Jacksonville 50 years later.
Deserved recognition is also given to viticulture experts who helped launch Southern Oregon's wine renaissance, starting in the 1960s with horticulturalist Porter Lombard, followed in the 1970s by growers Frank Wisnovsky of Valley View Winery, Dick Troon of Troon Vineyard, Dunbar Carpenter of Rocky Knoll Vineyards and Ted Gerber of Foris Vineyards, and, from 1990 until her death in 2004, winemaker Sarah Powell.
Also acknowledged are longtime contributors still pushing to improve the region's quality and reputation, from climatologist Greg Jones to growers Don and Traute Moore of Quail Run Vineyards.
The writers should be commended for adding new wineries until their June 2010 deadline.
Admirably, hundreds of names are included, but regrettably, the typeface and long, dense paragraphs are challenging to the eyes.
Arcadia Publishing, while appreciated for capturing local histories through its Images of America series, must also be faulted for its lackluster design and poor reproduction of not only old photos — many supplied by the invaluable Southern Oregon Historical Society — but also contemporary ones provided by people in the local wine industry.
"Rogue Valley Wine" is not a pretty coffee table book, but aesthetics aside, it is a handy guide to anyone curious about the AVA's evolution.
Janet Eastman is a former Los Angeles Times staff writer who has reviewed books for 30 years. She now covers wine and food in Oregon for various publications and websites.