Hoppé into Music, Wine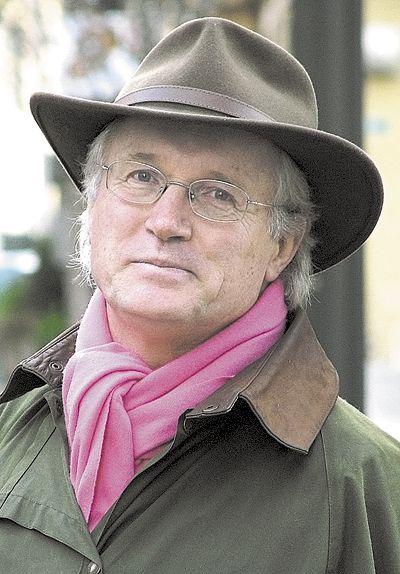 Michael Hoppé is an accomplished composer with exceptional melodic talent and a distinctive evocative style. He has an extensive background in both pop and classical music, which his recordings reflect.
Hoppé's music is performed and heard internationally, including on HBO's "The Sopranos," The Oprah Winfrey Show, Michael Moore's documentary "Sicko," David Volach's "My Father, My Lord," "Misunderstood," starring Gene Hackman, and the multi-award-winning short "Eyes of the Wind," which reached the Oscar nomination shortlist.
His music is extensively used by such renowned authors/teachers as the celebrated environmentalist Jane Goodall, author Julia Cameron of "The Artist's Way," author Sarah Ban Breathnach of "Simple Abundance" and others, in their workshops.
Hoppé's music has been recorded by a variety of singers and instrumentalists, including Vangelis, the Prague Symphony, Tim Wheater, Martin Tillman, Zamfir, Frank Mills, Eliza Gilkyson, Cecilia, Louise DiTullio, Lou Anne Neill, Eugene Fodor, Lili Haydn, Heidi Fielding, Dwain Briggs, Alyssa Park, Libbie Jo Snyder, Mitsuki Dazai, Joe Powers and others.
His prolific discography dates back to 1988 and has included albums such as "Afterglow," which was voted Best Album at the 2000 AFIM Indie Awards, and "The Lover," which won the Visionary Award. "Solace" was nominated for a New Age Grammy in 2003 and was featured in Clint Eastwood's "Flags of Our Fathers." His latest recording, "Tapestry," was released last September.
Previously, Hoppé founded InterConnection Resources, a music business consultancy. He was also a senior executive at PolyGram Records and was responsible for signing such diverse talents as Vangelis, Kitaro, The Who, Jean-Michel Jarre and ABBA to the label.
Originally from the U.K., Hoppé currently resides in Portland.
OWP: How did you become interested in wine?
MH: When my wife and I moved to Oregon five years ago, after living for more than two decades in LA, where Chardonnay seemed to be ever present.
OWP: How did you become a fan of Oregon Pinot Noir?
MH: A close friend and highly knowledgeable wine expert suggested I try a certain Pinot Noir shortly after we arrived here. It was the Soter 2002 Beacon Hill, and that was, and still remains, the Holy Grail of extraordinary wine for me.
My friend died of ALS last year, and we shared his last bottle of this vintage shortly before he did. So this Pinot Noir will always have a special place in my heart, and I have been a fan ever since.
OWP: What is it that you like about Pinot Noir?
MH: An abundance of subtle flavors and characteristics without being heavy. Wonderful chamber music instead of a massive symphony.
OWP: What other wines do you like?
MH: Syrah, Burgundy, French Chablis, Cabernet Sauvignon and Viognier.
OWP: What are your favorite wineries in Oregon and elsewhere?
MH: Soter has to be at the top of the list, as well as Maysara, Cooper Mountain and Ken Wright, to name just a few.
OWP: What do you like most about living in Portland?
MH: The enthusiastic appreciation of the good things in life — from the proliferation of world-class restaurants to the thriving Oregon wine industry, all the olfactory senses are catered to!
OWP: What is your favorite Portland restaurant or wine shop?
MH: Woodstock Wine & Deli, Vino and New Seasons.
OWP: Are there any parallels in music and wine?
MH: Both wine and music can transport us with endless expressions of transcendent beauty.
OWP: Has Oregon's wine country inspired any of your compositions?
MH: I think the rolling hills and far away vistas of those beautiful vineyards, can indeed be heard in my music. "Pastoral," for example, on my latest album, "Tapestry."