Better with Age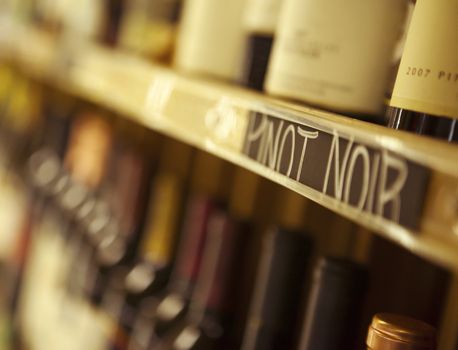 By Karl Klooster
Any smaller retail business that has managed to stay afloat for 20 years deserves to be described as an establishment. To survive, much less thrive, in the challenging economic environment of the last two decades has taken persistence and savvy.
Of the more than 150 independent wine retailers around the State of Oregon whose level of knowledge, service and commitment to product quality, depth and diversity qualify them as wine merchants, 37 have reached that 20-year milestone.
Oregon Wine Press would like to pay tribute to this estimable group, out of which we have chosen nine whose exemplary achievements serve as an inspiration to all members of the industry.
TIFFANY'S WINE SHOP - Bandon, 1989
"World-class wines in a drugstore" is the catch phrase of this combined pharmacy and wine shop in the southern Oregon coastal town of Bandon. Wine buff Dennis Thomason teamed with pharmacist owner Dale Engel to offer fine wines from the outset.
From a relatively modest beginning, the shop's inventory has grown to more than 1,000 different offerings. Oregon, Washington and California are well represented, as are Italy, France, Australia, New Zealand, Chile, Argentina, South Africa, Spain and Japan.
Yes, Japan produces wine as well as saké, and this is one of the few places in Oregon where you can find it. Being a tourist town, Bandon attracts an eclectic crowd that Tiffany's wants to tap. This unique category along with older vintages from California and the Pacific Northwest help bring in both browsers and buyers.
THE WINE SHACK - Cannon Beach, 1977
Founded by Dick and Mary Elizabeth Anderson, The Wine Shack is the oldest continuously operating retail wine store in the state. Longtime wine aficionados, the Andersons had a home in the south of France, and their inventory reflected both that Old and New World influence.
Cannon Beach fire chief Cleve Rooper and his wife, Marty, bought the business in 1988 and increased its Oregon offerings over the course of their 12-year ownership.
Continuing growth in the local wine industry and the evolution of Cannon Beach as an upscale visitor destination saw the shop's fortunes rise with the tourist tide; among them was a couple who became regular customers and friends.
When the Roopers decided to sell The Wine Shack in 2000, those friends, Dean and Pat Reiman, stepped in. They bought the business and are marking their 11th year as its proprietors and operators.
The Reimans, while continuing to offer a wide spectrum of imported wines, have placed a particular emphasis on small, hard-to-find Oregon Pinot Noir producers. Having lived in Italy, they also carry a deep selection of that country's wines.
AVALON WINE - Corvallis, 1987
Owner Jean Yates started out 24 years ago as the proprietor of a B&B in a century-old Corvallis hotel. She added a little wine and gourmet foods shop on the ground level, and it wasn't long before that aspect dominated the business.
Oregon and Washington wines were her initial focus with Italy, Germany, France and Spain soon to follow. A decade in, as her business continued to grow, Yates caught the Internet wave early.
Going digital in a big way, she featured everything in her inventory on the Avalon Wine website then began writing profiles on wineries, interviewing wine people, doing reviews and archiving the information.
Today, the accumulation of 14 years' work provides as thorough a resource on the Oregon and Washington wineries as anything on the Internet, with updates regularly added on an ongoing basis.
Though much of Avalon's sales activity takes place by "e-tail" these days, dropping by the downtown Corvallis shop is well worth the visit. The stash of older Northwest vintages is itself a rare treat, and they're not available on the website.
SUNDANCE WINE CELLARS - Eugene, 1983
When the natural food movement took hold in the late 1960s, Gavin McComas got into it in a big way. Along with Berkeley, Eugene was probably the most alternative lifestyle town in America, and in 1971, he decided the time was ripe and the place was right to open a vegetarian store.
He named it Sundance Natural Foods and built it into one of the most widely respected and successful single outlet stores of its type in the country.
Wine being a natural complement to food, it seemed only natural to make it an adjunct. In 1983, McComas started a wine operation, Sundance Wine Cellars, in the store. Its initial focus was on Oregon and Pacific Northwest wines.
The scale and scope of the wine operation grew dramatically over the years, further augmented by the addition of an online division, Oregon Wine Merchants.
Boris Wiedenfeld, who has managed both the retail and online operations since 2008, said they currently carry more than 475 Oregon Pinot Noirs, high-end Washington wines and a comprehensive selection from California, Bordeaux, Burgundy and Italy.
Longtime staff members add to the extensive knowledge base that customers can take advantage of when wandering the aisles of the store that claims with solid credibility to carry the largest selection of Oregon wines in the world.
JACKSONVILLE INN WINE SHOP - Jacksonville, 1976
Any business would take pride in being the oldest and/or the largest in its field. The Jacksonville Inn's wine shop was started a year before The Wine Shack and offers more than 2,000 different wine selections.
So, if being primarily an inn while also having a wine shop, a gift shop and a restaurant, is just a technicality and stocking more wines, regardless of place of origin, is another measure of the largest in the state, then the Jacksonville Inn has something to crow about.
Regardless of any such bragging rights, to do one thing well, much less three, is quite an accomplishment. And founders Jerry and Linda Evans have created an exceptional experience for lodgers, diners and shoppers at their stunning establishment.
The wine shop takes customers on an around-the-world trip all handsomely displayed and thoughtfully arrayed. Older vintages from France, Italy and California are sprinkled throughout, enticing potential buyers to stretch their budget for the enological experience.
WIZER'S OSWEGO FOODS - Lake Oswego, 1929
When Jim Wizer opened the doors of his Wizer's Oswego Foods on October 29, 1929, he wasn't even allowed to sell wine. But, somehow he managed to overcome start-up struggles, and in 1934, when Prohibition ended, beer and wine began to appear on his shelves.
The big-time, big-name old vintage wine cellar for which Wizer's is now justifiably famous came later, but arguably, it was just another department of a grocery store, not a stand-alone wine store.
Over the years, Wizer's has occupied three locations. They have been at their present location in downtown Lake Oswego since 1960, serving what is arguably the Portland metro area's toniest town and its well-heeled residents.
The fourth generation of the Wizer family still runs the full-service grocery that has embraced a high-quality, gourmet approach. Its wine department reflects that image and the depth of a cellar collected over the decades is nothing short of spectacular. The wine man in charge, Tom Reider, brings a depth of knowledge to his job that matches the cellar he oversees.
JOHN'S MARKETPLACE - Portland, 1923
John Feus, a Swiss immigrant who settled in Multnomah — a once independent settlement on the southern edge of Portland now called Multnomah Village — founded John's Market in 1923.
Feus went into business six years before Wizer, but both merchants couldn't carry any alcoholic beverages until 1934, so you could say they are tied for the title of Oregon's oldest grocery store that sells wine.
John's wine renaissance came in the early 1990s when the second owner, Jack Furman, put in a large wine selection and started selling beer cheap, really cheap. So much so it could be called a loss leader to drive customer traffic.
Furman introduced the bargain marketplace approach and continued to expand the wine selections, with emphasis on good value, until 1999 when he sold the business to David Percival.
Under Percival's leadership, John's Marketplace is now a veritable mecca for the wine and beer aficionado, crammed with offerings from around the world and laying claim to having Portland's largest selection of both beverage categories, all overseen by an affable manager named "Mr. Mike" Bascom.
LINER & ELSEN WINE MERCHANTS - Portland, 1990
Almost from the moment Bob Liner and Matt Elsen opened the doors of their eponymously named retail outlet on Northwest 21st Avenue in 1990, they were a dominant force on the Portland wine scene.
Both of the young, energetic partners already boasted extensive backgrounds — Liner in retailing and Elsen in wholesaling — along with a heavyweight hit list of connoisseur clients.
The Rose City had never seen quite the likes of this place before. These were wine merchants in the English tradition, passionate about and thoroughly versed in their chosen profession.
They appealed to dedicated wine buffs who read about wine, joined tasting groups to learn more and would spend beyond their income to enjoy a great bottle, as well as affluent lifestylers who savored the status of fine wine almost as much as the taste.
Liner and Elsen stocked an extensive, personally tasted selection of the best and the best for the money, making both buyers feel right at home. When they sold their business and its name, there was an understandable lament among loyal customers.
But Bob Scherb, who bought the store in '98, has done an admirable job of emulating the original owners, offering expert advice to customers and maintaining its reputation as one of the Northwest's classiest, most comprehensive wine retailers.
WOODSTOCK WINE & DELI - Portland, 1985
The Fujino family started a little wine shop and deli between Southeast 39th and 40th on Woodstock in 1985. Their eldest son, Gregg, soon emerged as the retailer Southeast Portlanders could rely upon for some of the finest wine selections and best buys around.
He sought out top Oregon wineries and became one of the first merchants in the area to feature them. His inventory of wines from around the world reflected that same careful consideration.
Customers drawn to the shop found another reason to frequently return after sampling the fabulous cheeses, charcuterie and other gourmet items offered by the Fujinos. Light meals served on premise added to the attraction.
Word of Gregg's expertise and enthusiasm spread across the city and beyond, ensuring the success of this outstanding establishment, which marked its 25th year with a jam-packed party last December.
Since Woodstock's first anniversary in 1986, each successive year has been celebrated by inviting customers and opening a Salamanzar (nine-liter bottle) of Champagne for the occasion.
By 1995, the anniversary event attracted such an overflow attendance that two bottles were needed. Every year a different Champagne producer is chosen. With about 75 major houses and many more small ones, running out of new choices won't present a problem.
The giant format Salamanzars are specially ordered each year. In some instances over the past quarter century, the rarely seen size has been unavailable in the U.S., so they were shipped directly from France. Happy 25th to Woodstock Wine & Deli.
Click here for a list of OREGON'S WINE RETAILERS