I am Woman, See Me Pour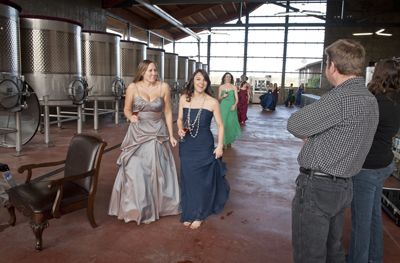 By Hilary Berg, OWP Editor
While photographer Andrea Johnson and I set up for the April cover, I was grateful to have my jacket. It was only 43°F outside, and we were inside Grand Cru Estates' fermentation room — an area open to the outside with mesh screens on the east and west sides. Wind off the vineyard and rain combined for a chilly effect, but the towering stainless steel tanks created a cool backdrop, and one that would juxtapose nicely with the warm, friendly female sommeliers dressing inside.
The 10 women were fitted with elegant gowns from Charlotte's Weddings & More. Owner Krysta McLaughlin graciously brought a rack from her Beaverton store and helped fit everyone.
They had a good time selecting their formals, sipping bubbly and catching up with one another. The women were toasty and talkative in the tasting room. Little did they know the temperature change they were about to encounter.
I was impressed by how the women reacted to the cold — O.K., freezing! — conditions. While Andrea, Krysta and I — guiltily cozy in our coats — positioned them and made sure all was in order for each shot, the ladies continued their lively banter and managed to smile and laugh through chattering teeth and visible shivers.
Every single one was a natural in front of the camera and looked stunning in her dress. We got the shot we wanted, and we thank them all for making it happen, especially Jennifer Cossey.
One of the 10 somms, Jennifer was the impetus for the entire feature. Not only did she pitch and write the story, but she also produced the fabulous shoot, which took a lot of hard work. Finding a time that worked for everybody was no easy task, and arranging for dresses was an ambitious move. She also organized a lunch prepared by Matt Howard (see his recipe on page 31) for everyone afterward. Brilliant!
I was really impressed but not surprised. Jennifer and the rest of the group wear many hats and can multi-task like pros. And as you can tell from the photo, they do it all with a sense of style and a lot of class.
They make me proud to be a woman. I am honored to call them my peers in this male-dominated industry, and I will look up to them for guidance on my own wine journey.