Meeting of the Wine Minds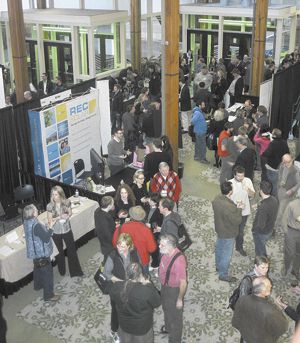 By Jeanette Morgan
The sixth annual Oregon Wine Industry Symposium has become an annual rite of passage for the industry and was a fantastic opportunity for me to listen and see what challenges and opportunities are present in the state's ever expanding wine industry.
As the new executive director of the Oregon Wine Board, I am grateful for the warm welcome and immediate outreach to work together to showcase Oregon wine. The last few months would be best represented as drinking out-of-a-barrel — instead of a fire hose — with so many exciting initiatives underway, and I have appreciated every minute of it.
The Symposium is not just the place where colleagues gather to renew old friendships, swap industry insider information, and learn; it is also the statewide conference where an aura of camaraderie and the willingness to share experience, expertise and solutions to problems is commonplace.
I feel that this inspiring sense of community along with the desire to share is why this is such a dynamic industry. Such sharing and communication is an area that I look forward to expanding upon in the coming months for the betterment of all the wine regions. This sense of community is a big differentiator for the Oregon wine industry, thus let's maximize it together through continued collaboration.
The economic challenges have been huge in the last couple of years, but the USDA National Agricultural Statistics Service 2010 Oregon Vineyard & Winery Report states that last year there was a 16 percent increase in case sales and a 26 percent increase in revenue — both promising signs for our industry in these economic times. These upbeat statistics and optimistic sentiments were evident at the Symposium. Rob McMillan, founder of Silicon Valley Bank's Wine Division, told a session, "I'm actually pretty optimistic about the year ahead."
If there was an impression that the Symposium left with me after its two-day run, it was the can-do attitude of those who built and continue to grow the state's industry. These leaders have put Oregon on the map as a world-class wine region, and their spirit of optimism against all odds — some call it winemaking on the edge — is infectious.
We are already well into another year that will hold its own set of challenges, opportunities and surprises for our industry, and it is therefore a good time to develop robust educational programs. Our industry has a huge thirst for learning, so we will be integrating online tools such as webinars and partnering with wine organizations, AVAs and government agencies. These new tools will help boost already successful businesses to a new level.
A big part of the new OWB plan this year is to increase our marketing efforts to continue growth amongst all varieties around the state. I will be calling on many of you in the wine industry to share your lifestyle and energetic spirit in our media and marketing campaigns. In addition, the OWB will continue its important mission to fund statewide industry research programs while working in conjunction with the Oregon Wine Research Institute on long-term research projects.
Building on the state's hard-earned reputation as a world-class wine producing region, I look forward to strengthening our brand with the best and brightest vintners, growers and marketers around, right here in Oregon; this is the pioneering tapestry of the Oregon wine industry.
As more brands continue to increase the state's presence internationally, we are poised for even greater success with our wine. I will continue to travel throughout the state to meet as many winery owners, winegrowers and industry organizations as possible. Please reach out to me, as I am open to all inputs and requests.
It's exhilarating to be a part of such a dynamic industry and one that has become so integral to Oregon.
Jeanette Morgan is the executive director of the Oregon Wine Board. She brings robust experience in strategic leadership and government affairs, most recently as vice president of Global Government Affairs of National Semiconductor Corporation in Santa Clara, Calif.