Great Out of the Gate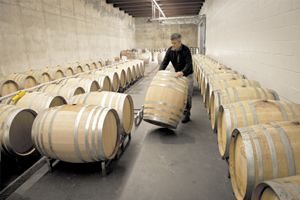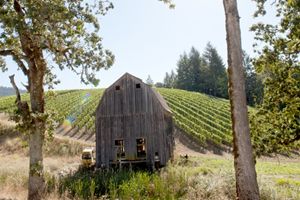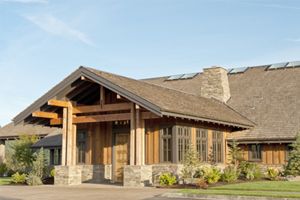 By Karl Klooster/Photos by Andrea Johnson
Young vines can yield very good wines. But they're seldom a match for what comes later. If that rule of thumb holds true, Pinot Noir lovers have a lot to look forward to from Colene Clemens.
The Ribbon Ridge winery's two 2008 pinots — an estate and an estate reserve — are the first ever to come from the initial 23 acres of its estate vineyard, planted in 2006.
It may be serendipitous that 2008 is the maiden year for a boutique operation demonstrating such promise at the outset. Effusive accolades for the vintage have continued unabated from the moment eager pundits were able to sip samples thieved directly from barrel.
Winemaker Steve Goff, who spent six years honing his craft at the side of Beaux Frères co-owner Mike Etzel, made the most of the mere 11 tons he had to work with in 2008.
That's roughly 4/10ths of a ton per acre, the plan being to purposely thin extensively so each vine's energies could focus on a very limited number of clusters in hopes of attaining the highest quality fruit. And it obviously went well.
The vineyard, entirely Pinot Noir at this point, is planted to four clones — Dijon 115, 667, 777 and Pommard. The 2008 estate, a mere 125 cases of it, consists exclusively of Pommard. The estate reserve, totaling 440 cases, features a blend of all four clones.
With so little juice, why not make just one wine? Experimentation is a valuable learning tool and Goff wants to find out all he can. Thus, the different approaches early on.
He said vinification was essentially the same for all lots. Then both wines saw French oak — 24 barrels in all — on the lees, for 11 months. The estate was aged in 60 percent new barrels and the reserve in 50 percent new barrels.
So the main difference was the single clone vs. the blend. And that difference is distinctive.
The estate Pinot exhibits classic Burgundian character — dark berry fruit, earthy minerality and a hint of oak. Though still youthful, its velvety mouthfeel and nicely balanced components lend immediate approachability.
An expansive aroma combining red cherry with floral accents introduces the reserve. Sappy, leather-laced flavors and a velvety texture speak of complexity yet to fully evolve. Youthful tannins linger on the edge between assertiveness and integration.
Bigger in body than its estate counterpart, the reserve already delivers richness while promising more to come. In sum, both are surprisingly sophisticated wines, particularly given their immature origins. The estate sells for $32 a bottle and the reserve for $42.
Mark Bosko handles sales and tasting room management. Like Goff, his wine industry experience is local and first class. He was wine director at Press Wine Bar in Dundee and tasting room manager at Domaine Drouhin before joining Colene Clemens.
Bosko's initial distribution has targeted a handful of Yamhill wine country restaurants and selected retailers. With the release of the 2009s, he plans to step up his efforts, while still focusing on the Willamette Valley.
As a tasting room pour, Goff began vinifying a Pinot Noir rosé in 2009, using fruit purchased from nearby Beacon Hill Vineyard. With just a hint of delicate, orange pink, the 2010 could as easily be called a Pinot Noir Blanc. And at $18, it's a tasty, viscous value.
Bosko is happy to offer it in the tasting room, which sits high on a hilltop at the 500-foot level of Ribbon Ridge, near the western end of the Chehalem Mountains.
Bosko said that, despite the isolated location, a surprising number of people are already showing up. Once there, they can, of course, try and buy some outstanding wines. But that's not the only benefit.
Situated amidst 122.6 acres, the winery building is an architectural showplace both inside and out. When visitors step through the main entrance they could easily mistake it for the lobby of an elegant chalet-style hotel.
Overstuffed leather sofas atop an expansive tile floor lead into the spacious main room. A massive stone fireplace dominates the far end accented by a high-beamed cathedral ceiling.
If this were a hotel, the sprawling marble counter on the left could be check-in. Instead, it's the tasting bar. And the whole thing is the creation of owner Joe Stark, a genial, business-savvy native of Gaston.
Stark founded DMH. Inc. in Forest Grove 32 years ago at the age of 29. The company manufactures cabinetry and moldings for mobile home and RV interiors. And its success has afforded him and his wife, Vicki. the means to fulfill a long-held dream.
"We've been into wine and food for a long time," he said. "Pinot Noir became our favorite for its compatibility with food. At first we just talked about planting our own vineyard. Then we got serious and started looking around.
"I love this area. It's where I grew up. But we looked for years without finding anything we wanted. When this place came to our attention, it had already been on the market for four years.
"It was completely overgrown with brush and 10-foot-tall blackberry vines. It didn't look like much. But when we got all that stuff cleared away, we really knew we had something. It's almost all south-facing. Great drainage. There are five different soil types."
In case you were wondering, they named the winery in honor of Vicki's mother, Colene Clemens.
Stark had the first 23 acres put in and Goff has planted 17 more. Of the property's 122.6 acres, they estimate a total of about 60 are plantable. Pinot Noir will be the focus, but they're also considering putting in a little Chardonnay for the tasting room.
With the potential to process up to 15,000 cases, the winery will easily handle the annual production from a fully matured, 60-acre estate vineyard and then some. An average of 1.5 to 2 tons per acre, would yield from 5,750 to 7,500 cases.
Stark has pretty much given Goff the go ahead to do what he thinks is best. "This place isn't about us," he said. "This is about an effort to make the best wine we possibly can."
With scores in the low 90s from the likes of Wine Spectator and Wine Advocate, they appear to be off to a very good start.
COLENE CLEMENS VINEYARDS
Address: 22501 N.E. Dopp Rd., Newberg
Hours: 11 a.m. to 5 p.m., Friday–Sunday.
(Beginning Memorial Day weekend, open Wednesday–Sunday)
Phone: 503-662-4687
Website: www.coleneclemens.com