A Marketable Business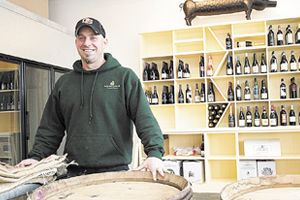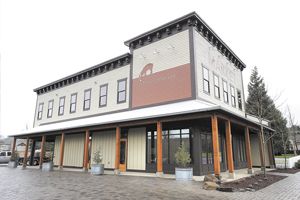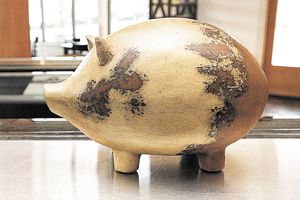 By Gail Oberst
Red Hills Market, which opened in Dundee this month, may look old: Its Victorian false-front features can be seen in a hundred Western towns and movies. Even its concept is something of a throwback to the good old days of hand-made pizzas, good wine, fresh, local produce and other groceries chosen by a proprietor who is more likely to hug you than to shake your hand.
But despite its historic looks, Red Hills Market is not your grandpa's business, starting with the cutting edge permeable pavers in the parking lot that help keep water run-off clean. The unique parking lot will also provide a place for local vendors to display wares in a farmers market setting this summer.
But on second thought, maybe your grandpa likes bocce ball, fine wine and cheeses, a bit of sausage and a nice oven pizza, or other dishes hot from the wood-fired oven. "What's not to like?" Kropf muses.
"It will be a market, a deli, a neighborhood place to gather," Kropf said. The bocce ball court to be completed this summer, the wraparound porch just begging for sunny-day sippers, the wine bar in front of the pizza ovens, the plans for music, wine-tastings, music and especially the wide wine selection which can be uncorked and savored on the spot, even the under-stairs play area for children — all lend itself to a welcoming ambience Kropf hopes to foster.
Kropf is opening Red Hills Market with about 30 Oregon wines — mostly made by his friends and supporters in the industry and which will be available by the glass or the bottle, with no corkage fee on wine purchased on site. Kropf also will carry a "well-edited" list of international wines, mostly small family wineries, like his own, especially value-based "weeknight" wines.
On his shelves, look for lots of Oregon Pinot Noir, his specialty, and Tempranillo, his second-favorite variety. Kropf said he may also try the keg system of distributing his home wines and others in the future, but like so many ideas he has for the market, Kropf said he will let his customers tell him what they want.
The market is an idea Rebecca Ponzi adores. The Ponzis built their bistro and wine bar complex 13 years ago in hopes of attracting many more wine country businesses to Dundee. Ponzi said Red Hills Market is making her dreams come true, too.
"We had hoped when we opened that this would happen. It's nice to see a new store in our neighborhood," she said.
Red Hills Market was a natural for Kropf, a Brownsville, Ore., native and the quintessential son of restaurant-owning parents. He dreamed of bringing the welcoming atmosphere of his parents' place to his new hometown, Dundee.
Kropf and his wife, Michelle, planted the Kropf Family Vineyard four years ago on 2.5 acres in Dundee's famous Red Hills, almost within walking distance from his market. He has worked for Lange Winery in various capacities, and said he grew to admire the community spirits of Ponzi, Argyle and Dobbes winery owners, all active in Dundee activities.
"I wanted to be part of the solution and spark change. I wanted to help make Dundee a special place," Kropf said.
Beneath huge Douglas fir beams running the length of the downstairs market area, Kropf is creating a place he hopes will appeal to the foodies, wine industry workers, neighborhood residents and travelers in Yamhill County. Kropf said he'll stock up on good cheeses, Stumptown Coffee and essential pantry ingredients like olives, olive oil, fresh meats, produce and seafood.
Those who aren't in a hurry can sit at the café-style tables, order a pizza or a deli sandwich, and eat it on site, or they can bundle it all up and take it with them on their wine country adventure. Kropf said his first priority will be to draw local and wine-savvy customers, but he's also happy to fix box lunches for picnickers and tourists, and cater special events.
"You won't find toilet paper or flour here, but you can stop and get fresh kale, rustic bread, an unusual sausage and, of course, a bottle of wine," Kropf said.
RED HILLS MARKET
Address: 155 S.W. 7th St., Dundee
Hours: 7 a.m. to 8 p.m., daily
Phone: 503-550-8193
Website: www.redhillsmarket.com