Sunny Dee Drinks Wine
Native Oregonian Kaitlon Olson answers OWP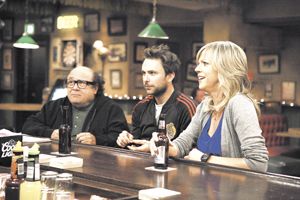 Media Not Found, or not supported
For those of you who don't know who Kaitlin Olson is, you must get cable, today. She is quickly becoming one of Hollywood's comedy queens.
Born in 1975, Olson grew up in Tigard and cultivated her passion for acting at the University of Oregon, where she earned a bachelor's degree in Theater Arts. After a stint on stage, she moved to Los Angeles to pursue acting professionally.
She began at The Groundlings Theatre in Hollywood, an improvisational training ground to comic giants such as Will Ferrell and Phil Hartman. Olson secured a coveted spot in the Sunday Company, which proved to be a big stepping stone, leading to recurring roles on both "Curb Your Enthusiasm," where Olson played Becky, Larry's sister-in-law, and "The Drew Carey Show," where she played Traylor, Mimi's nemesis, for two seasons.
Among other roles in television and the big screen, Olson is best known for her role as Deandra "Sweet Dee" Reynolds on FX's breakout sitcom, "It's Always Sunny in Philadelphia." Now in her sixth season, Olson easily holds her own with the all-male cast, which includes the talented Danny DeVito and the show's creators, Rob McElhenney, Glenn Howerton and Charlie Day. The series follows the exploits of "The Gang," a group of self-centered friends who run Paddy's Pub, a relatively unsuccessful Irish bar in South Philadelphia.
In September 2008, Olson married co-star McElhenney, and together they have a baby boy, Axel Lee, who was born September 1, 2010. They currently live in L.A.
OWP: What do you love and/or miss about Oregon?
KO: My family and cozy fireplace weather. But only in the winter. I don't miss it the nine out of 12 months that Portland has it!
OWP: What kind of wine do you enjoy? Are you an Oregon fan?
KO: I'm a Pinot Gris fan these days. I like a lot of Willamette Valley wines. My grandparents live in McMinnville, so we always passed through some beautiful wine country on our way to visit them when I was a kid. I can drink them now. That's much more exciting than looking at them.
OWP: In Hollywood, when you tell people you are from Oregon, how do people generally respond? If necessary, do you have any witty comebacks?
KO: People in L.A. seem to think it's cool when I tell them I'm from Oregon. I get a lot of positive responses about people visiting Portland and thinking it's beautiful. However, when I'm in Philadelphia and I tell people I'm from Oregon, they all seem to think I'm kidding. I don't think they know where Oregon is. It's a totally different culture. The fact that I recycle, eat organic food or dress my baby in organic clothing blows their minds. I get a lot of "well, you're from Oregon..."
OWP: If Paddy's Irish Pub were to pair wine and food, what do you think Dee, Mac, Charlie, Dennis and Frank would come up with?
KO: Boxed wine in dented packaging and some kind of sandwich with a lot of canned meats.
OWP: In an episode of "It's Always Sunny in Philadelphia," Frank, played by Danny DeVito, puts boxed wine in a can to disguise what he is drinking. Do you think this is a good idea?
KO: Of course it is. It's functional and it protects your right to privacy. No one needs to know what you're drinking.
OWP: Any new projects in the works?
KO: I'm doing some Family Guy episodes, I did a web series called "Held Up" on Crackle, and I gave birth to a baby. That project is ongoing.