Flight of Fancy Food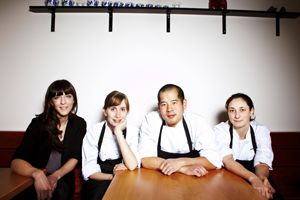 By Wine Press Staff
Aviary opened its doors February 1, bringing a new dining option to Portland's quirky Alberta Street Arts District.
With restaurant experience in New York and Portland, the trio of chefs at the helm of this new eatery are putting their unique twist on every aspect of operating their own restaurant. Just the idea of a three-way collaboration informs diners that this restaurant is going to have a communal spirit and a strong sense of creative expression.
A surprising blend of global influences appear on the plate, from French cooking techniques to Asian ingredients like kinome, a Szechuan peppercorn plant, and mentaiko, spiced cod roe.
Co-owners/chefs Sarah Pliner, Jasper Shen and Katherine Whitehead share a decade worth of training at New York's finest — from Alain Ducasse at the Essex House and Aquavit to Jean-Georges and Aldea.
Aviary's name was inspired by an image of a tiny bird etched into a mahjong tile and quickly became the name for some possible projects from a bakery to a bar. When the three hit on the idea for their own restaurant, the name stayed.
"We see our new restaurant as a place where different types of people flock together," said Pliner. "The three of us are so different, and were brought together through our passion for cooking. We want to create a home for all sorts of folk."
Although Pliner, Shen and Whitehead have cooked in some of New York's finest kitchens, they are passionate about the local ingredients found close to home. Trained in French culinary technique, they also reach out to local farmers and purveyors to bring the best product to the table in season.
They also make as much in house as possible, from the beer-flavored ice cream to the house-made sodas, tomato granite on the oysters and the tomato jam paired with the oxtail croquettes.
"It is so important to embrace local, but we want to also make sure our food has the best quality we can locate," said Shen. "My roots reach back to China, and I love to experiment with flavor combinations like sea urchin and shiso rolled inside. If we can't find it locally, we are working with the best suppliers to bring us the best available product."
With the menu organized into small plates, seasonal offerings and large plates, diners are encouraged to share and taste many different menu items.
"We are definitely bringing a refined style of food to the Alberta Street neighborhood, and our casual décor fits with the eclectic and artsy atmosphere," said Pliner. "We would love to become a community gathering place where neighbors regularly stop in for a glass of wine or cocktail and a small plate."
Oregon native Leah Moorhead joins the team of chefs bringing her own wine knowledge to Aviary from hot spots like Del Posto and Wine Bar NYC, as well as Andina and Tabla in Portland. Moorhead's wine list matches Aviary's cuisine with a strong push toward the small family-owned wineries in France and the local wines from Oregon and Washington.
"I tend to find wines that are inspired by the natural wine movement — both here and in France," said Moorhead.
Aviary's cocktail menu will also rely on local spirits and ingredients made in the kitchen such as seasonal infusions.
AVIARY
Address: 1733 N.E. Alberta St., Portland
Hours: Mon.–Thur., 5 to 10 p.m., Fri.–Sat., 5 to 11 p.m.
Reservations: 503-287-2400
Website: www.aviarypdx.com