Big Apple: Big Success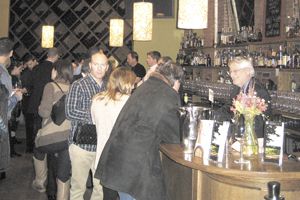 By Mark Stock
Just as it did almost a year ago in Seattle, the Willamette Valley Wineries Association (WVWA) set up shop in a distant city and attracted barrels of attention. In mid-February, 50 association wineries — ranging in size and sub-appellation — headed east to the Big Apple to pour and participate in a series of events dubbed "Oregon Wine Flight to New York City."
Manhattan's brand new and innovative City Winery played host, the borough's first functional winery in four decades. Founded by former music producer Michael Dorf (of Knitting Factory fame), the 21,000-square-foot facility is part concert venue, part working winery. City Winery offers an interactive model, encouraging visitors to take part in the winemaking and even sponsor a barrel and private label of their own. Beyond the crush pad and vats, and past the restaurant is City Winery's music stage, the backdrop for artists like Leo Kottke, Billy Bragg and Ryan Bingham.
Sold out was the theme for the long weekend, bookended by a winemaker's luncheon and a Sunday evening dinner, featuring Vertical and Sideways author Rex Pickett as well as Oregon industry representatives Lynn Penner-Ash, Steve Doerner (Cristom winemaker) and Kurt Johnson (director of sales and marketing at Beaux Frères). Participants, possessed by a fascination with Pacific Northwest Pinot Noir years in the making, rejoiced in pours straight from the source.
"This marked the first time representatives from the Willamette Valley traveled to New York City as a group — to pull back the curtain, as we tell our story, showcase our diverse wines, and invite our neighbors from the East to pay us a future visit," said Sue Horstmann, executive director of the WVWA.
The weekend trade event sold out with 350 attendees. Likewise, the grand consumer tasting was at capacity, filled with what Horstmann called "very engaged and extremely enthusiastic tasters." New Yorkers poured into the much-hyped Soho complex to lend an ear and empty glass to Oregon producers like Adelsheim of the Chehalem Mountains and Z'IVO Wines of the Eola Hills. While Pinot Noir was positioned front and center, lesser-known types were the topic of discussion as well. Attendees were also treated to some of the state's other famous exports, including crab, hazelnuts and cheese.
With much ado about direct shipping laws and a waking wine market nationwide, the weekend at City Winery served as important face time for eager Oregon craftsmen. To see an acclaimed label at the grocery store — whatever the city — is one thing; however, it's tough to outdo the magnetism of producer and taster conversing face-to-face about what's in the bottle. Having a powerhouse vintage like 2008 at its collective disposal only helped the 50 wineries involved. Personalizing a vintage Harvey Steiman of Wine Spectator is calling "as good as it gets" will almost certainly convince many East Coasters to head West for their next wine tour.
"This event surpassed even my wildest expectations," said Horstmann. "Interest was sky high and the excitement for Oregon wines was palpable." On top of opening many eyes to exceptional Oregon wines, a portion of the Oregon Wine Flight To New York City proceeds benefited Riverkeeper, a New York-based clean water advocacy group.
So far, the road show method has been a downright success story for the WVWA. Given the momentum created by sold-out gatherings in Seattle and New York, there's no reason not to think a flock of Oregon wines will land in other thirsty cities during the years to come. The WVWA board will determine what happens next, but there has already been invites from the likes of Houston and Boston.
Mark Stock, a Gonzaga grad, is a Portland-based freelance writer and photographer with a knack for all things Oregon.