Me and My Big Fire
Media Not Found, or not supported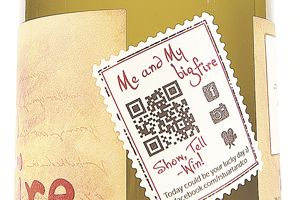 By Wine Press Staff
McMinnville's R. Stuart & Co., makers of Big Fire wines, including Pinot Noir, Pinot Gris and dry Rosé, is leading the Oregon wine industry in the next wave of multimedia marketing as it launches its "Me and My Big Fire" photo and video contest.
"The Big Fire wines have lots of friends, said Maria Stuart, winery partner and director of marketing and PR. "Our customers are often telling us tales of where and with whom they've enjoyed their Big Fire. 'Me and My Big Fire' is a campaign designed to give them a forum for sharing and encourage more customers to chime in."
Social media and mobile marketing are the obvious platforms to structure the contest. However, it was the introduction of QR code technology that emerged as the main vehicle to drive the campaign.
A QR code is a type of scanable code — not unlike a bar code — that can be used to connect traditional print media to web-based content and social media sites. Scan codes can direct mobile customers to a chosen page of a company's website. They can also automatically add an event to a customer's phone calendar, launch a promotional YouTube video, auto-dial a call to an info line, or even open up a brand's Facebook page.
"We decided to design a special 'Me and My Big Fire' contest sticker with our QR code printed on it and short instructions explaining how to scan the code. The sticker will first show up on our 2010 Big Fire Pinot Gris bottles, set to be released and available in the market in March," said Stuart.
The 2010 Big Fire Pinot Noir will be bottled later this spring, also bearing the "Me & My Big Fire" contest sticker, and will be released in June.
The code can be scanned with any QR code reader, many of which are available as free downloadable Smartphone applications.
Once the "Me and My Big Fire" QR code is scanned, it brings up a contest page that includes a short, whimsical video explaining the campaign and demonstrating how easy it is for customers to participate.
"The video was created to help spread the word of our contest in a fun, entertaining medium," said Stuart. "We wanted to do something humorous and clever that everyone could enjoy. And since we sell our wine all over the country, we wanted to show off some of the natural beauty of Oregon."
The video, called "Chariots of Big Fire" by Stuart and friends, was inspired by the solemnity yet playfulness of Oregonians who obsessively love their state, their coast, their coffee, their bikes, their outdoor gear, their wine — and so on — while parodying the classic, Oscar-winning film, "Chariots of Fire" with an overlay of tongue-in-cheek nature of the current IFC sketch comedy series Portlandia.
"Part of the message of the 'Me and My Big Fire' campaign is that wine lovers do not have to take themselves too seriously. We don't! This is a chance for people to play around and be creative, but they don't have to worry about making fine art either," said Stuart. "It's all in the name of good fun and great wine."
Customers can use their mobile phones to take and send their photos and videos storytelling what they're doing, in the moment, with their Big Fire wine.
The contest is not limited to mobile phone users. Customers can access the rules and post their entries online via R. Stuart & Co.'s website, www.rstuartandco.com/mybigfire, and Facebook page.
The contest opened Feb. 18 and runs through Dec. 31, 2011.
Winners will be chosen weekly and will receive a "Me and My Big Fire" prize along with a badge to post on their own Facebook page and one on their winning photo or video on the R. Stuart & Co. website and Facebook page — it's all about the bragging rights.
For contest guidelines, rules, online entry forms and to view the "Chariots of Big Fire" video, visit www.rstuartandco.com/mybigfire.