Depression Sessions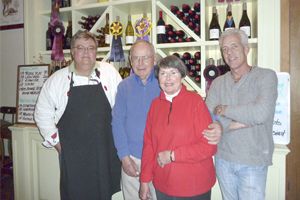 By Janet Eastman
Winemaker Don Mixon explains his luck this way: He and his optimistic partners opened a stylish wine tasting room sandwiched between a much-beloved creamery and chocolate shop — creating a culinary trifecta — in Central Point in September 2008. Later that same month, the economy pancaked.
Amid endless talk of a global systemic crisis, spirits could have been crushed at the Artisan Tasting Room. Instead, Mixon, an urbane merrymaker, joked that the group should host inexpensive Sunday night dinners that they would call, in the grand tradition of gallows humor, Depression Sessions.
The first invitation announced that during a "delicious winter of discontent," guests with "mutual malaise and general desuetude" would be treated to a filling meal and, hopefully, in a fit of consumer confidence, they would buy a glass or bottle of wine.
Here's how Mixon's luck clicked in: The laughing-in-the-face-of-misery idea caught on.
Now in its third year, the winter Depression Sessions sell out every Sunday. A loyal, after-hours crowd squeezes into a chic, post-industrial tasting room that once was a mechanic's garage. They find a seat at one of the long, covered tables aglow with candles propped up in fancy candelabras. Overhead, there is a generous soaring ceiling. On the walls, larger-than-life contemporary art.
"The initial idea was to make us all laugh at our predicament, the new Depression. So, why not have beanie weenies in a crystal goblet? Thus, the candles," said Mixon, who owns Madrone Mountain Artisanal Dessert Wines with Bret Gilmore. The owners of Daisy Creek Vineyard, Russ and Margaret Lyon, are also partners in the conveniently located Artisan Tasting Room.
The comfort food, originally envisioned to be on the modest side, is now more aligned with the partners' fondness for the finest food. It's comfort food, all right, but from culinary meccas such as France's Alsace, in which lowly sauerkraut mixed with apples, onions and sausages braised in Riesling-based Madrone Mountain Starthistle Cuvée becomes choucroute garnie.
Madrone Mountain and Daisy Creek wines often appear in dishes as vinaigrettes, sauce bases or flavoring agents.
One Sunday, grilled pork tenderloin was marinated in smashed garlic, ginger, lemongrass, coconut milk and Daisy Creek Viognier. Another time, conchiglie pasta had leeks and radicchio doused in a snail butter enriched by an earthy, slightly sweet 2004 Starthistle Cuvée. Both a salmon and dilled cream cheese roulade and, on another occasion, a pumpkin-and-spice bread pudding included Madrone Mountain's Special Select Late Harvest Gewürztraminer.
Sometimes, ingredients are shopped from next-door neighbors Lillie Belle Farms hand-made chocolates and the famous Rogue Creamery.
Don and Linda DeWald of Jacksonville have been attending the Depression Session dinners since the beginning and find them anything but downers. The couple enjoys the candle-lit atmosphere, the family-style seating that encourages camaraderie and the hosts' ever-changing, authentic cuisine. "They go above and beyond, and that is such a treasure these days," Linda DeWald said.
The DeWalds attended a dinner on Jan. 16 in which the Cajun cuisine was inspired by partner Bret Gilmore's Louisiana roots. Gilmore whipped up a gumbo using his mother's recipe and spices, and Andouille sausage he had flown in overnight.
"Why not do more than necessary to please your guests?" Linda DeWald asked. "That's what makes life exciting."
The cost for the dinner has risen from $10 for three courses to $15 and sometimes $20, depending on the ingredients. After staying up all night to make Boeuf Bourguignon a la Julia Child, Mixon jokingly told his lip-smacking diners that it had flashed through his mind that they were not paying enough.
At that Jan. 30 dinner, with Edith Piaf warbling in the background and two dozen guests chirping about the luscious Rogue River Blue Butter with pistachios they were spreading on crackers, Mixon explained his inspiration: In 1978, when he was an economically challenged college student in Texas, he wandered into Neiman Marcus and encountered the culinary holy grail: a copy of Child's two-volume "Mastering The Art of French Cooking." He, like so many others, taught himself to cook by recreating the recipes.
"My favorite is Boeuf Bourguignon, that classic French beef and wine stew with bacon, onions and mushrooms," he said. "To my mind, this is the essence of what wine and food pairing should be — a pairing so integral it becomes impossible to imagine making the food without the wine or having the wine without the food."
Mixon usually plans the menu with a particular wine in mind: Chili Con Carne y Frijoles was served with delicate Daisy Creek Vineyard Syrah. The dessert that evening was ice cream topped with Mexican chocolate sauce paired with berry-scented Mundo Novo from Madrone Mountain.
When he's cooking, Mixon reveals: "I pick a wine, taste it, deconstruct it and then muse upon what flavor combinations will sing in that key. Sometimes, I find a lucky combination but most times I just go into my flavor memory garden and just walk around. That's my Zen happy place."
Through all of these dinners, Madrone's owners can show customers that wines with residual sugar are not just for dessert. A sweet wine, Mixon counsels, "buffers salt and tart flavors. It lures the palate away from perceptions of bitterness. It can heighten perceptions of umami, or savoriness, and it is the flavor of the good things in life.
"When most folks taste the combination of sweet and savor in these food and wine pairings, they forget that they are not supposed to love sweet wines and just relax into the experience," he said. "It's a wonderful thing to watch."
And as the Artisan Tasting Room team has shown: Sweet wines and good times are especially tasty when the economy is sour.
ARTISAN TASTING ROOM
Address: 245-A N. Front St. (Hwy. 99), Central Point
Hours: noon to 5 p.m., daily
Phone: 541-664-1707
Web: www.madronemountain.com