Here Comes the Judge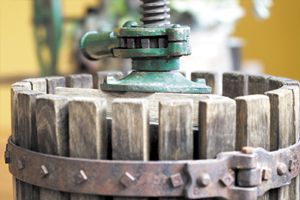 By Deanna Trail
Just one legal opinion by the state's Attorney General's office last year shuttered all amateur winemaking contests at festivals, fairs and other venues. Best in Show, along with useful critiques, were down for the count. The fix is Senate Bill 444, which states that tasting any non-professional wine outside the maker's home is not a crime. If all goes well, this fall's State Fair judges will be hanging ribbons on wine bottles once again. And that's good for us all. Especially wine drinkers like me.
The remedy is in process. In mid-February, Oregon Senate Bill 444, introduced by no fewer than 16 Senators and nine Representatives, had its first hearing and work session in committee. There was no verbal opposition, and the bill was unanimously referred to the Senate floor. Home brewers voiced the same spirited enthusiasm and sound reasoning as amateur winemakers for restoring group tastings and contests.
The momentum of this bill deserves to continue as a fast track issue until signed into law and immediate effect. The onslaught of inescapable budget-based battles may slow the bill's passage if it lingers anywhere on its way to the governor's desk. Once enacted, home-based brewers and winemakers can sigh with relief and do what they long to do: Make even better beer and wine.
These amateur wine contests and tastings are vital to growing another generation of esteemed wines and winemakers. As a wine drinker, I know my own palate has vastly improved with experience, tasting and education. How could it be different for amateur winemakers?
In an atmosphere where products are shared, commented upon, compared, judged and improved upon over some years, the results often get better — much better. Perhaps even professional. In our travels, it is a pleasure to sample the offerings of small local wineries and heartwarming to hear the stories of how the owners began as hobbyists with overwhelming passions that developed into viable businesses with respectable wines.
We know the wine industry in Oregon has been a success story. The growth of the industry to over 400 producers has given many parts of the state a needed economic foothold. The ever-expanding number of outstanding Oregon wineries has rightly captured international attention and provides yet another reason for visitors to appreciate and linger in our beautiful state. This level of success encourages all makers. The environment of the wine business clusters promotes further development of more good wine, even by amateurs.
I have the pleasure of living in Newport on the coast. Each February, the slow tourist season is awakened by the annual Seafood & Wine Festival that doubles the city's size for three days. Until this year, an average of 90 amateur winemakers brought forth their best efforts to be judged and evaluated. In 2009, 119 entries from nine states were submitted.
This 34th year of the festival will find the amateur shelves empty. Next year I'm looking for a wide selection of home-crafted wines that are elegant, promising, more good than bad and even a few somewhat-terrible-but-hopeful entries put to the test. I'm also betting one or two of those amateurs will develop to deliver some future commercial wines that will blow our socks off.
You may share my future-focused interest, make a few bottles of your own or someday dream of doing so. If so, simply call, e-mail or write your representatives at the Oregon State Capitol (www.leg.state.or.us/findlegsltr/) and encourage each of them to support Oregon wines and responsible amateur winemaking contests, too.
SB 444 allows for this to happen. Some very worthwhile future wines are counting on our help. Their winemakers would appreciate it, too.
Update: SB 444 was passed on Feb. 22 at the same time as OWP's press date. The corresponding news story on page 11 has the updated information.
SB 444 Explained
Senate Bill 444 expands exemption of homemade beer, wine and fermented fruit juice from Liquor Control Act. Allows storage at licensed premises of malt beverages and wine made on premises by unlicensed person and storage of homemade beer, wine and fermented fruit juice. Allows licensee to conduct organized judging, tasting, exhibition, contest or competition of unlicensed malt beverages and wine or homemade beer, wine or fermented fruit juice at licensed premises subject to Oregon Liquor Control Commission restrictions.
For full details of SB 444, visit www.leg.state.or.us/11reg/measures/sb0400.dir/sb0444.intro.html.