Chocolate Biscotti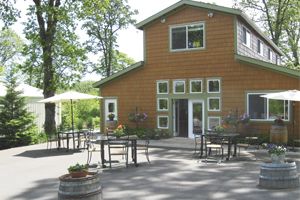 By Chef Carolynn Andringa of Left Coast Cellars
"None of the Left Coast staff is able to pass through the kitchen without snagging one of these delicious cookies, especially proprietor Suzanne Larson. That's just one of the reasons we like to pair them with her namesake barrel-select Pinot Noir. Carolynn's homemade biscotti were also a big hit at our Left Fielder Wine Club events and our Thanksgiving open house." —Ivy Hover, Left Coast Cellars director of hospitality and marketing.
INGREDIENTS
2 cups flour
½ cup unsweetened cocoa powder
¾ teaspoon baking soda
½ teaspoon baking powder
½ teaspoon salt
1½ teaspoons espresso powder
6 tablespoons butter, softened
1 cup sugar
2 large eggs, lightly beaten
¾ cup dried cranberries
¾ cup mini chocolate chips
DIRECTIONS
1. Sift together and set aside flour, unsweetened cocoa powder, baking soda, baking powder, salt and espresso powder. Beat together butter and sugar; then mix in eggs. Slowly mix in dry ingredients, then fold in dried cranberries and mini chocolate chips. 2. Divide dough in half. Shape into 2 logs (12 inches long by ½ inch thick) on parchment-lined baking sheet. Bake at 350°F for 25 minutes. Let cool for 20 minutes. Slice into ½-inch wide cookies. Transfer to baking sheet, and bake at 350°F for 15 minutes. Cool before serving. Yields 48 bars.
WINE SUGGESTION
2004 Left Coast Cellars Suzanne's Estate Reserve Pinot Noir
ABOUT THE WINERY
Founded in 2003, Left Coast Cellars produces estate-grown Pinot Noir, Pinot Gris, Chardonnay, Pinot Blanc and Syrah at its winemaking facility in Rickreall. Left Coast Cellars utilizes sustainable practices throughout its 100 acres of estate-grown vineyards. The 300-acre property also features multiple wildflower gardens, an expansive stand of old-growth white oaks and an on-site café in the tasting room.
The tasting room and café, located at 4225 N. Pacific Hwy., Rickreall, is open daily, 11 a.m. to 5 p.m. For more information, please call 503-831-4916 or visit www.leftcoastcellars.com.