High-Class Problem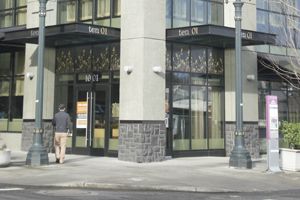 By Fred Armstrong
About 15 years ago, I began to notice a change in the Portland restaurant scene. The local food landscape started to evolve and took on a uniquely Northwest interpretation of classic dishes, grabbing some national attention.
The theme was fresh, local ingredients, not celebrity chefs like New York, San Francisco or Las Vegas. The term "casual upscale" comes to mind.
Perhaps part of this food renaissance was due to the national attention that Oregon beer and wines were receiving, or maybe it was just a focus on the wonderful local products the Northwest has in general. One thing was certain; the local dining scene was good, cool and unique.
Fast forward to 2008: Chris and Tyanne Dussin, along with Chef Pascal Chureau, decided that Portland was ready to step up from the casual upscale, and opened Lucier, a $4 million waterfront restaurant that seemed better suited to Manhattan than Portland. Many Portlanders wondered how a top tier New York-style restaurant would fit in good ol' casual Portland.
Cue: recession.
Lucier closed after a mere seven months of service. Of course, Lucier was not alone; over 20 restaurants closed in 2008, and more followed in 2009 and 2010.
How will 2011 treat the local restaurant industry? It's hard to tell at this point, but if the end of 2010 is an indicator, things are not looking positive. During January alone, restaurants such as Ten 01, Everett Street Bistro, Laurelwood NW Public House, Alu Wine Bar and Alba Osteria all closed their doors.
During these hard economic times, people are a little more selective about where and when they spend their money, but one question remains: Why do some restaurants flourish while others suffer?
In an attempt to find an answer, I interviewed several people who work in, or closely with, the Portland restaurant industry. One restaurant manager I spoke with felt that not enough dining establishments were willing to conform to the current economic conditions.
While some places adjusted their menus to offer lower priced fares and bargain three-course meals, many restaurants maintained business as usual. Other people I spoke with felt that while many of these restaurants offered good food and reasonable prices, they had trouble establishing an identity for themselves.
Savanna Ray, who worked at both Lucier and Ten 01, feels that the day of the big, beautiful restaurant in Portland is over, for now, at least. She feels that many people want to compete with top tier restaurants in other cities, but Portland clientele will not support them. She currently cites Metrovino in the Pearl as one restaurant doing things right: great food, knowledgeable staff and a world-class wine list. She hopes they can survive this economy
"Portland will be a better food city with them in it," Ray said.
Another restaurant manager suggests that locals may not support top-tier restaurants now because Portland has yet to create a solid, consistent restaurant marketplace.
"I see so few Portland restaurants that make the effort to go this extra mile. Service is erratic at best, astonishingly bad at worst. There's little consistency from month to month. I've had the same dish in one restaurant twice in a month, and although the description was exactly the same, the dish was great one time and horrible the next."
A strong staff is one important aspect most people agree on. As the old saying goes, "you are only as good as your weakest person." The best chef in the world will not save a restaurant if the proper support is not in place. This means providing a pleasant working environment, a place where people want to work and who will reflect pride in their jobs with patrons.
In addition to all of the above challenges, Portland restaurants are also facing some fierce competition: food carts.
Portland currently has more than 400 food carts in the metro area, making the city a poster child for the national craze. They've been featured in Gourmet, Bon Appétit, The New York Times, The Los Angeles Times, Men's Health, as well as highlighted on the Travel Channel.
Many former restaurateurs have turned to the small scale and clearly more economical food cart. It is possible that because of the high quality food many of these carts provide, many Oregonians are choosing to spend their money there instead of high-end restaurants.
Although the last couple years have been rough, there are still plenty of uniquely Northwest establishments making a splash in Portland. While it is a challenging time, there are still numerous talented, creative chefs out there willing to put it on the line and new restaurants are still opening. Hopefully, we have a bright culinary future.
Fred Armstrong is a sommelier certified through the International Sommelier Guild. He manages Wine About It in West Linn and wine consults on the side.