Wine Man with a Will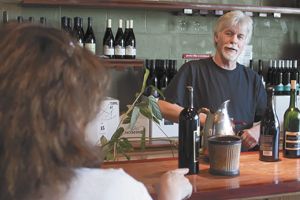 By Karl Klooster
Few people are more familiar with the growth and development of Oregon wine than Patrick McElligott. Over the past 30 years, he has been integrally involved in the industry, wearing many hats while gaining a diverse, in-depth perspective.
For 28 of those years, he served as the manager and main man behind the wine bar at Amity Vineyards' Oregon Wine Tasting Room, on Highway 18 in Bellevue. In that role, he imparted his wisdom and wit to wine-interested locals, as well as untold thousands of Yamhill Valley visitors.
The Oregon Wine Tasting Room was among the very first to carry a comprehensive inventory of wines from around the state. That greatly broadened McElligott's knowledge.
His trained palate brought him work as a blending and quality-control specialist for several wineries. The combination of product knowledge and sales experience led to marketing positions, where he spread Oregon's quality message beyond the state's borders.
Concurrently, McElligott joined several tasting groups. He ultimately became sought after as a wine judge.
When Chemeketa Community College opened its Northwest Viticulture Center in West Salem, he was hired as the instructor for wines of the Pacific Northwest and sensory evaluation.
Over the past two years, his primary efforts have been focused on sales and marketing for Sineann, a diverse portfolio of ultra-premium wines from Oregon and Washington fruit. They are handcrafted in small quantities by Peter Rosback, who to the minds of many faithful followers, has emerged as the Midas of local winemaking.
Sineann wines are available at fine wine retailers and top-tier restaurants in 22 states and the District of Columbia. They have found their way west across the Pacific to Japan and South Korea as well as north to British Columbia.
Based on his long observation of the industry's evolution and recent experience in the broader marketplace, McElligott has given considerable thought to the strengths and weaknesses of Oregon's current competitive position, both regionally and nationally.
Though acknowledging that he can, by no means, conjure up a magic potion for overnight success, he offered some thoughts about how Oregon might best formulate a message designed to resonate with consumers and effectively convey it to them.
"If we look at all the things that have impacted the Oregon wine industry over the past couple of years — not to mention the general state of the economy — it may be a wonder that we have managed to hold out as well as we have," he said. "The direct shipping issue and the bad press about the 2007 vintage — much of it undeserved or over-exaggerated — would have been bad enough even without the financial crash.
"But what I've taken away from all this is that we can do a much better job of deflecting or even turning around potentially bad press, and we must continue to fight the political battle over direct shipping by choosing our spots down to a state-by-state level. We have a lot of allies in other states when it comes to Internet sales and direct shipping to consumers, but building the Oregon image is something we have to do all on our own."
The construct of that image, McElligott feels, is to zero in on Oregon's strong points. High quality and food friendliness head the list. And the food-friendly advantage plays positively into the argument for firm acidity rather than big alcohol, lots of tannin and jammy fruit.
"To a large extent, it's wine writers who have a bias against any red that isn't a blockbuster." he said. "They favor big, fruit-forward wines. And whether we like it or not, Oregon is not going to get lush, ripe fruit every year."
To counter one media group with another, perhaps an even more effective one for Oregon, he recommends appealing to food people in the media — people such as Lynne Rossetto Kasper, host of public radio's Splendid Table — who could pair dishes with wines.
He also suggests the possibility of joint marketing with organizations where a mutually complementary and compatible message exists, such as the beef and pear commissions.
Furthermore, he's adamant about placing greater emphasis on making deeper inroads right here at home.
"Oregon restaurants still don't carry enough Oregon wines," he said. "It's an area that all of us can and should work on much harder and more consistently."
As to pricing, he noted that many wineries had to lower their prices on their 2007s just to get them out the door, but now are jacking the 2008s way back up again because of the positive press.
He thinks wherever possible, they should hold the line on price increases or keep them at a minimum. Building brand loyalty, bringing people back again and again, is what pays off.
"I think that living and dying by the vintage is a mistake for Oregon," he said. "Blends and non-vintage wines may be a better way for Oregon to go. That's not to say that some of our finest Pinots won't still sell on pedigree, but that's not enough to sustain the industry."
He said that many colleagues agree, but Oregon is a very small player in a big game, and they have to get almost everyone united if they hope to succeed.
"Smaller wineries say they can't afford to spend the money to help promote a unified Oregon image," he said. "But if they don't, they'll lose money in the long run because their inaction will bring about a more restricted market, which means loss of business."
As for the current outlook, McElligott said he has been quite encouraged by shows he's attended this year in places like Palm Springs and San Francisco.
"Last year, things were slow, but this year we were incredibly busy," he said. "When the time came for the tastings to end, we had to turn people away."
He said, "In Oregon, I'm seeing a big shift as well.
"I'm convinced this is not a seasonal blip. I think we're coming out of the downturn. Sales are taking a very healthy rise. The market is starting to come alive."
Karl Klooster is the associate editor of the Oregon Wine Press and writes a wine column for the News-Register. He first became professionally involved in wine in 1972.