Supping Near the Summit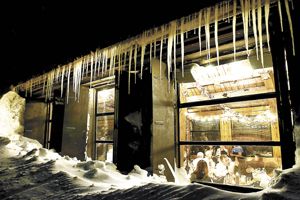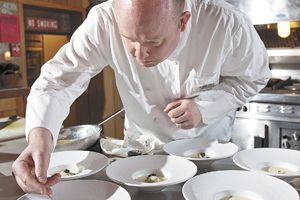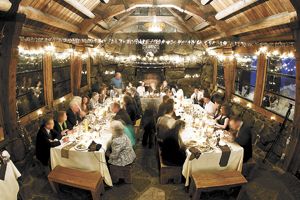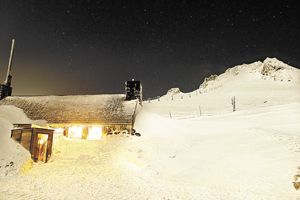 By Karl Klooster
Winery-hosted dinners have become a favorite among people who want to experience the epitome of food and wine pairings. The combined energies of highly skilled professionals go into planning and executing these epicurean extravaganzas.
Multi-course dinners at wineries catered by noted chefs, and wineries partnering with top restaurants are the two most popular ways to put on first-class events that benefit both parties from a reputation and revenue standpoint.
The settings for such culinary showcases, though usually attractive and inviting, simply provide backdrop for the food and wine. However, in one unique instance, a new wrinkle to fine wining and dining gives the location near equal billing with the palate.
When Jason Stoller Smith took over as executive chef at Mount Hood's Timberline Lodge earlier this year, he gazed up the mountain toward a charmingly rustic retreat perched high on the south slope of the majestic peak.
The retreat is called Silcox Hut, honoring the U.S. Forest Service chief at the time of its construction in 1939. Two years earlier, Timberline, a monument to FDR's WPA program, had been completed 1,000 feet below.
A mini version of its much bigger brother, Silcox was originally a place for skiers to rest at the top of the Magic Mile ski run. Though the so-called "hut" fell into disrepair after the chairlift was removed in the early 1960s, preservationists saved and restored it over time.
In 1993, the much-enhanced structure reopened for overnight guests and reserved events. Handsome beams, a massive stone fireplace and a stone floor lent it a stately yet intimate mini-lodge look. Mount Hood's 11,235-foot summit loomed large above.
Smith envisioned Silcox as a unique venue for small groups of discriminating diners to savor the finest in food and wine with winery owners as their hosts.
It was something of an epiphany for a young man who has, in essence, come full circle. From 1999 through 2002, Smith apprenticed with renowned chef Leif Erickson Benson, who had presided over all things culinary at Timberline for 31 years.
Smith went on to build the reputation of the Ponzi family's Dundee Bistro and his own in the bargain. In 2004, he was invited to present at the James Beard Centennial Dinner in New York City.
The Oregon Restaurant Association awarded him a scholarship the following year to study food and wine pairing at the Culinary Institute of America's Greystone facility in Napa Valley. In 2006, he was the featured Willamette Valley chef there, not once, but twice.
In the process, he became a board member and perennial guest chef for the International Pinot Noir Celebration, overseeing at various times both the grand dinner and the salmon bake.
And now, he had access to a place so unique, the mere thought of it exhilarated him. To top it off, during his years at the Dundee Bistro he made close friendships with many of Oregon's top winery owners. All the pieces fit together perfectly.
It didn't take long before seven wineries had signed on and the monthly schedule was set. A maximum of 24 guests would be transported from Timberline Lodge to Silcox Hut by snowcat and treated to a six-course dinner with matching wines.
The first dinner, held on Sept. 17, was hosted by Cristom's winemaker Steve Doerner. Next came Nov. 18 with Maria Ponzi of Ponzi Vineyards. Then, Rob Stuart of R. Stuart & Co. held sway at Silcox on Dec. 16.
Rob's wife, Maria, was actually the behind-the-scenes Escoffier, working hand and oven mitt with Smith on the menu and wine pairings. "We've done quite a few dinners together," Stuart said. "But this one was really special."
Collaborating by phone, Stuart said Smith described possible combinations, while she stood in her kitchen, taste-testing suggested ingredients and sipping wines to determine the best matches.
At the dinner, both Stuarts noted that Smith did all the cooking himself, often emerging from the small but well-equipped kitchen to join the diners. "Jim, who drove the snowcat, helped him serve and another fellow did kitchen cleanup," Maria said. "That was all the help he had."
Rob couldn't recall a more memorable total experience, and that's saying something. "There were a number of people we knew among the group," he said. "And everyone seemed to thoroughly enjoy themselves in the cozy, intimate environment."
As for the six-course menu and paired wines, judge for yourself (see sidebar on page 28).
Four more Silcox Hut epicurean excursions round out the dinner series. The Domaine Drouhin Oregon dinner on Jan. 20 was sold out and a success. The upcoming dinners scheduled for Feb. 24, featuring Bergström Winery with Josh Bergström, and March 24, featuring Lange Winery with Jesse Lange, are sold out, but as of this writing, there are still some spots available for April 21, featuring Chehalem with Harry Peterson Nedry.
Space is limited to 24 guests; Snowcat transport leaves Timberline Lodge at 5:30 p.m. Dinner starts at 6:30 in Silcox Hut. Cost is $150 per guest. For information and reservations, call 503-272-3251.
Taste the Menu
December 16, 2010 • Hosted by Rob and Maria Stuart of R. Stuart & Co. Winery
Amuse Bouche
Kusshi Oyster on Oregon White Truffle Custard • Sturgeon Caviar, Chives, Gold Leaf
NV Brut, Rosé d'Or
Second Course
Saucisson à l'Ail with 8-Year Cured Carlton Farms Prosciutto • Hood River Pear Gelée, Fingerling Purée, Dijon Vinaigrette
2008 Riesling, Ana Vineyard
Pasta Course
Oxtail Agnolotti with Duck Heart Sauce & Nueske's Applewood Bacon • Vella Dry Jack, Duck Egg Yolk
2007 Pinot Noir, Daffodil Hill Vineyard and 2007 Pinot Noir, Ana Vineyard
Main Course
Sous Vide of Silvie Valley Ranch Beef Tenderloin • Sonoma Foie Gras Terrine & Sea Scallop • Butternut Squash Purée, Oregon Black Truffles
2007 Pinot Noir, Winderlea Vineyard and 2007 Pinot Noir, Weber Vineyard
Cheese Course
Briar Rose Chèvre with Wildcat Mountain Honey • Radicchio, Mint
2007 & 2008 Autograph Pinot Noir
Dessert Course
Hazelnut Butter Mousse with Satsuma Orange Gelato • Mission Fig Coulis, Hazelnut Crunch
NV Tawny Dessert Wine, Klipsun Vineyard