Love and Wine for Sale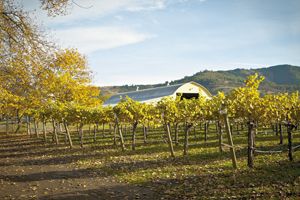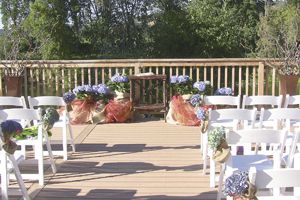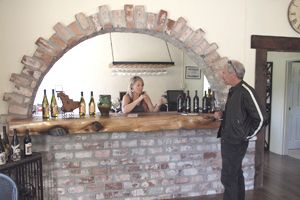 By Janet Eastman
Love shouldn't be expensive. Still, some fairy tale weddings come with unbelievable price tags. A Sonoma Valley winery charges $10,000 to use a patch of its grape-growing estate. It's $7,500 to get hitched under an arbor at a Napa vineyard.
Now consider this scenario: Up to 200 guests can witness a couple tie the knot against a backdrop of grape vines or the tumbling Umpqua River. A case of personalized wine is included.
The total cost: $500.
You can kiss the modern-day Cupid, Dick Calafato, for this.
Calafato is the managing owner of Pyrenees Vineyard & Cellars outside of Roseburg and when he hears some of the estimates lovebirds face when planning to say "I do," he shakes his head.
"It doesn't seem fair to charge so much," said Calafato, who spent the first 43 years of his adult life pleasing his real estate clients, who, like brides and grooms, understand the importance of location, location, location.
The reason for the value pricing to use Pyrenees' 30 acres? "We're not in the wedding business. We sell wine," he said. "We want to introduce our location and our product to people."
Pyrenees will celebrate its first anniversary this May, but already it has found a loyal following. It is the setting for party-tent events, such as the Feb. 12 Valentine's dinner, as well as fee-free, cozier gatherings to commemorate birthdays, anniversaries and even baby showers.
Calafato and his staff support community causes, too. They started the nonprofit organization Dreaming Tree, which grows vegetables for a nearby children's shelter. They are working with another group to employ wounded veterans.
"We're not Good Samaritans, but I have always been a believer that you reap what you sow," Calafato said. "It's good for us and for the community. It's a double reward."
To create Pyrenees, Calafato and his partners, the Los Angeles-based Apodaca family, took over a dairy farm on Old Highway 99 in Myrtle Creek that also has acres of established Cabernet Sauvignon and Merlot vines and 1,000 feet of river frontage.
They built an inviting 150-foot-long deck alongside the river. They transformed a milk-processing building into a tasting room. They plan to convert a former milking facility into an events center. For the most part, however, vineyards, native grasses and hills occupy the land.
"It's a romantic setting," said Crystal Loftin, who married Art Dillahay at Pyrenees in August.
A picture of her wedding party reveals enough space between the rows to line up two tuxedoed groomsmen, two bridesmaids in long, red gowns, the smiling groom sporting a rose boutonniere and, in the middle of it all, the newly minted Mrs. in a flowing white wedding dress and cascading veil.
"All our guests loved the wine," said the bride, "and I loved it there."
As gushy and great as that sounds, no one has to pop the question to feel the love here. The people behind Pyrenees believe in daily doses of romance. They invite anyone to rekindle that first blush over a glass of Syrah or Chardonnay, stoke the fires while listening to live music on Sunday afternoons, or just hang out and hold hands.
Tammi Ellison, a genuine romantic who works in business development for Pyrenees, says vineyards evoke "a sort of giddiness or sense of freedom from the world. Couples, young and old, come out, sip wine, sit on the deck or at one of our tables out in the grass, stroll by the vines and walk through our garden. I can only imagine how being here brings them together. How they feel freer, younger, more complete and more together than they have felt in a long time."
The Pyrenees staff is lending a hand on Valentine's weekend, too. On Feb. 12, the big party tent will be outfitted with soft lighting and bistro tables. Couples will pose for a portrait that will appear on their take-home bottle of wine. They will feast on Basque-style cuisine — drunken pears with Rogue Creamery Oregonzola blue cheese; lamb tenderloin roulade and parsley-fennel potatoes; and dessert — paired with Pyrenees 2009 Reisling, 2007 Meritage and 2008 Cabernet Sauvignon.
For under $100 per couple, Ellison says Pyrenees is helping "gentlemen cover all the bases." A romantic setting, dinner, wine, chocolate, roses and a keepsake.
"If romanticism is what you are looking for, our vineyard definitely has it," Ellison said.
She quickly adds that the vineyard isn't only for couples. Friends meet here after work and some people like to enjoy the scene alone.
"There is something about trees, vines, birds, sunshine and the soothing sounds of the river, mixed with plenty of places to sit and enjoy wine, that just makes you feel spontaneous," she said. "You never know what other little surprises you might find here."
Janet Eastman writes about Southern Oregon wine for national publications and websites. Her work can be seen at www.janeteastman.com.
Pyrenees Vineyard & Cellars
Address: 15332 Old Hwy. 99 S., Myrtle Creek
Hours: Daily, 11 a.m. to 6 p.m.
Phone: 541-863-7797
Web: www.pyreneesvineyard.com
Owners: Dick Calafato & Apodaca Family (Los Angeles)
Established: May 15, 2009 (tasting room opened May 1, 2010)
Reds: Cabernet Sauvignon, Meritage (50 Cab/50 Merlot), Merlot, Pinot Noir, Syrah, Zinfandel, "Apodaca" (dessert-style wine)
Whites: Chardonnay, Gewürztraminer, Pinot Gris, Riesling, Sauvignon Blanc
Acreage: 30 acres, 17 in vines