Wine Country Kiss & Tell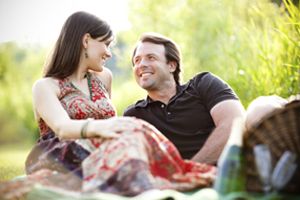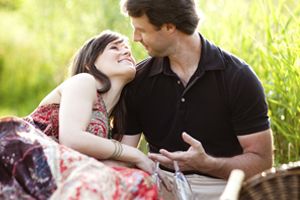 By Sara Shaw
Instead of the predictable boxes of chocolates or tiny candied hearts that say things like "URA QT," for your beloved, why not take the person you adore and indulge in Oregon wine country for a change?
Whether you are peering out of a tasting room window at vines trailing up and down rolling hillsides or nestled in the corner of a country pub, there are many whimsical settings here that will create the backdrop for romance.
WILLAMETTE VALLEY
In the North Willamette Valley, there are numerous wineries with gorgeous views to choose from.
With a glass of wine in one hand and your other hand entwined in your sweetie's, you can look out on the cascading hills of the Chehalem Mountains from the gardens or the tasting room at WillaKenzie Estate, located in Yamhill County. The winery and vineyards sit atop a dramatic hill, and there is a courtyard where you could sneak in a few kisses away from the crowd.
For a slightly more rustic appeal, head to White Rose Estate in the Dundee Hills and be charmed by their small staff, impeccable vineyards and pretty Pinots. From their vineyard, you can see much of the Willamette Valley while you walk among the 40-year-old vines. They're open to the public only on Saturday and Sunday, so be sure to make an appointment if you plan to visit during the week.
Farther South, in the Eola-Amity hills, you'll find Bethel Heights Vineyard, a true family operation. On most days, a guest can find at least six members of the Casteel clan running around the winery taking care of business.
The tasting room is spaciously designed with tall windows that look out at the vines as they extend serenely down the countryside. On warmer days, you may want to consider a picnic at one of the wineries. Bethel Heights and many other winery tasting rooms welcome picnickers to sit outside on their verandas and patios to dine.
One way to surprise your admirer would be to order a gourmet picnic basket from Perfect Picnics and have it delivered to a tasting room, or you can pick one up on your way through Newberg.
If a day of wine tasting is a regular amatory affair for you, you may want to step it up with a cave tour at Archery Summit. The caves here are stunning and provide insight into winemaking practices you would not receive otherwise as you tour the shadowy passageways. Tours can be arranged by appointment and are $25.
After a day of tasting, it will be necessary to catch your breath somewhere appropriate. In McMinnville, Thistle is a quixotic setting with a cozy but elegant bar for a pre-dinner drink. Through the curtain is their comforting low-lit dining room, which hosts an antique chandelier and an enticing menu of local ingredients from sustainable farms.
If you're a couple that likes to play games, head over to Nick's Italian Café for a game of pool after some shared scoops of Serendipity Ice Cream or watch the sunset from the Rooftop Bar at Hotel Oregon, all within a one block radius of Thistle.
To top off the end of the whirlwind day, stop into the Allison Inn & Spa and sip wine from a neighboring winery in front of the roaring fire. Which wine, after all, is more romantic than the fickle, sensitive-yet-wonderfully-seductive Pinot Noir?
SOUTH WILLAMETTE VALLEY
In Corvallis, restaurant Luc is inspired by the love of food, wine and travel. Surrounded by such energy, you'll find yourself staring longingly into each other's eyes over a cardamom crème brûlée.
Eugene is home to many unique restaurants like Marché, serving up French-based fare such as cassoulet and foie gras, as well as pizzetas from their beautiful wood-fired oven. Or bring your darling to Red Agave for Latin American cuisine, where the lively menu is constantly changing and a friendly, educated staff will assist you with wine and spirit pairings. Each of these establishments have romantically toned atmospheres with tantalizing menus.
SOUTHERN OREGON
With its annual Shakespeare Festival, many fine restaurants to dine in, and parks to stroll in, Ashland is a town living and breathing romance.
For a date night in a lovely French-style Bistro, try Chateaulin in downtown Ashland. There's an adjoining wine bar, and, of course, the dreamy Lithia Park scattered with streams and ponds — the perfect place to take a walk at dusk.
There are also wineries with beautiful views and sultry wines in this region, especially RoxyAnn and Troon Vineyard. The wines at RoxyAnn are sure to woo you, and the winery at Troon is reminiscent of a charming French villa.
At Troon, owner Chris Martin believes his family arrived in the Applegate Valley to make not only beautiful wines, but also lasting friendships and a poetic relationship to the earth. Perhaps his passion will inspire yours.
THE GORGE
For a breathtaking hike and 611-foot awe-inspiring waterfall, head to Multnomah Falls with your beloved. The winding drive there is almost as picturesque as the hike itself, and the story behind the falls has amorous origins. According to Native American lore, Multnomah Falls was created to win the heart of a young princess who wanted a hidden place to bathe. If after the hike, your young princess is hungry and thirsty, you can take her to The Edgefield and entertain her with a variety activities from eating and drinking, to a movie, a live music show, a game of pool or a round of golf.
Whether you are newly in love or seasoned spouses, enfold yourselves in the landscapes of Oregon wine country, enjoy wines crafted by friends and families, dine at the independent restaurants with passionate chefs and locally-sourced foods, and in doing so, you'll fall in love again and again.
The weekend before Valentine's Day, many wineries host romance-inspired tastings. Wine, chocolates and more. See the OWP Calendar for more details.
Sara Shaw is a freelance writer and wine professional originally hailing from Alaska who has chosen the Pacific Northwest as her home.