Kicking out the Jams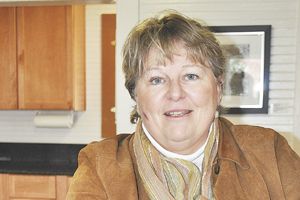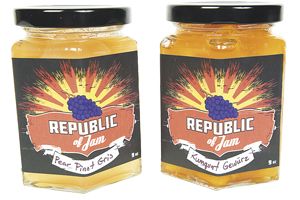 By Gail Oberst
Lynette Shaw lays out a sweet spread of five "new releases," and patiently waits for her visitor to savor the flavors of the samples she's provided for a tasting.
"Just like wine, you start with the most savory tastes, and work toward the sweetest," she instructs the visitor in her tasting room, a charming cottage along the Highway 47 wine trail through Carlton.
As her visitor samples, Shaw points out the "bright finish" and the "fruit intensive" notes in the marmalade, and then suggests foods to pair with each sample.
If it sounds like Shaw is serving tastes of wine, rather than jam, you've not heard wrong. Shaw, a lifelong wine connoisseur, marketer and foodie, creates and markets her jams, conserves and preserves as if it were Yamhill Valley's famous Pinot Noir.
Shaw and her partner, Amy Wilder, had been regular participants at the McMinnville Farmer's Market — first as customers when they moved to McMinnville from Minnesota a few years ago, then later as vendors as they began to develop their Republic of Jam varieties. Shaw managed Soléna Winery's tasting room in Carlton for a year before finding the small cottage she said was perfect for her new jam business.
The cottage is at one of the busiest corners in Carlton, 407 W. Main Street, at the corner of Yamhill Street. The thoroughfare is also Highway 47, the picturesque backroads route between McMinnville in the Willamette Valley, and Clatskanie on the Columbia River, winding past dozens of wineries and small towns. Melton Gallery & Studio, another new business, fronts the group of cottages where the Republic of Jam sits.
"I fell in love with Carlton, which is easy to do. But it needs to be more than a wine destination," Shaw said. Although she'd had a long career in marketing, when Shaw came to Oregon she was drawn to the wine industry. She found the Oregon business community welcoming and noted the abundance of local farms and orchards — most of her 100-plus mixtures are made from local fruits.
About 20 types are usually available at any one time, and they are not your routine combinations. Shaw has an eclectic palate, which she passes on to her wine-tasting customers: cherries in Pinot syrup, strawberry basil, Marionberry apple mint, fig with Zinfandel, raspberry anise, apricot Gewürztraminer — all of these and the usual local berries — are flavors visitors might find at Republic of Jam. Nutritionally, products use less sugar and more fruit than commercial jams, and pectin is made from local fruits. Recipes are also vegan-friendly.
The jams are already pairing up with local wineries, where owners serve them at special tastings. Republic of Jam's tasting room is open weekends, Saturday and Sunday or by appointment, 503-395-5261, until mid February, and then hours may expand. But you can join the social networking "Jam Nation" anytime at www.republicofjam.com. The website also offers online shopping options and even jam-of-the-month clubs.
EVENTS
Republic of Jam will host a tasting at Taste, 448 NE Third Street, McMinnville, on February 26 from 11 am - 3 pm.
Republic of Jam is the featured pairing for the March Vino Lab at the Troon tasting room in Carlton (250 N. Kutch St.). Tickets are $15 for a flight of Troon wines paired jam-infused finger foods.