2010 Organization of the Year: Southern Oregon Wine Institute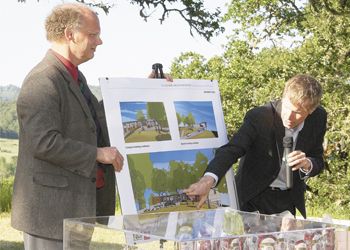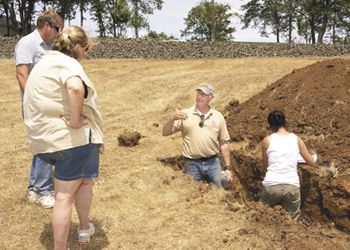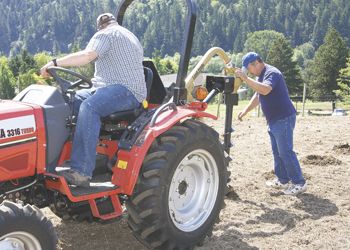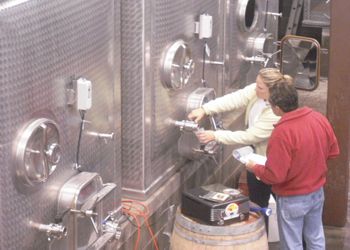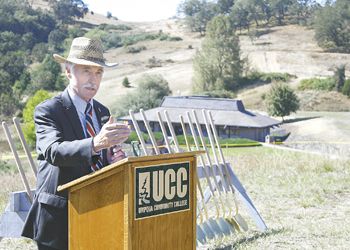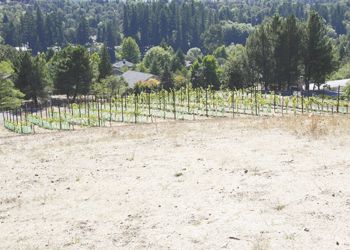 By Janet Eastman
If you listen closely enough to people in Oregon's wine industry, you'll hear a word repeated as if it's a prayer on everyone's lips: education.
Earl Jones of Abacela is not building a new tasting room on his property in Winston, but a two-story educational center. There will be a viewing deck overlooking a patchwork quilt of various vineyards, a self-guided specimen garden and a tunnel that leads to the winery. Jones has found, as have wine store managers and sommeliers around the state, that consumers ask for very technical details when introduced to a label or varietal.
But wine drinkers are not the only ones looking for an education. Growers and vintners who have been at this long before Oregon's wine was in the global spotlight still show up when experts give vineyard demonstrations. For those charged with selling wine, there are daylong marketing symposiums and short seminars that teach servers to promote Oregon's star bottled beverage. For investors, there are meetings to report on regions that have wine to thank for their economic vigor. And for job seekers, classrooms are one way to enter an industry that's here to stay.
If the information that can improve Oregon's wine industry is out there, there needs to be a mechanism for getting it to the people who need it here. Umpqua Community College in Roseburg is ready to help.
In a few years, the college's Southern Oregon Wine Institute (SOWI) has grown from administrators compiling a wish list from members of the Umpqua Valley Winegrowers Association to providing the industry with vital lab services, access to cutting-edge research and invitations to confab at Wine Cluster Conferences. But perhaps most important, SOWI is set up to produce ready-to-work employees.
The institute's viticulture and enology programs are founded on the practical concept of learning by doing. Or what John Olson of Palotai Vineyard & Winery, who taught SOWI's Class of 2010, calls "hands-in-the-wine, hose-in-the-face" training.
SOWI's students take online classes to learn the science of growing grapes and producing wine. Then they put their studies to the test in vineyards, labs, wineries and tasting rooms, working alongside pros.
"Winemaking is an art of action and decisions; these simply cannot be learned in the classroom," says Olson, who hired one of SOWI's graduates to work in his Roseburg winery. "The hands-on aspects and the required cooperative work experience credits have been invaluable tools in training the students."
To better execute this soil-to-sales approach to wine education, the community college will unveil the $7-million Danny Lang Teaching, Learning and Event Center in September. Surrounded by five acres of vineyards, the center will include a commercial-scale winery, a conference hall large enough for 500 people and a tasting room where the public is invited to learn about wine.
Sutherlin attorney Danny Lang, for whom the center is named, donated $800,000 to the building fund, even though he jokes that he drinks three bottles of wine a year and can't pronounce the names of half the grapes in the wine. But he, like other SOWI's supporters—from timber barons to bankers, real estate investors to ma-and-pa donors—believe education and wine prosperity will boost the entire region.
Farmland will be more productive. Local businesses will find a way to profit. Jobs will be created. Wine tourism dollars will be spent on lodging, restaurants, transportation. In short: money all around.
Dr. Blaine Nisson was the president of UCC who listened five years ago to the industry's pleas for educated workers and then asked the community to help fund SOWI and the center. Nisson says the wine institute is one of his top achievements and although he retired from the president's position in December, he plans to be there when the 24,000-square-foot Lang Center opens it doors.
The center is being built in a church-like location, on top of a hill on the UCC campus. When completed, it will be a statement that some of Southern Oregon's business leaders and educators have placed their faith in the next generation of wine workers. Which prompts the question: What do they know?
BEYOND BOOKS
Oak barrels filled with student-produced wine surround SOWI's director Chris Lake. He is now opening a bottle of First Blush, the class' 2009 rosé made from donated Merlot grapes. Yes, this is teaching.
Lake, a viticulturist and winemaker, used to get in trouble for taking the time to teach. When he was managing vineyards in Arkansas for one of the country's oldest wineries, his bosses couldn't understand why Lake explained his reasons for doing something with the crew rather than merely showing them the routine.
"I could have given them a pruning demonstration in front of uniformed plants, then sent them off," says Lake. "But there would always be a spot that needed them to prune differently to improve the quality of the grapes. I needed them to know what to do in those situations."
He pauses, looks around his new work environment, smiles and continues: "It's great that I'm now in a position in which I'm supposed to teach."
An often-repeated statement is that wine regions benefit from having their own academic programs and institutes. In Corvallis, the Oregon Wine Research Institute houses Oregon State University's Viticulture and Enology Program. In Salem, Chemeketa Community College's vineyard management, winemaking and wine marketing classes are held in its Northwest Viticulture Center. Since 2008, UCC's Southern Oregon Wine Institute has enrolled viticulture and enology students seeking two-year degrees, certificates and continuing education classes.
What students also receive, says Lake, is information that empowers them to make immediate decisions on the fly. "If you take theory and connect it to practical knowledge, light bulbs come on."
For that reason, SOWI's students endure frost, rain and intense heat in vineyards to prepare soil, then plant, fertilize, water and prune vines. They harvest, sometimes at odd hours as they did to bring in what's affectionately referred to as the "midnight Merlot." Then they stand for endless hours on concrete crush pads sorting, de-stemming and crushing grapes.
In a winery, they inoculate, ferment, punch down and press, then monitor aging, test and adjust the juice. After blending, they bottle, design a label that earns government approval and store the finished product.
Still, they're not finished. They can learn to write business and marketing plans, find financing and practice selling their wine to real consumers. Finally, they emerge with degrees. A few are ready with wine, contacts, support and experience to launch a new winery. Most, however, just want a job assisting a pro and to join the ranks of those intending to make wine better here.
To grow the area as a winemaking region, SOWI staffers believe, means people have to get their hands dirty. To learn from Scott Henry, Jim Delfino and other local viticulturalists, and report back about the challenges they face so instructors can teach specifically about this terroir, this climate and the issue du jour.
Dwayne Bershaw, SOWI's associate director, says, "I believe that giving our students fundamental information greatly increases their chances of consistently producing world-class wines, even in difficult vintages such as this [last] year."
In May 2009, teachers, students and volunteers planted five acres of Syrah and Nebbiolo near the site of the new teaching center. Nebbiolo is a tricky grape and that's the reason it's here. Lake says if students can work with Nebbiolo, they can grow anything.
Elisabeth Grunwald completed SOWI's program in June 2010. She then turned her internship as an assistant to Agate Ridge Vineyards' winemaker Kiley Evans into a job at the Eagle Point winery. Her dream is to work half the year in the vineyard and the other half in the winery.
"I'm not your traditional student," says Grunwald, 42. She had a corporate career before moving to Medford to raise her two children. Searching for a new direction, she recalls, "I saw a flier that said 'wine school' and I thought, 'Ah ha! That's for me.'"
Merlin Dicke is an example of another student who worked in a different industry before returning to school to train for new work in the wine industry. Dicke is in his fifties. He built fiber boats for Bayliner Marine before the Wilbur plant closed in 2008. After graduating from the SOWI program in June, he got a job at Brandborg Winery & Vineyards in Elkton. "I love it," says Dicke.
Winemaker Linda Donovan has been impressed with SOWI students she's helped train at Pallet Wine Co., a custom crush facility in Medford.
"Access to the best information and techniques is critical to the success of our region," Donovan says. "The work being done by UCC and other local institutions will not only help educate our future winemakers and winegrowers, but it will bring recognition to an emerging appellation."
CLUSTERING PAYS OFF
Lake was named SOWI's first director in July 2008, but he is well versed on the groundwork that led to his appointment. "There was, and still is, an administration that sensed the need in the community for this type of program and they set a really high vision for it," he says. "They understood the industry's needs for distributed information, a campus winery and a testing lab everyone could use."
ETS Laboratories, of St. Helena, Calif., spent $500,000 to build a lab on campus that serves the industry. Part of the company's agreement with the college is that its experts teach SOWI students.
Lake says a local engineering firm and other businesses, big and small, are figuring out how they, too, can tap in to the wine flow.
Jennifer Jackson's family has owned the Central Feed & Supply store in Sutherlin for almost 20 years. She enrolled in SOWI's viticulture program, thought through the part she wanted to play in the wine business and saw a local need for vineyard supplies. She now stocks a full line of products from McMinnville-based OVS Co. (Oregon Vineyard Supply) and pulls in small-scale grape growers from as far away as the coast.
There are other success stories to come, but it all stems from helping commercial grape growers.
Throughout the year, SOWI's staff works with Oregon State University Extension Service to get word out to growers about more efficient practices and information. Sometimes, the subject is reinforcing the basics on irrigation. Other times, it's the finer points of combining clones on rootstock. All of it requires leaving the comfort of the classroom and heading to the field.
"You can't just put the information on the web and beam it out there," says Lake. "You have to go to Medford or Roseburg, know the different climates and soils and validate that what you're doing applies."
With this hands-in-the-soil, accurate information, says Lake, comes growth. He sees a future in which there will be more professional conferences, more demonstrations, more advanced practices in growing grapes and making wine. For the Oregon wine consumer, that will mean more ways to learn with more wineries to visit, more winemakers to talk to and more wines to try by the glass.
It starts, says SOWI backers, at the ground level and grows from there.
The SOWI project was designed in conjunction with Laurence Ferar and Associates, Architecture & Landscape Architecture, a Portland firm specializing in winery design.
Janet Eastman writes for national publications and covers Southern Oregon wine for www.examiner.com. Her work can be seen at www.janeteastman.com.