2010 Person of the Year: Dave & Deolinda Coelho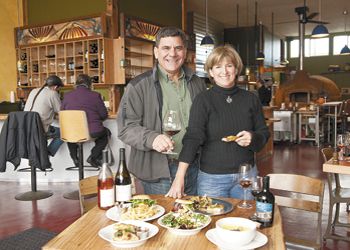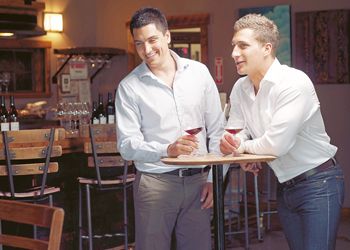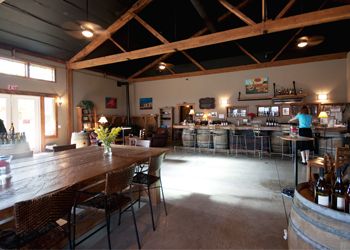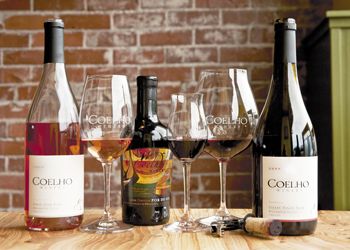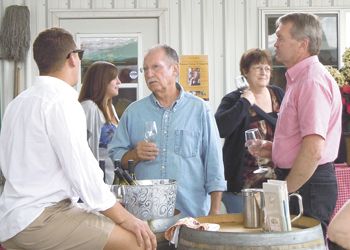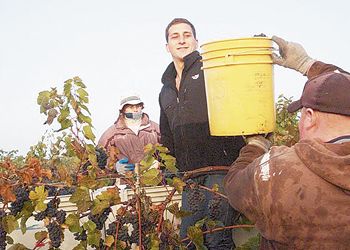 By Karl Klooster
We at Oregon Wine Press are delighted to announce our selection for Wine Person of the Year is not one person but two people, who in many ways are like one: Dave and Deolinda Coelho of Coelho Winery in Amity.
Besides their obvious devotion to each other, the Coelhos' marriage has revolved around both family and business. But the two seem to be so seamlessly intertwined, one almost blends into the other.
Ever since they opened their winery tasting room in downtown Amity, they have made a concerted effort to support the small Yamhill Valley town they adopted as their own.
As time and financial flexibility have allowed, the Coelhos' increasing contributions have helped make a significant difference both on a local and valley-wide level.
Deolinda is a co-founder and president of the Amity Downtown Improvement Group, or Amity DIG. She spearheaded the initial team that came together a couple of years ago and got things going almost literally from the grass roots.
"Yes, we've even pulled some weeds," she said with a smile. "We're working hard to upgrade the downtown. The Blue Goat, an upscale, brick oven restaurant, is a terrific new addition everyone is excited about.
"A community promotional brochure is in development. I'm seeing a lot of smiles and very supportive people these days."
Reaching out beyond Amity, they have also taken an active interest in the McMinnville Chamber of Commerce and have regularly been one of the featured wineries at Uncorked, McMinnville Rotary's annual benefit auction.
Compatible partners takes on a double meaning with Dave and Deolinda. Partners in life, they are also partners in administering the means that has allowed their family to live a wonderful life.
Foremost for them is family; and the combined efforts the couple has put into family businesses over the years accounts for their success. To top it off, their children have made and continue to make meaningful contributions as well.
Both natives of Tracy, Calif., a San Joaquin Valley farming community, they were sweethearts throughout high school. "I was a year ahead of Deolinda and had teased her in grade school," Dave said. "When she got into high school I latched onto her."
They dated for seven years, were married in 1980 and promptly got into what they knew best: agricultural work. However, when their first child was born in December 1985, finding a more lucrative form of income became a priority.
A bit of good fortune came their way when an acquaintance of Dave's, who was planning to retire, presented him with a proposal. He had a commercial vacuuming business, the kind that utilizes powerful and expensive Vactor trucks.
"They're capable of cleaning out sewers, culverts and flooded basements filled with muck," Dave said. "He made me a great offer to buy the business and even gave me a start-up loan."
Dave persuaded his brother to partner with him and they were able to repay the loan out of the profits from their very first job." The business cleaned up until 1991, when their eldest son, David, was about to start school.
In the interim, they had also welcomed Samuel, Stephanie and Jeanne into the family fold, all within five years. Deciding it was time for a change, the Coelhos took their considerably augmented clan back to the land.
Finding just the right place to settle in for the duration, however, took some effort. They traveled around farming areas of Oregon, Washington and Idaho in search of suitable property.
Though the Columbia Basin seemed most like the California farming conditions Dave knew best, they didn't come across anything that met their criteria. It wasn't until a family connection came into play that they found just what they were looking for.
"One of my cousins owned a dairy farm near Woodburn," Dave said. "We liked the area in general, so we began looking around. When we drove into the Yamhill Valley near Amity, we fell in love with it."
A 40-acre tract of gently sloping hills just a few miles from the small town clinched the deal. The fact that its 28.5 plantable acres were well-drained, south-facing and contained Woodburn soils didn't take on additional significance until several years later.
Since the farm wasn't large enough for commercial crops, Dave took a job with the City of McMinnville driving — what else? — a big truck. He worked 10-hour days, four days a week.
It wasn't too long before he acquired an old Vactor truck his brother had found in California, and he started doing commercial jobs on his days off. Before he knew it, the work reached the point where he quit his job with the city.
The Coelhos made a deal with the truck manufacturer to finance a new truck and, in 1996, Ore-Vac, Inc. was founded. They sold their old truck and used the proceeds as the down payment. Dave did the dirty work, while Deolinda handled the office.
Showing off one of the big rigs parked in a building on property they own in Amity, he said a new, fully equipped Vactor costs $200,000. "They don't sell a lot of them. The manufacturer gave us the credit based on my past experience."
In 2001, just four years after starting up, Ore-Vac had done well enough to purchase a second truck.
It proved to be a good year for the Coelho family in more ways than one. Since the commercial vacuuming business was humming along, they were able to proceed with the plan that had brought them to Oregon in the first place.
"By then we were well aware of our property's potential," Deolinda said. "Growing grapes looked to be a very good bet, so we hired Joel Myers of Vinetenders to put it in a vineyard."
Myers, a longtime Yamhill Valley vineyard manager, planted vines that would form the foundation of Coelho's estate wines. In 2004, they built a winery on part of the property from which the Ore-Vac business operated.
Dave hired his nephew, Alex Bogetti — Deolinda's maiden name — to help him get the winery started, and they both attended classes at Chemeketa Community College's newly opened Northwest Viticultural Center in West Salem.
Working side by side with consulting winemaker Michael Beckley, Dave and Alex helped make the winery's first-ever 552 cases of wine in 2004. Production has steadily increased every year, reaching about 5,500 cases for the 2010 vintage.
"Initially, the acreage was planted entirely to Pinot Noir because we were going to sell everything we grew," Dave said. "But, now, we've grafted over several rows to Pinot Gris, Chardonnay and a little bit of Muscat."
"We're concentrating primarily on Pinot Noir," David said. "But, given today's price-driven marketplace, we're going to be offering both a high-end estate Pinot and a value blend."
Taking a creative cue from Dave's Portuguese heritage, the Coelho's have given Portuguese names to their wines. Pinot noir is Paciencia, which translates to patience; Pinot Gris is Renovacão, renewal; Chardonnay is Apreciacão, appreciation; and Petite Sirah is Antecipacão, anticipation.
They are particularly proud of Aventura, a Port-style, vintage-dated dessert wine crafted in very small quantities from Tempranillo, Alvarelhão, Souzão, Touriga and Tinto Cão grapes obtained in California.
"The entire family toured Portugal together," Dave said. "We went to Oporto, where the great Port houses are located. Right then and there, we decided that a Portuguese-heritage winery wouldn't live up to its name without making a Port-style wine."
The year after the winery was built, they acquired a large warehouse next door and converted it to a tasting room that can accommodate more than 100 guests. From dinners to tastings, to entertainers to salsa dancing, the gregarious Coelhos regularly hold lively events there.
It's gratifying for parents when their children want to join them in the family business. All four of the Coelho children have helped out in the vineyard, at the winery and in the tasting room over the past five years, and now their sons are there full time.
David is assistant winemaker and Samuel handles marketing and sales. Extending the family business connection, last July the Coelhos decided the winery had reached the point where they could discontinue operating Ore-Vac.
They gave one of the trucks to their nephew and one to their future son-in-law, who will be marrying daughter Stephanie next spring. The couple will live in Eastern Oregon, and it looks like they already have excellent prospects for business there.
This family caring and generosity obviously lies at the heart of Dave and Deolinda's fundamental philosophy that applies to an extended family including friends, associates and, of course, community.
With their "can-do" attitude and "make-it-happen" follow through, there's little wonder that Coelho Winery was one of the finalists in Oregon State University's Austin Family Business Award Program.
Only 100 businesses in Oregon were nominated this year and, following an intensely competitive process, the Coehlos were one of two finalists in the micro-business category, which encompassed businesses with nine or fewer employees.
"These award-winning families can succeed for generations, even in tough economic times, because they are responsive to their communities," said Sherri Noxel, the program's interim director.
For having earned a 2010 Excellence in Family Business Award, as well as all their other achievements in the wine industry and on behalf of the community, we couldn't be more pleased to have Dave and Deolinda Coelho as our 2010 honorees.